Is Thrive Market Worth It? Our Family's Review
Is Thrive Market worth it? Will you actually save money and time using the online grocer? How does the membership work? We answer all of your burning questions in our family's review.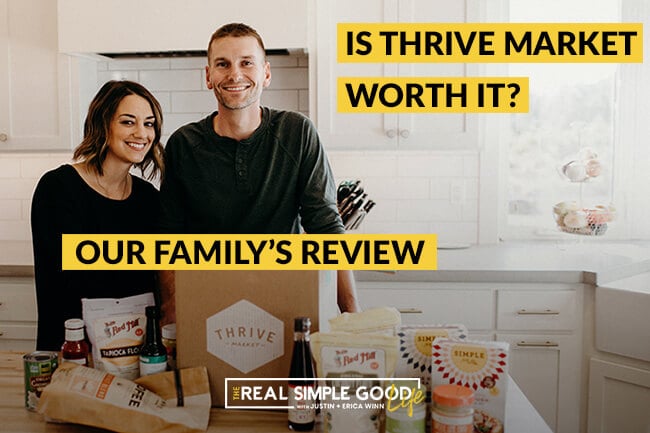 What is Thrive Market?
If you're not familiar with Thrive Market, it's a membership-based website featuring organic brands, many natural products and health foods.
You'll find a lot of:
Pantry staples
Baking supplies
Healthy snacks
Desserts
Clean home goods
Healthy personal care products
They also recently started selling:
Grass-fed beef
Sustainable seafood
Organic chicken
Pasture-raised pork
Ready to dive in and try Thrive Market without reading our entire review?
Use this link to start shopping at Thrive Market today. You'll get 25% off your first order, a free gift and receive a free 30-day trial membership (affiliate link).
We do make a small commission if you join Thrive Market. We're committed to only sharing the brands and partners we use and love with our community. We appreciate your support of The Real Simple Good Life and our partners.
Thrive Market Review: Our Family's Experience
We have personally been Thrive Market members for several years now and recommend it to others for the following reasons:
It's convenient
We really love shopping online at Thrive Market because it saves us time. Everything is delivered to our door! It's easy to keep our pantry stocked with our favorite Paleo and Whole30 products.
Shopping is easy
You can shop by diet (Paleo, Keto) or category (Pets, Beauty) to get directly to the products you need.
Great variety
We love trying new healthy products. Thrive consistently stocks new brands and products to try.
It's affordable
We've found that prices are generally comparable or lower at Thrive Market than at specialty stores like Whole Foods and Natural Grocers.
It's easy to cancel
If you decide that you want to cancel, just email Thrive market or use the chat feature on their website – it's easy!
Thrive Market Membership Cost: How it Works
There are two membership options to choose from:
A monthly membership for $9.95 per month
An annual membership for $59.95 per year
If you purchase an annual membership, Thrive actually guarantees that it will pay for itself through savings on purchases.
For example, if your membership fee was $60, and you only saved $40 in the year, they will automatically add a $20 credit to your account. Sounds pretty good huh? Read the full policy here.
Interested in giving it a try for free?
Try Thrive Market free for 30 days to see if you like it. Get 25% off your first order and a free gift using this link (affiliate link).
NOTE: If you decide you don't want the membership you have to cancel it before the 30-day trial period expires.
Thrive Market Shipping
Getting healthy products delivered to your doorstep is the best feature of shopping at Thrive Market!
We have placed a lot of orders through Thrive Market and they are packaged very well.
For example:
Glass is wrapped to prevent breaking
Things like chips are packed so they don't get crushed
Items that could melt are shipped with an ice pack
Even though the packaging is always good, we have had a couple of orders where products were damaged/broken during shipping. When this happened we just sent them an email and the products were promptly re-shipped.
We think it's important to note that Thrive is committed to better packaging, shipping and warehouse practices like:
100% post consumer recyclable packaging
Carbon neutral shipping certification through carbonfund.org
Smarter packing consistently to reduce packing materials
Efficient warehouses (90% of waste is recycled or reused)
Most orders are delivered within 2-3 business days and shipping is free on orders over $49.
Shipping is only available to locations in the contiguous U.S. They currently don't deliver to Alaska, Hawaii, Puerto Rico or Canada – but hope to in the future.
The best features of Thrive Market
Thrive Market has some unique features that make shopping very convenient, including:
Sort by diet
You can easily sort and filter products and pages by dietary needs. Just filter your page to only show products that are compliant with the diet you are looking for (Gluten-free, Paleo, Keto, Etc.)
Autoship
Set any product to automatically autoship monthly. Perfect for regular pantry staples or personal care items like toothpaste.
Kits
There are two types of kits: starter kits and themed kits. Starter kits generally contain between 5 and10 staple and popular products from categories such as Paleo, Whole30, Vegan, Keto, etc. Theme kits are a bundle of products from categories such as home cleaning, spices, gluten-free baking, snacks and best sellers.
Freebies
Occasionally when you order, Thrive Market will throw in a product absolutely free!
Thrive Market for the Paleo Diet
Thrive Market is THE place to shop online for all of your Paleo pantry staples. You can browse a list of our Thrive favorites here. Some of our most used Paleo pantry items are:
Coconut Aminos
We use coconut aminos in our Korean Beef Bowl and Sweet Potato Chicken Pad Thai recipes.
Nutritional Yeast
We use nutritional yeast a lot to add a "cheesy" flavor to recipes like this Creamy Chicken Alfredo and this Easy Taco Casserole.
Arrowroot Starch
A Paleo pantry staple, arrowroot starch is used for baked goods like these Ginger Molasses Cookies and also as a thickener for sauces like in this Easy Chicken Marsala.
You can browse the entire Thrive Market Paleo category here.
Thrive Market for Whole30
First off, if you are considering a Whole30, be sure to check out our helpful Whole30 guide.
Thrive Market is a great place to shop for Whole30 compliant items, you can browse all of their Whole30 approved products here.
We created a Whole30 Starter Kit to go along with our free Whole30 meal plans.
This kit covers pantry staples you'll need to follow the plans and crush the Whole30! In addition to this, Thrive carries time-saving Whole30 products like:
Ketchup – Because who wants to make their own ketchup. It's perfect for these Jicama Fries too!
Beef Jerky – With several brands and flavors to choose from, it's easy to pick up this protein packed snack.
Marinades & Dressings – These can come in VERY handy when you need to make a Whole30 meal in a pinch. A few good sauces can help you make it through your Whole30.
Thrive Market for the Keto Diet
With the Keto diet blowing up lately, you might be looking for a good place to find Keto friendly products to stock up on.
Thrive is a great place to buy Keto products, here is a link to their dedicated Keto category.
Some of Keto favorites we always keep on hand are:
Ghee – The perfect cooking fat for the Keto diet. Use it to add a buttery flavor to roasted veggies, for a stir-fry recipe like this Black Pepper Chicken, or for Keto treats like these Almond Butter Cookies.
Keto Sweeteners – They have options like monkfruit, stevia, swerve and erythritol. We prefer to use erythritol to add a little sweetness to simple treats like these Healthy Peanut Butter Balls.
Keto Snacks – Nuts, beef jerky and pork rinds FTW!
Conclusion: So is Thrive Market Worth it?
We love Thrive Market, mostly because it's convenient and saves us time. But it's not for everyone.
Generally, Thrive market is a good fit if you:
Have trouble finding foods for your specific diet
Don't live close to specialty stores like Whole Foods
Prefer to shop online vs. going to local stores
It might not be a good fit if you:
Don't follow a specific or restrictive diet
Can find all of the products you need easily at local stores
Prefer to shop in person and not online
Don't want to pay a membership fee to shop
Interested in giving Thrive Market a try after reading this review?
Use this link to start shopping at Thrive Market today. You'll get 25% off your first order, a free gift and receive a free 30-day trial membership (affiliate link).
No strings attached, simply cancel if you don't like the membership.
We do make a small commission if you shop at Thrive Market through this link. We're committed to only sharing the brands and partners we use and love with our community. We appreciate your support of The Real Simple Good Life and our partners.
---
Thrive Market Frequently Asked Questions
---
Like this Post?
SHARE IT NOW OR PIN IT FOR LATER!
---