Somehow tomorrow is Thanksgiving, and we can't help but feel gratitude for YOU – our readers, subscribers and the tribe we are building! Food is how we show love, so today we are showing our love with an extra special cozy pumpkin turmeric latte!
A Heartfelt Thank You
We are constantly humbled by your support and we want to say THANK YOU from the bottom of our hearts! We wouldn't be here without you, and it is truly a gift that we are able to pursue our passions side by side. Justin and I pour ourselves into all that we do, and we wouldn't be able to spend our days working together building our small business, learning and growing together if you weren't here, so thank you. Have a wonderful Thanksgiving with your loved ones.
Cozy Beverage
We love coffee, both of us, but I also love just about any cozy, warm beverage regardless of the caffeine content. One of my favorite things is a warm mug in my hands. This pumpkin turmeric latte is the perfect caffeine free beverage to snuggle up with over this long holiday weekend! It's got all your favorite Fall flavors – think pumpkin, pumpkin pie spice, cinnamon and ginger – with the health benefits of turmeric! Win-win!
Let The Holidays Begin
Thanksgiving really feels like the start of the holiday season, and we hope you are taking some time enjoy your loved ones, be present and soak up the spirit of the holiday season. Make this rich and creamy pumpkin turmeric latte a part of your holidays this year. It's indulgently creamy without the dairy and aromatic with all the Fall spices.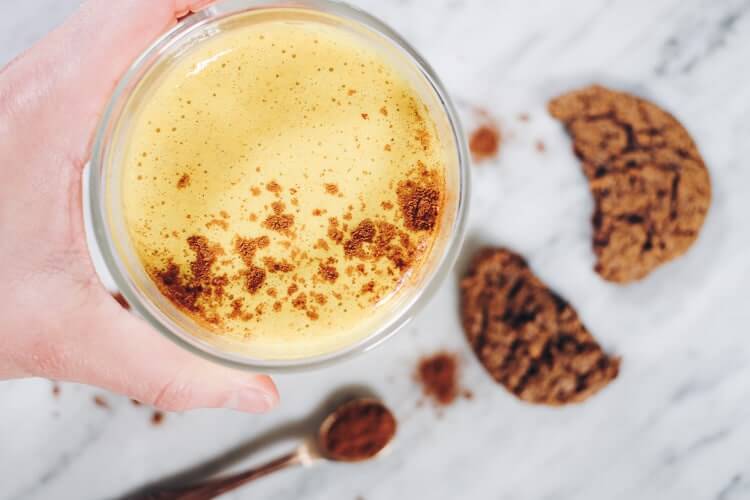 Just Blend It All Up
This pumpkin turmeric latte is SO easy! You just heat up the coconut milk and water on the stove or in the microwave and then toss everything in a high powered blender. If your blender needs a little help pulverizing things like dates, just soak your dates in a bowl with hot water for about 5 minutes. Then, drain and place them in the blender. They'll be softer and easier to blend up. Use 1-2 tablespoons of pumpkin puree. Two tablespoons will make your latte creamier and a little thicker, so if you don't want a thicker latte, just go with one tablespoon.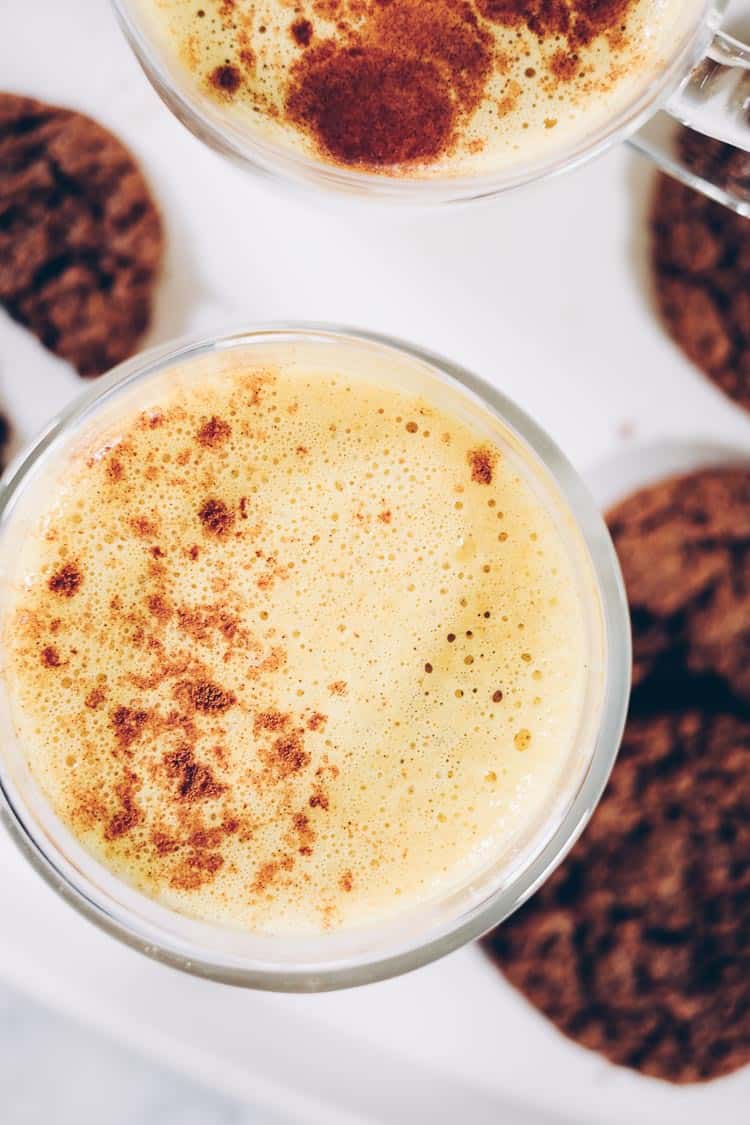 Some Other Cozy Beverages To Try
Your Turn To Try Our Pumpkin Turmeric Latte
Get ready to get extra cozy for the holidays, and put this easy and dairy-free pumpkin turmeric latte on repeat! Enjoy the Fall flavors and smells, with the added benefit of turmeric. Let us know how it goes by leaving a comment below. Also, take a photo and tag us on Instagram @realsimplegood, so we can check it out!
---
---
Get the Recipe:
Pumpkin Turmeric Latte (Paleo, Vegan + Refined Sugar-Free)
This dairy-free Pumpkin Turmeric Latte is the perfect caffeine-free beverage to snuggle up with over the holidays It's got all your favorite Fall flavors!
Ingredients
3/4 cup filtered water
1/2 cup coconut milk
1 date, (use 2 if you like it on the sweeter side)
1-2 tbsp pumpkin puree
1/2 tsp pumpkin pie spice
1/2 tsp cinnamon, (plus more for garnish)
1/4 tsp turmeric
1/8 tsp ginger
Instructions
Heat water and coconut milk in a sauce pan over medium heat on the stove or in the microwave in a microwave safe mug.

Once the liquids are hot, place all of the ingredients in a high powered blender. Blend until smooth and creamy. Pour into a mug, sprinkle some more cinnamon on top and enjoy!