What is the best way to have healthy snacks and lunches on hand? Prep snacks and lunches over the weekend and have them sitting in your fridge ready to go! You are more likely to make better choices when hunger strikes if you have a healthy option already made. These teriyaki turkey meatballs are one of our favorite bite-sized items to have on hand in the fridge or freezer. You can eat them as a protein packed snack or on top of a salad for a complete meal, making them great for pack and go lunches.
Teriyaki Flavor Without Refined Sugar
Growing up with my mom's family being from Hawaii, we ate a fair amount of teriyaki chicken and steak. Lots of teriyaki and lots of rice, usually with some salad. That was dinner a lot of nights. While it was tasty, you have to admit that store bought teriyaki sauce and even my mom's homemade version pack quite a bit of sugar. Luckily, Justin is a wizard when it comes to sauces, dressings and marinades! He concocted this flavorful teriyaki sauce without the refined sugar, and it is so so tasty!
Make Ahead
These teriyaki turkey meatballs are the perfect make ahead food. They will last in the fridge for about a week, or you can freeze them for longer. They take 25 minutes to prep and get in the oven, and you'll have about 25 meatballs on hand once they are finished cooking. The best part is that they are a great little snack and also work well on top of a salad or some greens and cauliflower rice for a complete meal. For other simple healthy snack ideas, check out our post – 50 Clean Eating Snacks!
Your Turn To Make Our Teriyaki Turkey Meatballs
Set yourself up for a successful week, and make these teriyaki turkey meatballs. They will help keep you on track all week long! Let us know how it goes by leaving a comment below. Also, take a photo and tag us on Instagram @realsimplegood, so we can check it out!

---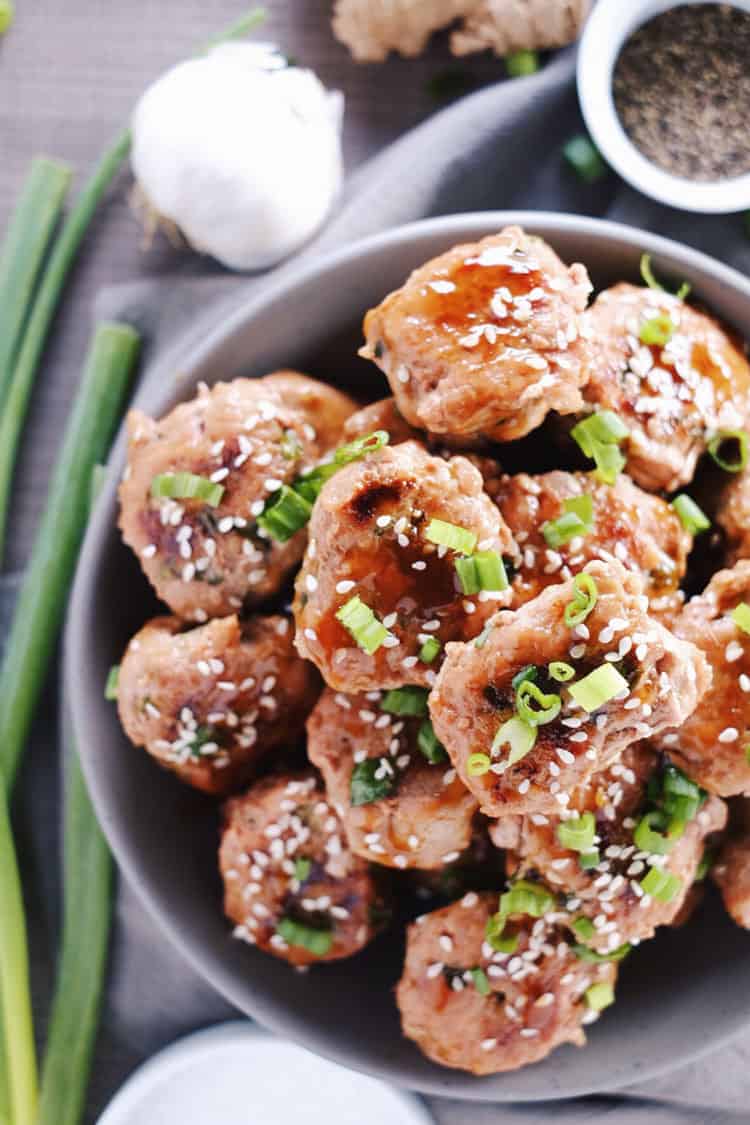 Teriyaki Turkey Meatballs (Paleo + GF)
Teriyaki turkey meatballs are our favorite bite-sized item to have on hand in the fridge or freezer for snacks or with greens and veggies for a full meal!
Print Recipe
Rate Recipe
Share by Email
Want more recipes like this?
SIGN UP FOR OUR LATEST RECIPES:
Instructions
Preheat oven to 400 degrees fahrenheit and line a large baking pan with parchment paper or foil.

Place ground turkey and green onions in a large bowl.

In a separate small bowl, make teriyaki sauce by combining coconut aminos, maple syrup, apple cider vinegar, garlic, ginger and hot sauce in a small bowl. Stir with a whisk until everything is evenly blended.

Pour half of the teriyaki sauce into the bowl with the turkey and onions. Mix everything together well with your hands until the sauce and onions are mixed evenly in the turkey.

Now, form the turkey into small balls about the size of a heaping tablespoon. You can use a small ice cream scoop if you have one, it makes it easy to form the turkey into balls without everything sticking to your hands. This should yield about 25 of meatballs.

Place in the oven to cook for 20 minutes.

When the meatballs have about 7 minutes left, pour the remaining teriyaki sauce in a small sauce pan and add in 1/2 tsp of cassava or arrowroot flour. Simmer for 4-5 minutes, stirring frequently until the sauce is slightly thickened.

Remove meatballs from the oven and transfer to a mixing bowl. Drizzle with warm sauce and toss to combine.Top with sesame seeds and green onion if desired and serve.