This recipe for healthy grilled pineapple chicken thighs is a summer staple! With a simple pineapple marinade, this mouth watering grilled chicken is a crowd pleaser that's made with fresh and healthy ingredients.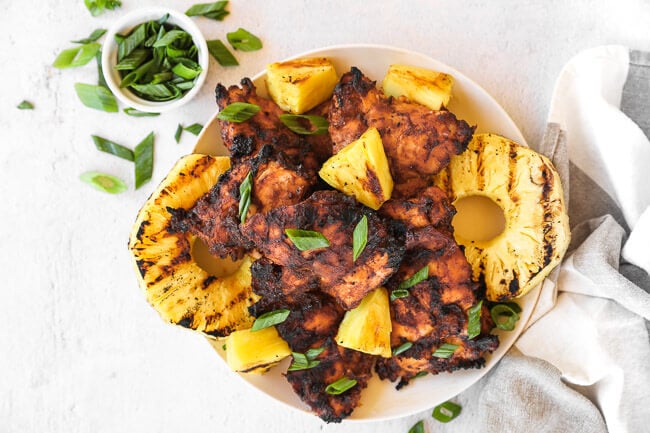 Pineapple Chicken BBQ Sauce
The flavor of the chicken marinade for this recipe is like a cleaned up Hawaiian BBQ sauce. It's a little smoky, a little sweet and will have you licking the extra off your fingers!
We use all real food ingredients to make this healthy pineapple chicken marinade and dates are our primary sweetener. The refined sugar free sauce makes this recipe both Paleo + Whole30 friendly!
It's like Hawaiian BBQ chicken
The flavors of this grilled chicken and pineapple will make you feel like you're having a luau in your backyard! Chicken thighs with the perfect marinade are grilled to perfection and served with sweet grilled pineapple. Add a side of rice (or cauliflower rice) and imagine you're on a beach in Hawaii…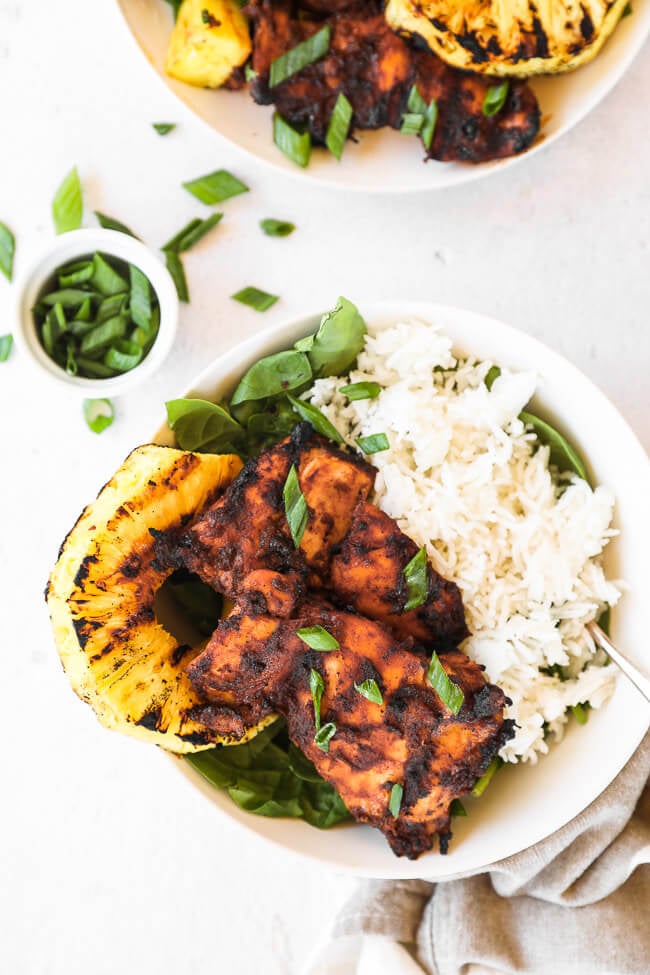 Making the perfect pineapple chicken on the grill
Grilling chicken thighs and pineapple is pretty easy, but we do have a few tips and tricks:
Use a high powered blender like a Blendtec or Vitamix to make the marinade. It helps to make the marinade smooth and creamy and stick to the chicken thighs.
Get the chicken in the marinade before you start the grill or prep any other part of the recipe. By the time the grill is hot, you'll be ready to go!
You can save time by using pre-sliced canned pineapple. You can even use the juice from the can in the marinade!
Pineapple sliced into rounds is best for grilling. Just place the rounds directly on the grill and carefully flip them with a spatula. Or, you could cut them into chunks and use a grill pan.
Don't forget your side dish! Pre-make your rice or whip up a quick batch of cauliflower rice to serve with the BBQ chicken and pineapple.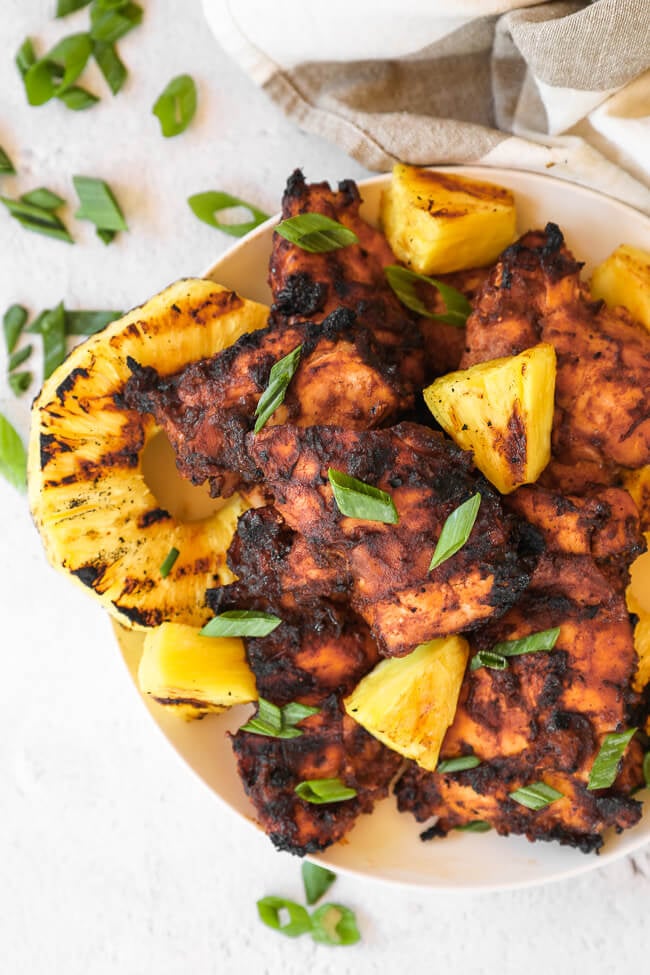 Other recipes for grilled boneless chicken thighs
Your Turn To Try This Grilled Pineapple Chicken
Fire up your grill and make this grilled pineapple chicken ASAP! It's super flavorful, easy to turn into a full meal and something we bet even your kiddos will get excited about!
If you try it, leave a comment below to let us know how it goes. Also, take a pic and tag us on Instagram @realsimplegood, so we can check it out! We love seeing what you're cooking!
---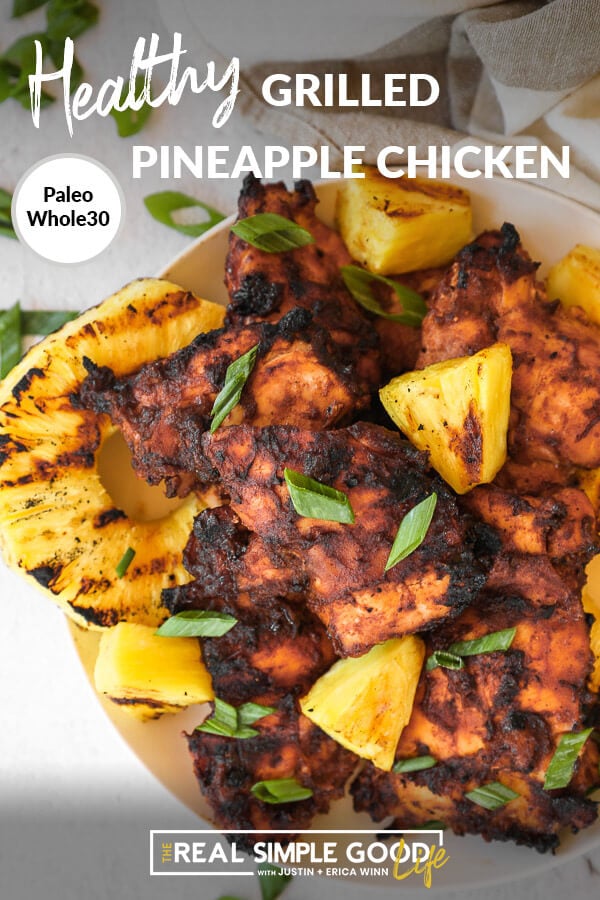 ---
Like this Recipe?
SHARE IT NOW OR PIN IT FOR LATER!
---
---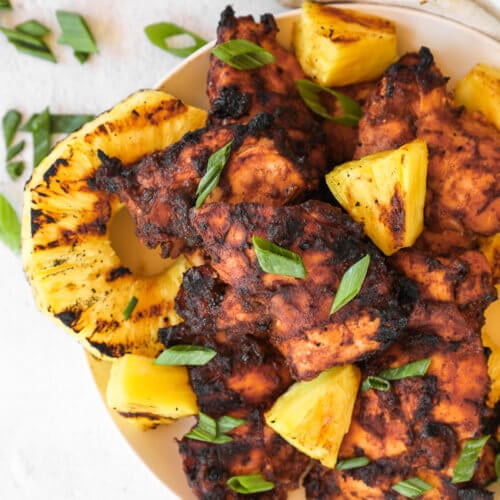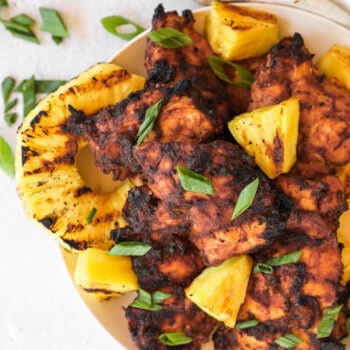 Get the Recipe:
Healthy Grilled Pineapple Chicken
This recipe for healthy grilled pineapple chicken thighs is a summer staple! With a simple pineapple marinade, this easy grilled chicken is a crowd pleaser.
Ingredients
1 fresh pineapple, skin removed and cut into rounds with the core removed , (see recipe notes)
2 lbs boneless chicken thighs , (or breasts)
For the marinade:
1/2 cup coconut aminos
1/4 cup pineapple juice, (or sub water if you don't have any)
1/4 cup tomato paste
4-6 pitted dates, soaked for 10-15 minutes in warm water to soften then drained
2 tsp garlic powder
2 tsp chili powder
1 tsp smoked paprika
For serving and topping:
White or cauli rice, (Cauli rice for Whole30)
Mixed greens
Chopped green onions, (for topping)
Instructions
Soak dates in warm water as noted to soften.

To make the marinade, place all of the ingredients in a blender or food processor and run continuously to combine all the ingredients until smooth. Stop to scrape sides down as needed and restart.

Place chicken in a shallow bowl or dish and pour the marinade over. Toss to coat. Cover and refrigerate for at least 30 minutes or up to 24 hours.

When you are about ready to grill, cut pineapple into rounds as noted. Cut out the tough inner core from the rounds and set aside.

Heat your grill to high heat (about 500° F). Add the chicken and pineapple to grill and cook, flipping once and basting chicken with any remaining marinade until cooked through, about 5-6 minutes on each side depending on the size of the chicken. Remove pineapple when it is grilled to your liking (we grilled it just 3-4 minutes per side).

Serve chicken and pineapple with your desired side, over rice or over greens (or greens and rice). Enjoy.