Crispy air fried potato wedges with a salty and delicious seasoning mix, these are bound to be a new favorite! This healthy air fryer side dish recipe is amazingly simple and is guaranteed to satisfy any fried potato craving.
Easy homemade potato wedges
The air fryer is a foolproof way to make crispy homemade potato wedges. Here's how you do it:
Start with a medium sized russet potato
Use healthy avocado oil for the cooking
Toss the potatoes in a little more oil after cooking
Sprinkle all over with the homemade seasoning mix
LOOKING FOR MORE? Check out all of our healthy Air Fryer recipes.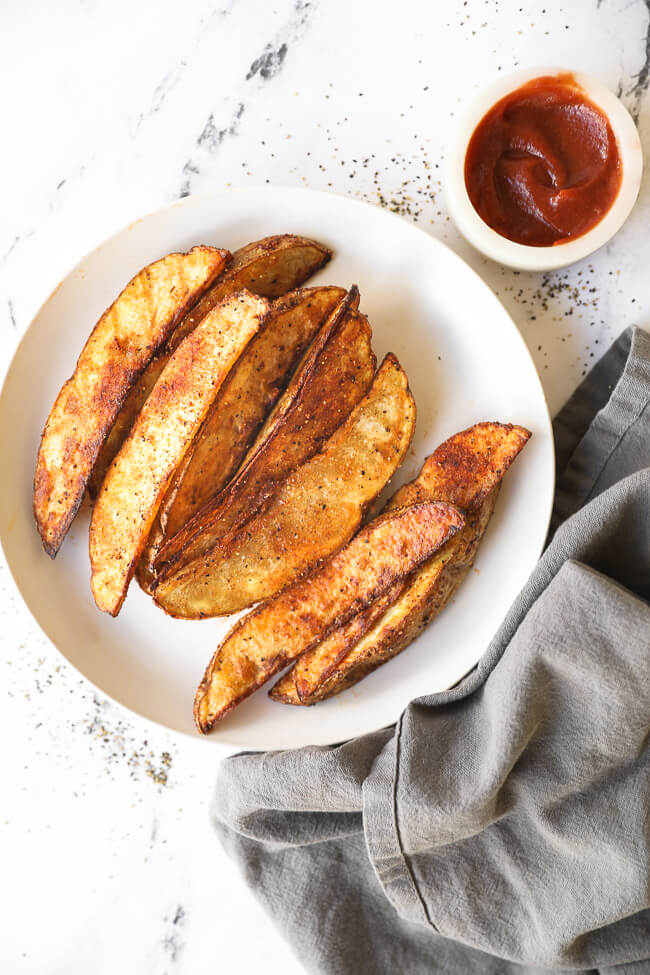 How to cut potato wedges
For a medium russet potato, here's how to get perfect wedges:
First, wash and dry the outside of the potato
Cut the potato in half lengthwise
Lay each half of the potato down, flat side down
Cut each half in half
Finally, cut each quarter of the potato into three evenly-sized wedges
This method will result in 12 even wedges per potato, perfect for this recipe!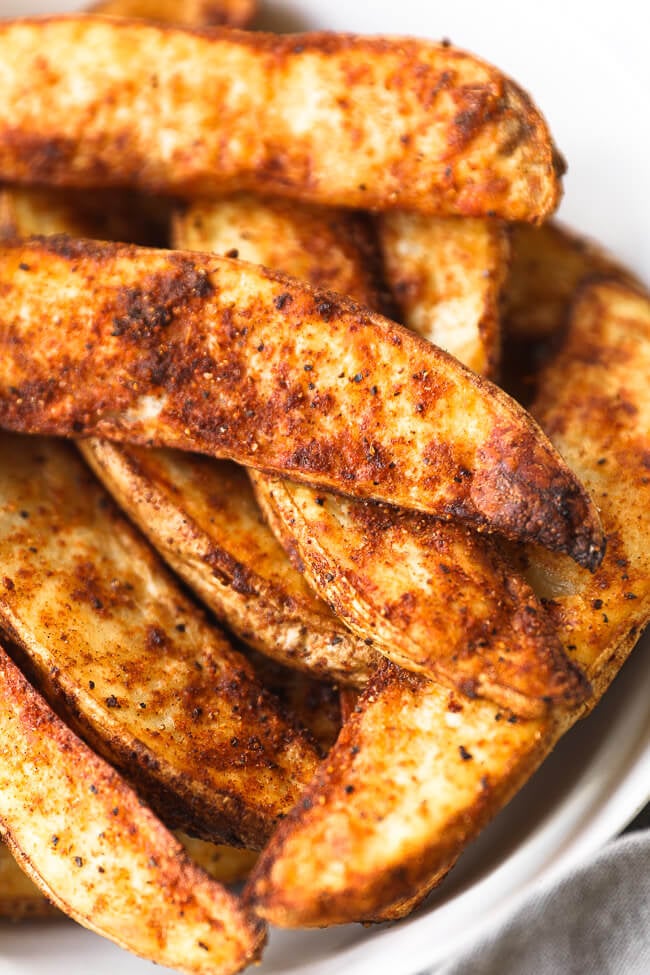 The easy potato wedges seasoning
This seasoning blend is a unique mix that may look like a funny combination at first.
But don't knock it until you try it.
It's the perfect salty mixture for tossing these crispy potato wedges in. I know that you'll be in love after your first bite.
WANT SOME OTHER OPTIONS? Check out our 10 easy DIY spice blends.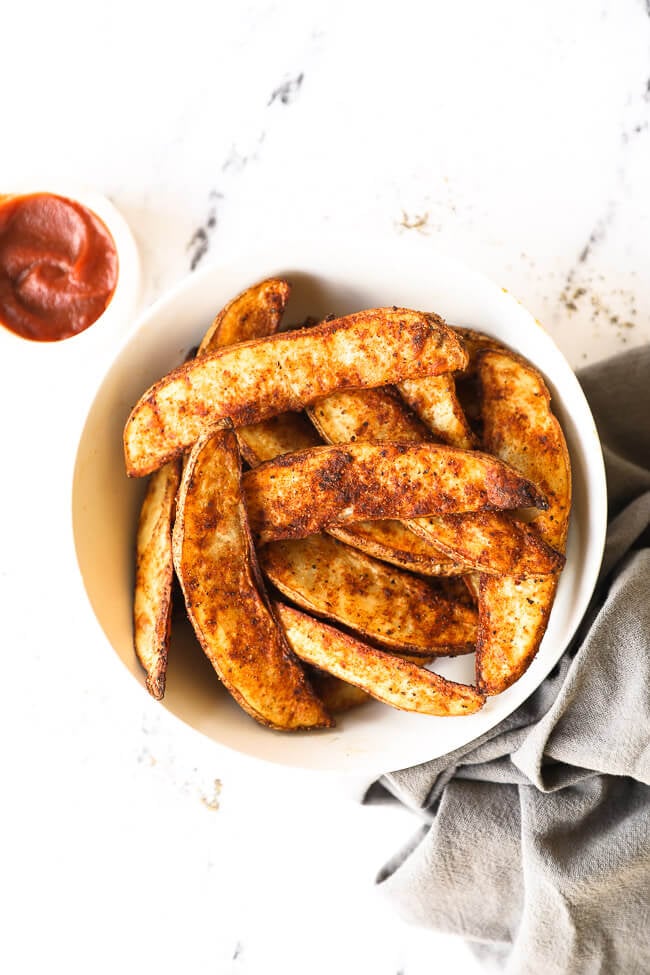 What to serve with these crispy air fryer potato wedges
I can eat these right out of the air fryer, but if you are looking for a healthy pairing here are some options:
And don't forget the dip!
These crispy wedges are perfect for dipping in our chipotle aioli or big mac sauce.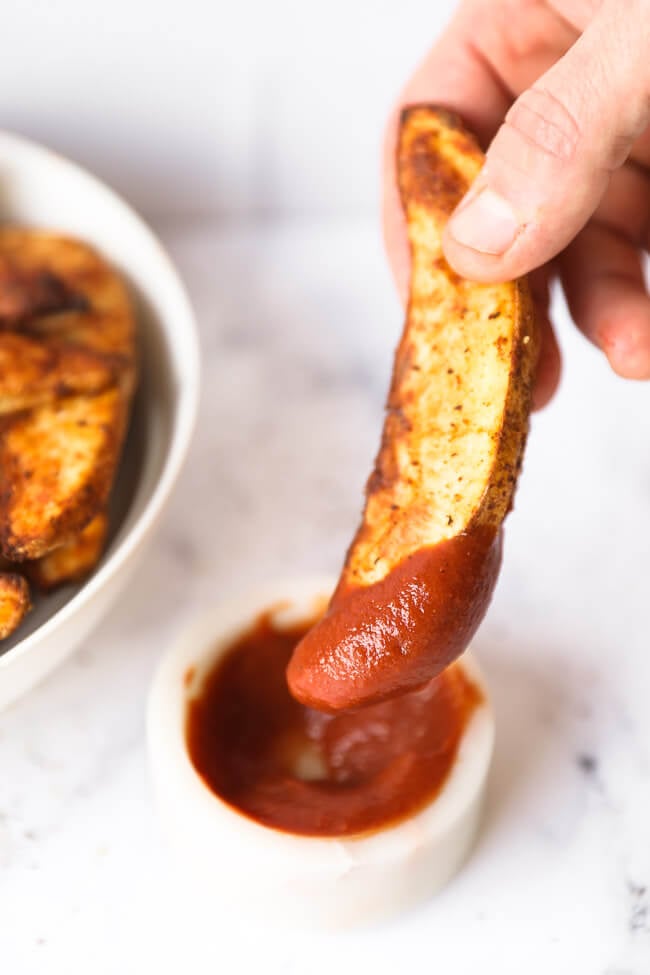 Your turn to try this healthy air fryer recipe
Go ahead and turn an ordinary potato into something crispy and delicious with this easy 5 minute prep recipe! If you make it, leave a comment and rating below to let us know how it goes. Also, take a pic to share on Instagram. Tag us @realsimplegood so we can check it out, we love to see what you're cooking!
---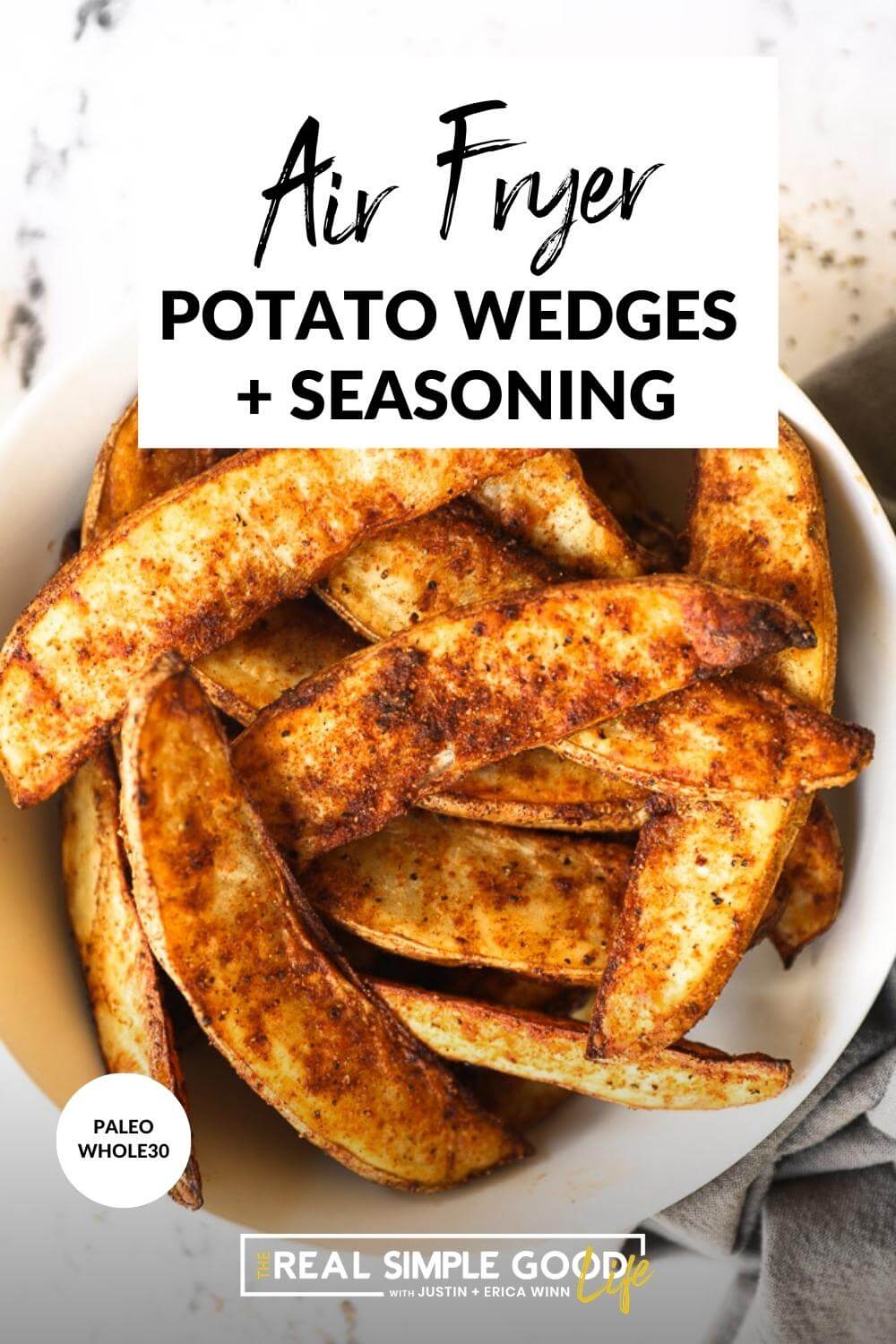 ---
Like this Recipe?
SHARE IT NOW OR PIN IT FOR LATER!
---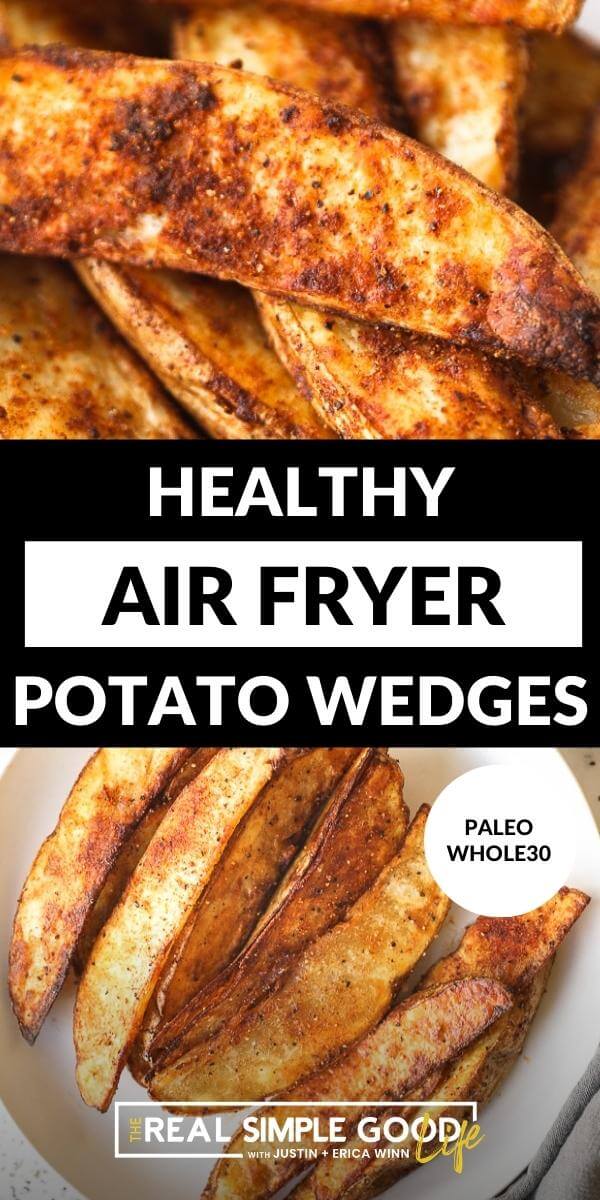 ---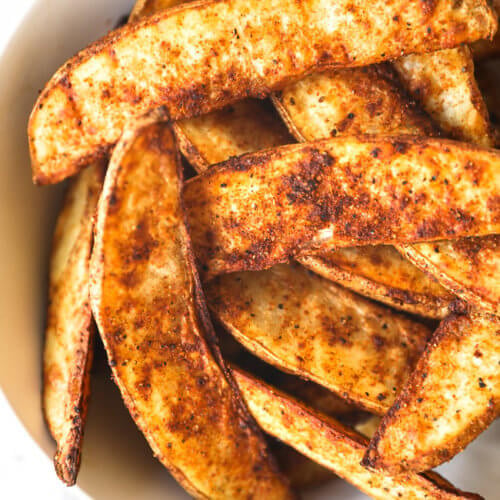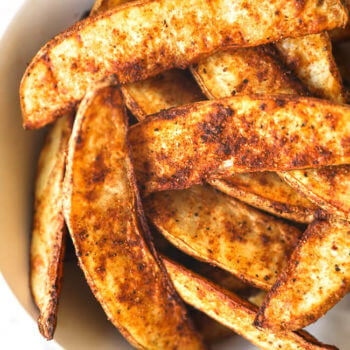 Get the Recipe:
Healthy Air Fryer Potato Wedges + Seasoning
Amazingly simple, these crispy and healthy air fryer potato wedges with a delicious seasoning mix are bound to be a new favorite!
Ingredients
For the seasoning:
3/4 tsp sea salt
1/2 tsp black pepper
1/4 tsp onion powder
1/4 tsp mustard powder
1/4 tsp dried ginger
1/4 tsp smoked paprika
1/4 tsp cayenne pepper, (spicy and optional, omit if desired)
1/8 tsp allspice
Instructions
Clean and dry potatoes. Cut them in half and then slice the halves into wedges. Each potato should make about 12 wedges. Place the wedges in a large bowl and drizzle with 1 tbsp avocado oil. Toss to coat.

Preheat air fryer (if yours preheats) to 400° Fahrenheit and set it to cook for 15 minutes.

Add the potato wedges to your air fryer basket. Keep them in an even layer and leave a little bit of space between each wedge. You may need to cook the potato wedges in 2 batches depending on your air fryer size. Keep the bowl you had the potatoes in out, you'll use it again.

Cook the potato wedges for 15 minutes, flipping with tongs halfway through.

While the wedges cook, make the seasoning mixture by combining the ingredients in a small bowl or ramekin. Wipe out the bowl the raw potato wedges were in with a paper towel to remove any moisture.

When the wedges are cooked, dump them back in the bowl. Drizzle with 1 tbsp avocado oil and toss to coat. Sprinkle the seasoning all over the wedges and toss to coat again.

Serve and enjoy!