This healthy oven-baked chicken caprese is a quick and easy low carb chicken dinner that also has options to make it Paleo and Whole30. We used chicken breast (but you can use thighs) as well as buffalo mozzarella (which you can omit for Paleo + Whole30) and a dairy-free pesto sauce. It's a 35 minute one pan recipe the whole family will enjoy!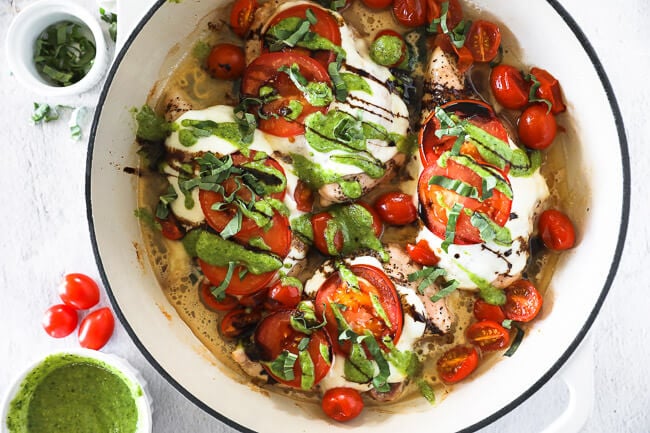 Will a sheet pan work instead of a skillet?
Yep – it sure will! Just make sure to use a sheet pan with a lip around the edges so the juices from the chicken and tomatoes don't make a mess. We chose to use an oven-safe skillet, mostly because it looks prettier for photos, but a sheet pan will work just as well! You can even line it with parchment paper to make clean up that much easier.
What would you serve with this chicken skillet dinner?
You can really pair this oven-baked chicken caprese with any roasted veggies, whatever you have on hand. We really enjoy it with asparagus and/or cauliflower rice. If you're going to roast anything, you can also add the leftover artichoke hearts to your pan. We just threw them on a pan with some asparagus, avocado oil, sea salt and pepper and roasted for the last ten minutes the chicken was cooking. Super easy and tastes great with this chicken breast dinner.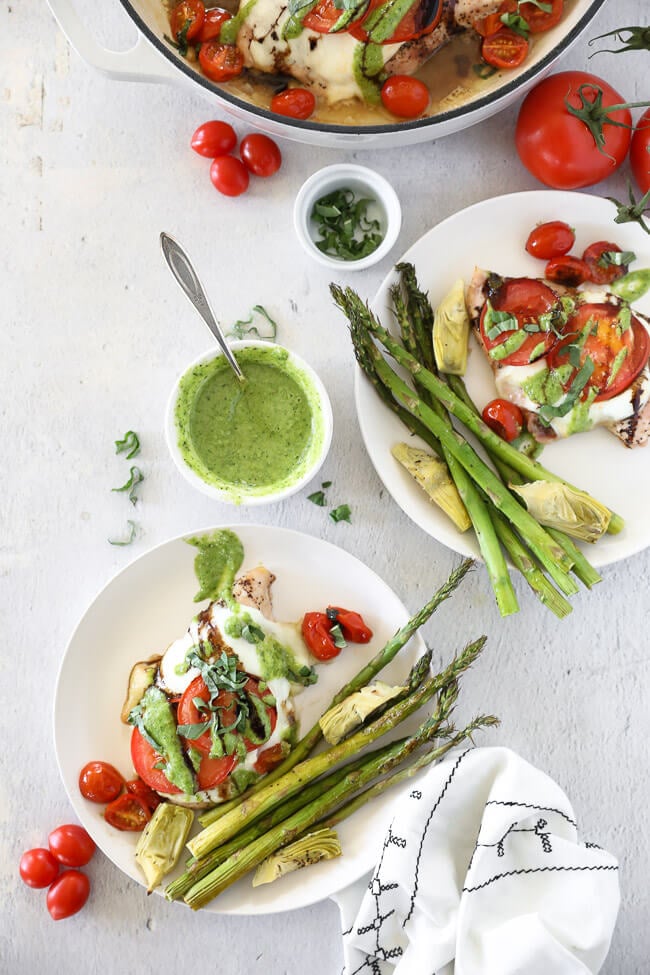 What about the dairy – that's not Paleo or Whole30?
You are correct. Dairy is neither Paleo nor Whole30 compliant. That said…it's an easy fix that we note down in the recipe card. You can simply omit the cheese to make this healthy chicken caprese recipe both Paleo friendly and Whole30 compliant! And if you know you just have issues with cow's milk dairy, then this is a great option for you. We used buffalo mozzarella, which you may tolerate better. So, take the option that works best for you and your body!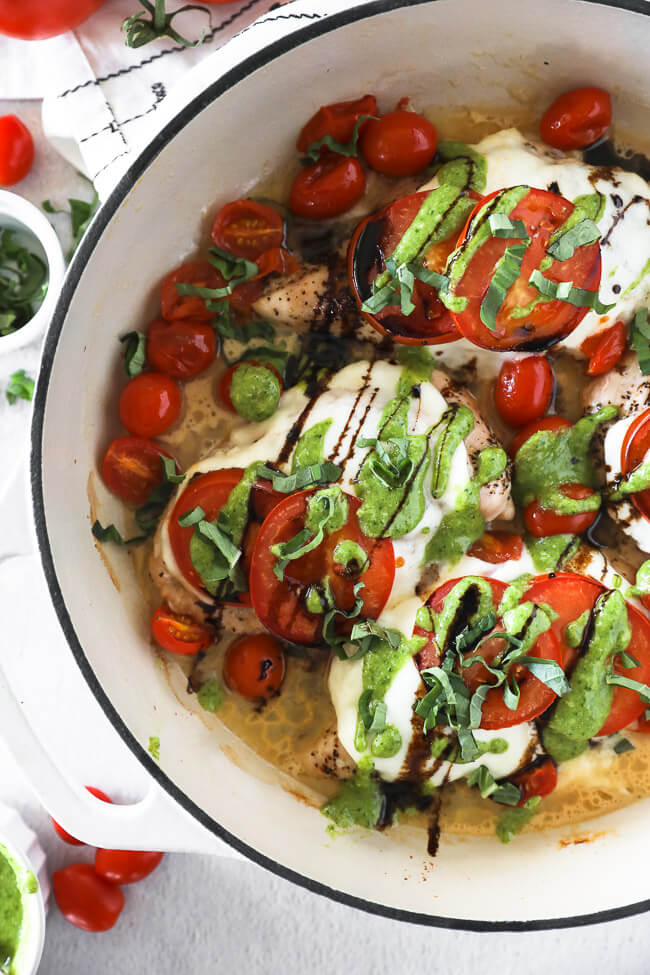 Some other one pan chicken recipes to try
Your turn to try this healthy oven-baked chicken caprese
Grab your oven safe skillet or a sheet pan, and make this easy chicken caprese recipe. It's one of our favorite healthy chicken dinner ideas! Leave a comment and rating below to let us know how it goes. Also, take a pic to share on Instagram. Tag us @realsimplegood, so we can check it out. And make sure to give us a follow if you don't already – let's stay connected!
---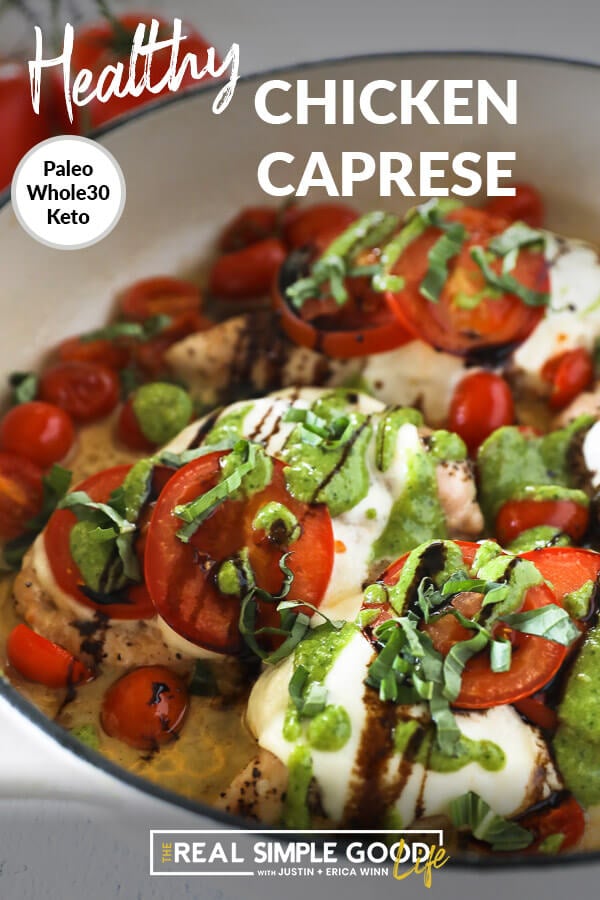 ---
Like this Recipe?
SHARE IT NOW OR PIN IT FOR LATER!
---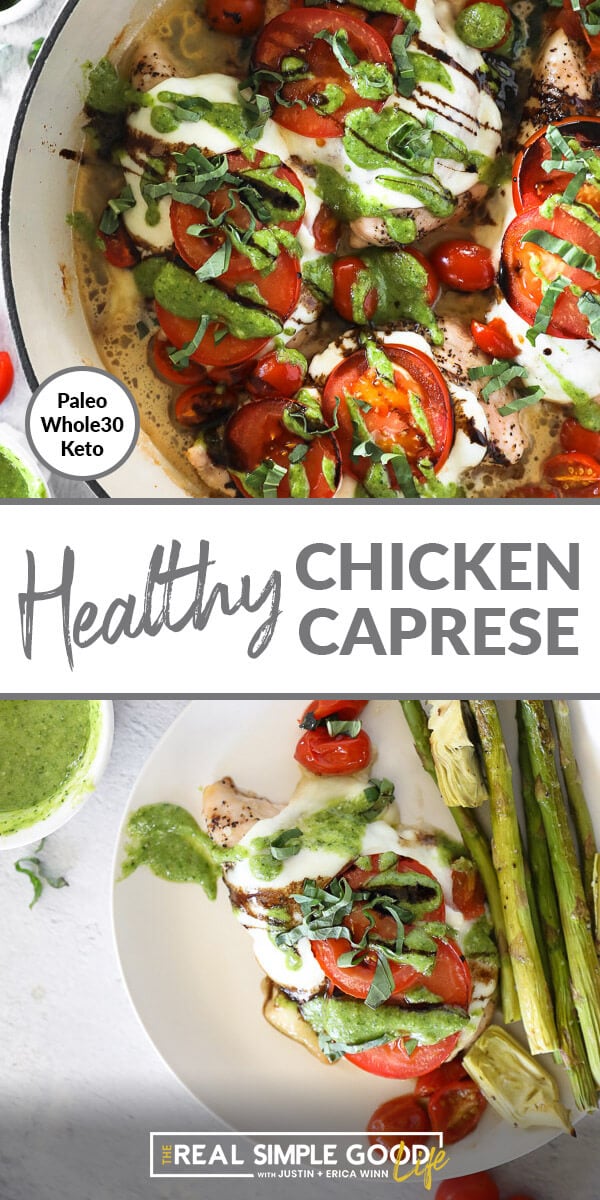 ---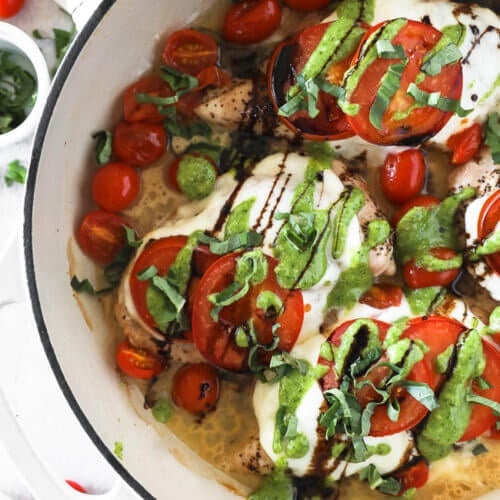 Get the Recipe:
Healthy Oven-Baked Chicken Caprese
Healthy oven-baked chicken caprese – easy Keto chicken dinner with Paleo + Whole30 options. Use chicken breast or thighs, buffalo mozzarella + dairy-free pesto.
Ingredients
1 tbsp (1 tbsp) avocado oil
2 (2) chicken breasts, cut in half lengthwise, (or 4-5 chicken thighs)
1/2 tsp (1/2 tsp) sea salt
1/2 tsp (1/2 tsp) ground pepper
1/2 cup (124 g) pesto, (see below)
1 package (1 package ) buffalo mozzarella , (~5 oz. optional, can sub regular mozzarella if tolerated or omit for strict Paleo + Whole30)
4 small (4 small) tomatoes, (roma or small heirloom would be great, cherry tomatoes would work too)
balsamic vinegar, to taste
For the pesto:
1/4 cup (33.5 g) raw unsalted sunflower seeds
2 tbsp (2 tbsp) nutrtional yeast
3 cloves (3 cloves) garlic, peeled
1/2 can (1/2 can) artichoke hearts, (14.5 oz can)
1 (1) lemon, juice of
15 leaves (15 leaves) fresh basil, (plus more for topping)
3 cups (90 g) fresh spinach
sea salt and pepper, to taste
1/2 cup (108 g) olive oil, (or avocado oil)
water, (to thin out sauce to desired consistency)
Instructions
Preheat oven to 400° Fahrenheit, grease an oven safe skillet with avocado oil and prep chicken as noted. A sheet pan with a lip would work too. Just line it with parchment paper to avoid sticking.

Place chicken breast or thighs in greased skillet and season with salt and pepper. Place in the oven to bake for 30-35 minutes.

While the chicken cooks, make the pesto sauce. Add sunflower seeds, nutritional yeast, garlic, artichoke hearts and lemon juice to a food processor. Pulse until combined.

Add the fresh basil and spinach. Stream the olive oil (or avocado oil) in while the food processor runs until the consistency is smooth. You can add water to thin the sauce out more if desired.

Also while the chicken is baking, slice tomatoes and cheese. When the chicken has about 10 minutes left, add cheese and tomatoes to skillet, topping each piece of chicken with a few slices. You can add extra tomatoes to the pan as well if desired.

Return skillet to the oven to cook for the remaining 10 minutes. Once done remove, drizzle with pesto sauce and balsamic vinegar, and top with fresh chopped basil. Enjoy with a side of asparagus or any other roasted veggies or cauliflower rice. We roasted asparagus and the extra artichoke hearts.
Notes
Nutrition facts are an estimate provided for those following a Ketogenic or low-carb diet and do not include the optional topping for this recipe. See our full nutrition information disclosure here. 
Calories: 664kcal, Carbohydrates: 14g, Protein: 31g, Fat: 54g, Saturated Fat: 8g, Fiber: 5g