We are still going strong with the Instant Pot cooking over here! This Paleo, Whole30 + Keto Instant Pot Jambalaya is a new cajun inspired meal, cleaned up with lower carb cauliflower rice and Whole30 compliant sausage! It's an easy weeknight dinner or meal prep recipe!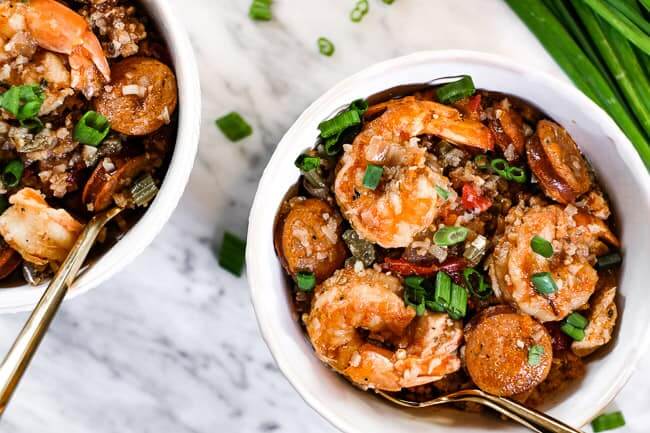 Easy In The Instant Pot
This Instant Pot Jambalaya is great because you get to use some of the versatility offered with an Instant Pot, specifically the sauté function! If you've never used it before, it helps to lock in the juices when you're cooking chicken and meat in it. For this recipe, we use the sauté function to cook the chicken, and then add the rest of the ingredients and cook on high pressure for just 3 minutes. We let the pressure release naturally for 15 minutes and then call it good! It's easy, stress free and you should have dinner ready in under an hour, with only about 20 minutes of active prep/cook time. The rest will just be letting the Instant Pot do its thing!
Some Whole30 Compliant Sausage Options
We know it can be hard to find clean, minimally processed sausages (especially Andouille sausage). In fact, we've only found two brands of clean Andouille sausage without sugar – Teton Waters Ranch Spicy Andouille Sausage (one of our favorites) and Wellshire Farms Smoked Andouille Sausage (turkey or regular). However, this recipe is packed with flavor and spices, so most flavors of sausage will fit in well with this Instant Pot Jambalaya. Here are some other Whole30 compliant options we recommend:
Teton Waters Ranch
Pederson's Farms
Old World Kielbasa
Smoked Kielbasa
Mulay's
Applegate
Aidells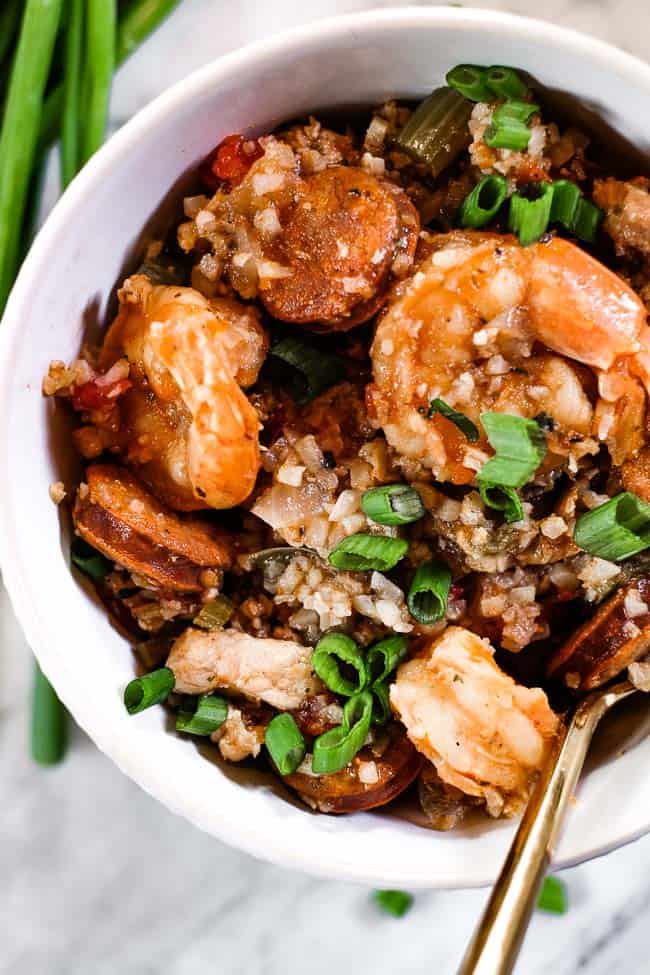 The Leftovers Are Even Better
You know how sometimes you just like the leftovers of a meal even better than freshly served? It feels like this is one of those meals that gets better with a little extra time. The juices get more soaked into the cauliflower rice and it feels even less like cauliflower rice the next day. The flavors marry together so well, and you'll be looking forward to the lunch leftovers!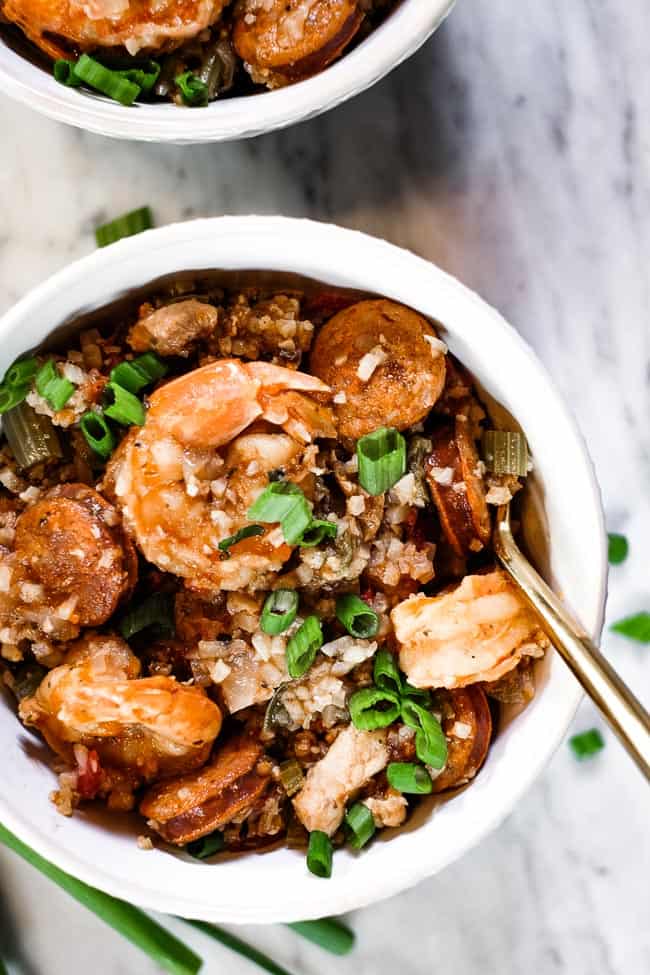 A Great Seafood Option
Our friends over at the fish delivery company Fish Fixe help to keep our freezer stocked with premium seafood. We decided to partner with them to help you reel in the health benefits of more fish in your diet – eat those healthy fats! We've found that having our freezer filled with perfectly portioned seafood has made adding it in every week so easy. We love Fish Fixe for many reasons, but mostly because they deliver seafood that has No Antibiotics, No GMO's, No Chemicals, and is Sustainably Sourced. And to top it all off, they have really amazing customer service! They're just good people, like the kind you'd want to be friends with and invite to your own table! Save $10 off your first box with the code REALSIMPLEGOOD at checkout!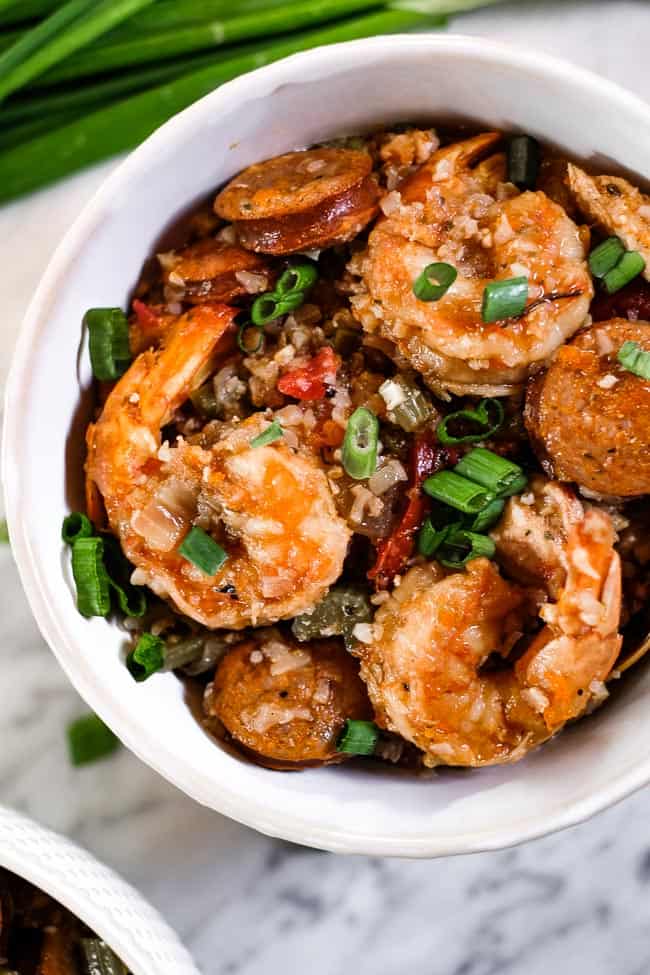 Some Other Instant Pot Recipes To Try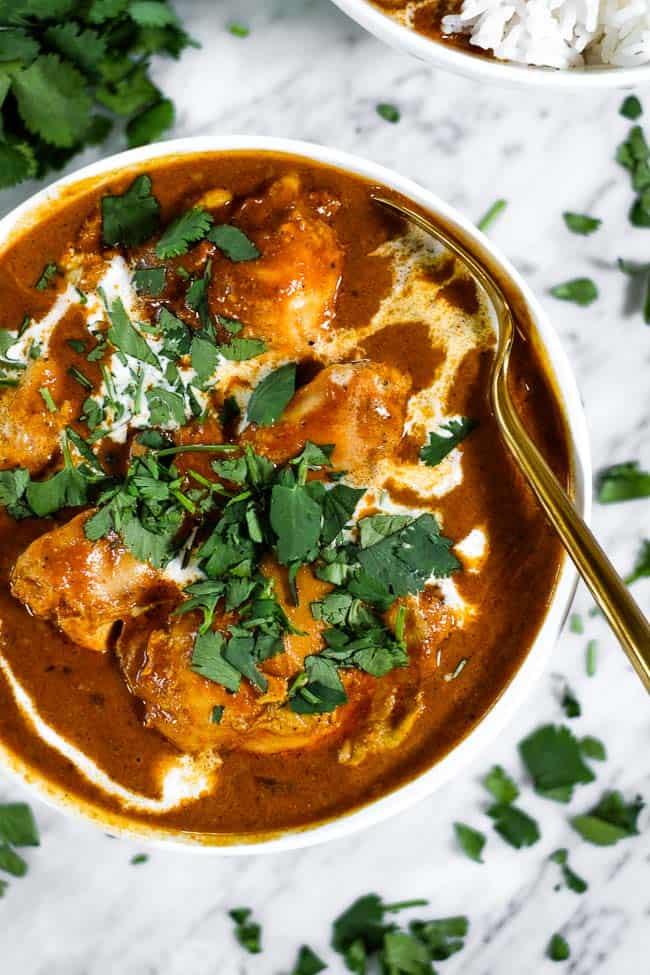 Your Turn To Try Our Instant Pot Jambalaya
Ready to take your Instant Pot skills to the next level? Make this Instant Pot Jambalaya! Leave a comment below and let us know how it goes. Also, take a pic to share on Instagram. Tag us @realsimplegood, and give us a follow if you don't already! We'd love to stay connected!
Like this Recipe?
SHARE IT NOW OR PIN IT FOR LATER!
---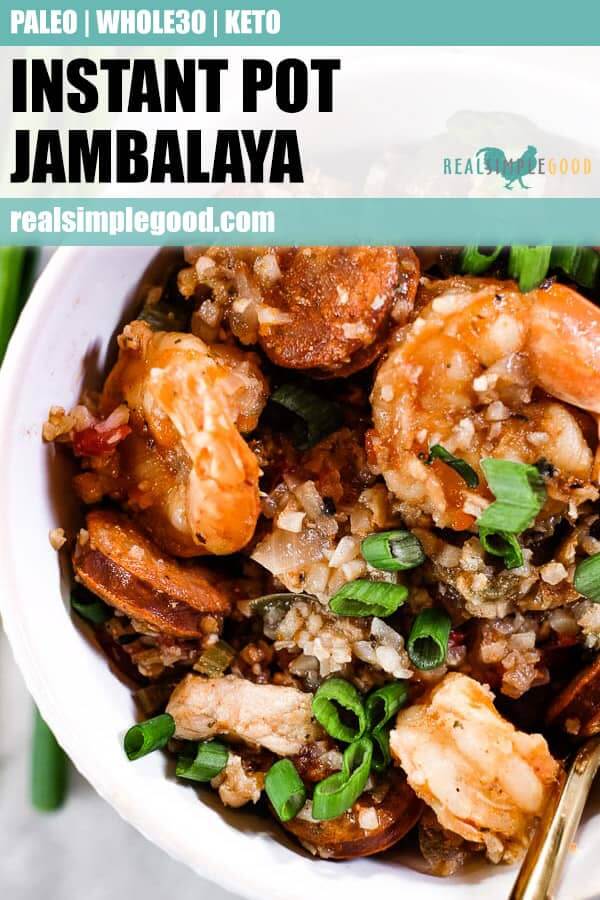 ---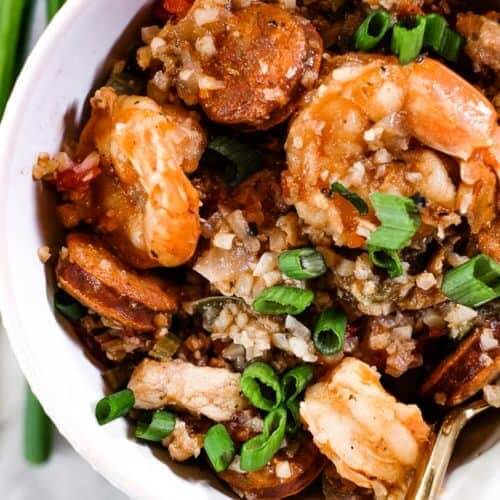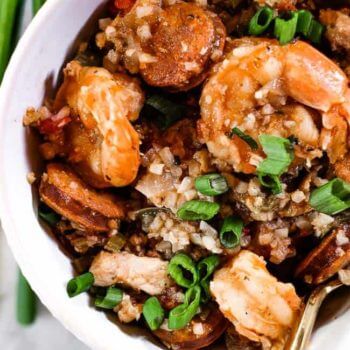 Get the Recipe:
Instant Pot Jambalaya (Paleo, Whole30 + Keto)
This Paleo, Whole30 + Keto Instant Pot Jambalaya is a new cajun inspired meal, cleaned up with lower carb cauliflower rice and Whole30 compliant sausage!
Ingredients
2 tbsp ghee, (or coconut oil for dairy free)
1 lb boneless chicken thighs, cut into bite-size pieces
1 onion, diced
1 bell pepper, diced
1 cup celery, sliced
4 cloves of garlic, minced
1 can fire roasted diced tomatoes, undrained, (14.5 oz)
1/2 cup chicken broth
1 medium head of cauliflower, riced, (about 6 cups cauli rice)
12 oz andouille (or other pre-cooked) sausage, cut into 1/4 inch thick slices, (about 4 large links) See blog post for some W30 compliant options
1 lb shrimp, peeled and deveined
diced green onion or parsley, (optional topping)
For the seasoning:
1 tsp smoked paprika
1 tsp chili powder
1 tsp oregano
1 tsp parsley
1 tsp sea salt, omit if using a salty chicken broth and just taste and add salt at the end
1 tsp pepper
1/2 tsp thyme
Instructions
First, prep all ingredients as noted. Prepare seasoning mix by add all of the seasonings to a small bowl and mixing well.

Press the sauté button on the instant pot and add ghee. Once hot, add in the chicken pieces, onion and bell pepper. Cook, stirring occasionally, until the chicken is mostly cooked through and the onions and peppers start to soften, about 7-8 minutes. Press cancel on the instant pot.


Add the chicken stock and scrape up any bits from the bottom of the pan.

Add all of the remaining ingredients to the instant pot. Pour the seasoning mix over everything and give it a quick stir with a spoon.

Secure the lid on the instant pot and close the pressure valve. Press the "manual" button (or "pressure cook" button) and set the time to cook for 3 minutes at high pressure. Once the time is up, let the pressure naturally release for 15 minutes and then release any remaining pressure.

Remove the lid from the instant pot. Give the contents a stir to mix. Taste and season with any additional salt and pepper as desired. Ladle into bowls for serving. Top with optional garnish if desired and enjoy.
Notes
Nutrition facts are an estimate provided for those following a Ketogenic or low-carb diet. See our full nutrition information disclosure here. 
Calories: 443kcal, Carbohydrates: 8g, Protein: 42g, Fat: 25g, Saturated Fat: 9g, Fiber: 2g