I could basically eat tacos everyday, and fish tacos are decidedly my favorite. These Paleo fish tacos can also be made Whole30 with a simple swap for the tortillas, but really, we love them most with tortillas and usually eat them that way. However you choose, you will love this easy preparation that's big on flavor!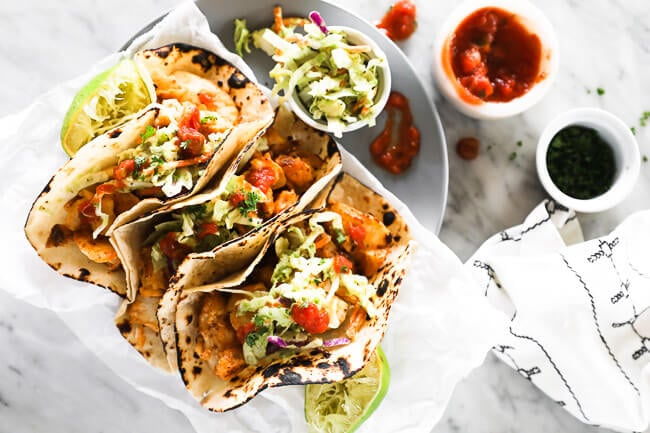 Paleo friendly tortillas
I'm going to be real with you…we go on dates nights weekly and tacos are often what we end up having. In those cases, I just eat tacos with corn tortillas if it's at a restaurant. And honestly, I figure it's not the end of the world if corn tortillas make a debut in my life sometimes, especially if they are authentic and made with quality lard. But when we are cooking at home, we like to keep it grain-free most of the time and Siete Family Foods is our favorite for that! They've created paleo-friendly tortillas made with almond, coconut, cassava and cashew flours. What a treat to be able to have guilt-free paleo fish tacos and coleslaw! This is an unsolicited review of their product. We are not being compensated. Both Justin and I just love that we are able to eat fish tacos, at home, in a tortilla.
To boot – they are tortillas that stay together and act like a tortilla should with a similar consistency and texture to traditional corn tortillas. Sometimes when eating a real food based diet, you can start to miss the simple things like picking up your food and eating with your hands. These Paleo fish tacos absolutely hit the spot in that way.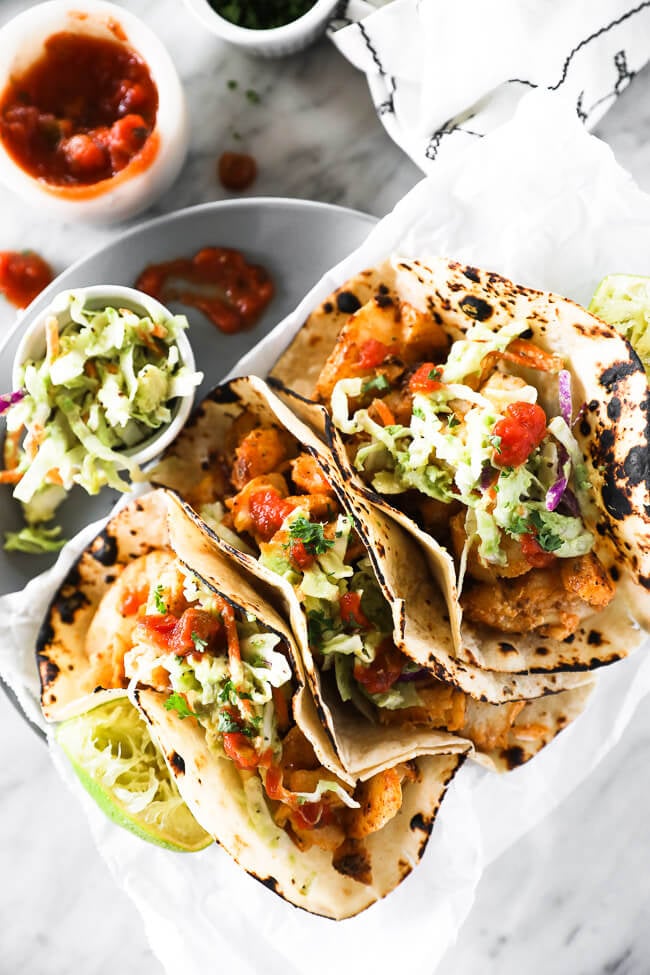 What's the best fish for making fish tacos?
We always make our fish tacos with cod or halibut (use a flaky white fish), and they are best when you prepare the seasoning mix and let them marinate for at least one hour before you cook the fish. It's a simple blend of spices that yields a masterful flavor punch. The coleslaw is made without mayo, and is a light, zesty, and crunchy topper to the tacos. Plus, it's a great way to sneak in some extra veggies!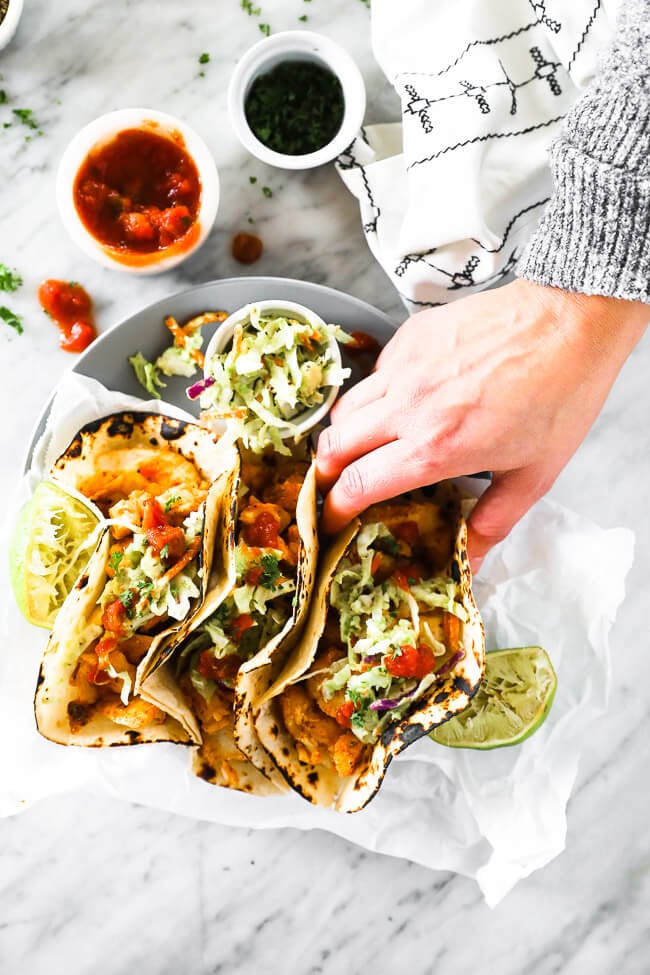 Some other seafood recipes you might enjoy
Your turn to try our Paleo fish tacos
Get your taco on with these fish tacos! They're a great quick and easy weeknight dinner! Let us know how it goes by leaving a comment below. Also, take a photo and tag us on Instagram @realsimplegood, so we can check it out! Make sure to give us a follow if you don't already – let's stay connected!
---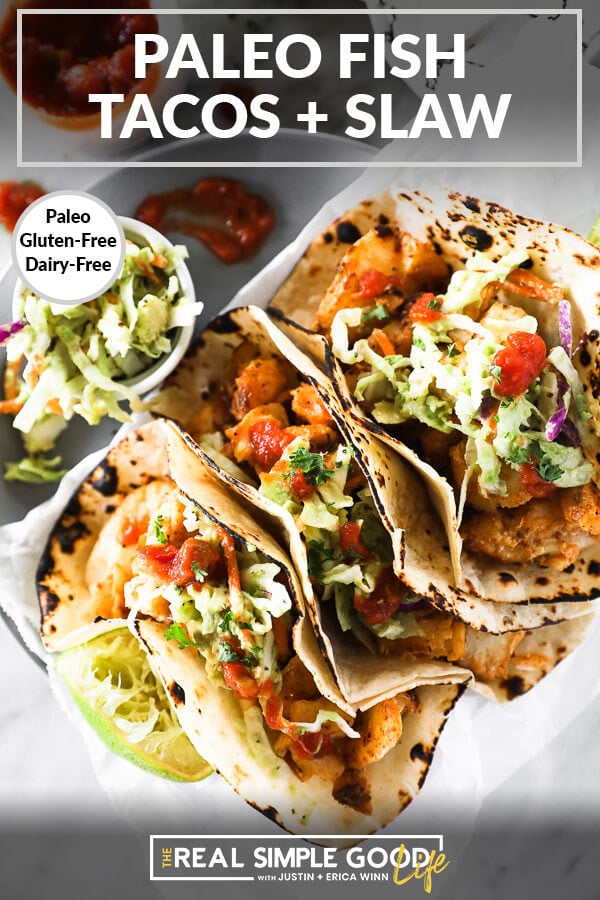 Like this Recipe?
SHARE IT NOW OR PIN IT FOR LATER!
---
---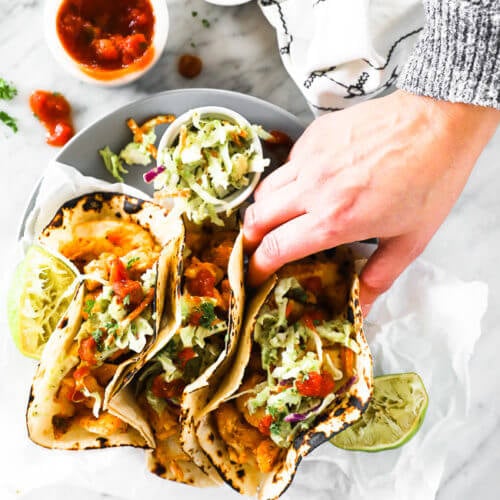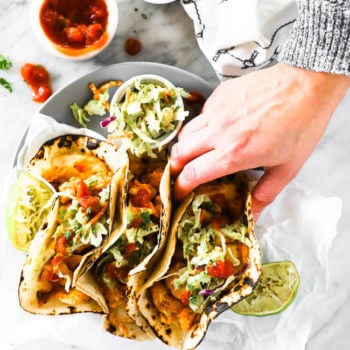 Get the Recipe:
Paleo Fish Tacos and Coleslaw
Our paleo fish tacos and coleslaw are made with a simple blend of spices creating a masterful flavor punch and topped with slaw that is light and zesty.
Ingredients
1 package of Siete tortillas, (or you can use corn tortillas if you eat them or lettuce shells for low carb/keto and Whole30)
For the coleslaw:
2 cups cabbage, – shredded green and/or purple (we buy a bag of already shredded organic green and purple cabbage at Trader Joe's)
Juice of 1 lime
1 tbsp avocado oil
1/2 of an avocado, – cubed
salt and pepper, – to taste
For the fish tacos:
1 lb of flaky white fish, (try cod or halibut)
1 tsp garlic powder
1/2 tsp salt
1/2 tsp paprika
1/4 tsp cayenne
1/4 tsp cumin
1/4 tsp pepper
2 tbsp grassfed butter or ghee, (or coconut oil for dairy free)
Instructions
Place all of the seasonings for the fish tacos in a small bowl and mix until they are evenly combined.

Place your fish in a ziplock bag and then add the seasoning mix. Close the bag and use your hands to get the seasonings to coat the fish. Place in the fridge, and let your fish marinate for at least an hour.

Make your coleslaw before you start cooking your fish because the fish won't take long, and you'll want to plate these tacos and get to eating right away.

For the coleslaw, just place all of the coleslaw ingredients in a small mixing bowl and mix them up until the avocado gets a little broken down but stays mostly chunky. Set aside till you're ready to plate.

Heat a large skillet over medium heat and let your butter or ghee heat up and melt in the pan.

Transfer your fish from the ziploc to your heated skillet. Let the fish get to sizzling. Cook for 2-4 minutes.

While the fish is going, heat up your tortillas. Just pop them in a medium skillet one at a time, right before your fish is done. They only need to be heated up for a minute or less. If you get them too crispy they will fall apart – lesson learned one time we made them.

Flip or mix the fish pieces around to get the other sides. Cook for another 2-4 minutes. Turn your burner off once the fish is done. It will be flaky.

Plate your tacos. Layer your fish and then coleslaw right on top of your tortillas. Garnish your favorite toppings, like salsa and cilantro. We also like to add a dollop of chipotle lime mayo from Primal Kitchen (it's addicting). Devour these paleo fish tacos and coleslaw! It's like bite after bite of a vacation in Mexico right at your own dining table!