Already this Fall we've fired up our Instant Pot and Slow Cooker soooo many times! This Paleo + Whole30 sweet potato chili is just one of the many ways you can utilize these kitchen appliances and serve up a cozy bowl of Whole30 sweet potato chili!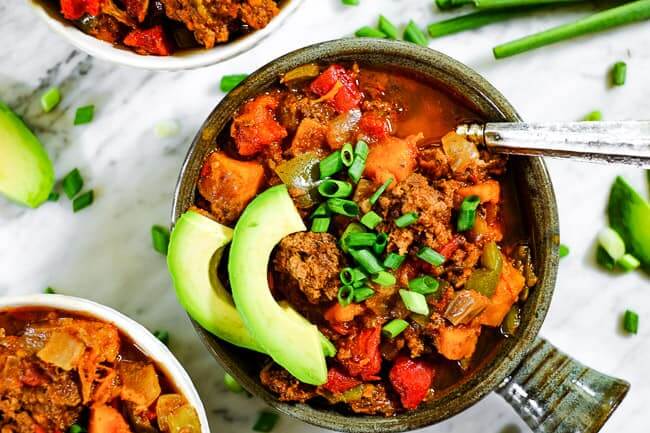 Cozy Bowls
Colder weather and shorter days have us craving all the cozy bowls, including this sweet potato chili. It is so hearty, comforting and easy to make in either your Instant Pot or Slow Cooker. You can really use either and enjoy the ease of prepping and setting to cook. You save time with the Instant Pot but if you prep all the ingredients in advance, tossing them in either and then setting the machine and going about your day is simple enough.
Meal Prep
We tend to gravitate toward recipes that are either super quick and easy to make (like on the table in under 30 minutes) or recipes that are great for meal prepping. This Paleo + Whole30 sweet potato chili is a great meal prep recipe. You can prep the ingredients in advance and toss everything in the Instant Pot or Slow Cooker in the morning. Or, and this is probably our favorite, make it for dinner on Sunday and then have the leftovers in the fridge going into the work week. You can pack it for lunch at work or have another easy dinner already made and ready to heat up.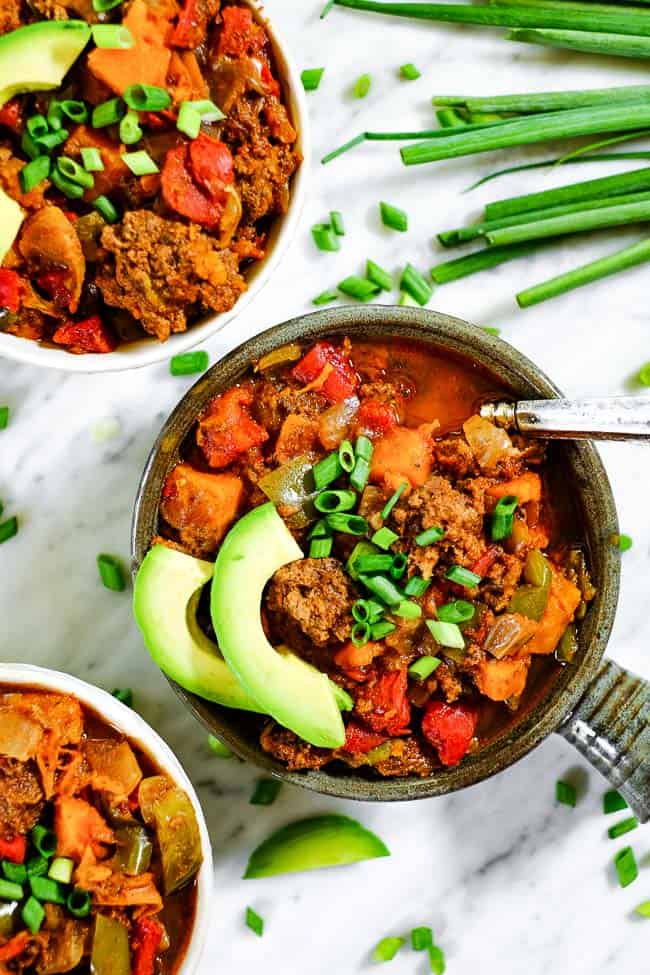 Sweet Potato Or Winter Squash
If you follow along with us regularly, you've probably read about how I don't digest potatoes very well, primarily white potatoes but even sweet potatoes can be a little rough for me. Every once in a while sweet potatoes do sound especially delicious and I will splurge and enjoy some, but when I'm not feeling up to it we just swap the sweet potato in this recipe for winter squash and it turns out just as wonderful. We typically use either delicata or butternut squash and just cube it – it's usually about one delicata or half of a butternut squash that feels like the right amount to use.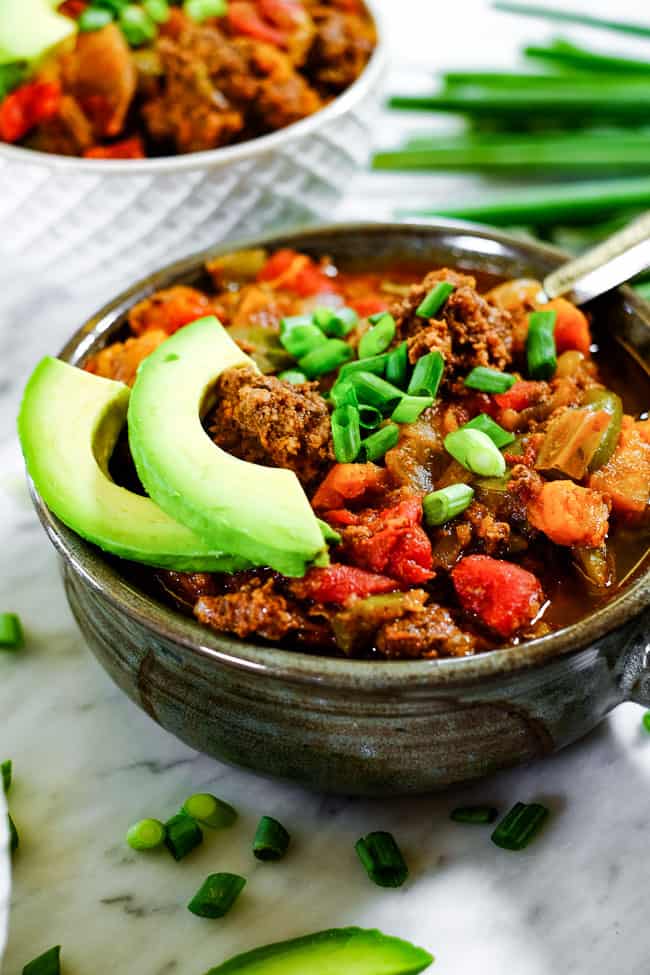 Some Other Instant Pot + Slow Cooker Recipes To Try
Your Turn To Try Our Sweet Potato Chili
Plan a little meal prep into your weekend and make this Paleo + Whole30 sweet potato chili for dinner on Sunday. Enjoy the easy leftovers and let us know how it goes by leaving a comment below. Also, take a pic to share on Instagram. Tag us @realsimplegood, and give us a follow if you don't already! We'd love to stay connected!
LIKE THIS RECIPE? SHARE IT NOW OR PIN IT FOR LATER!
---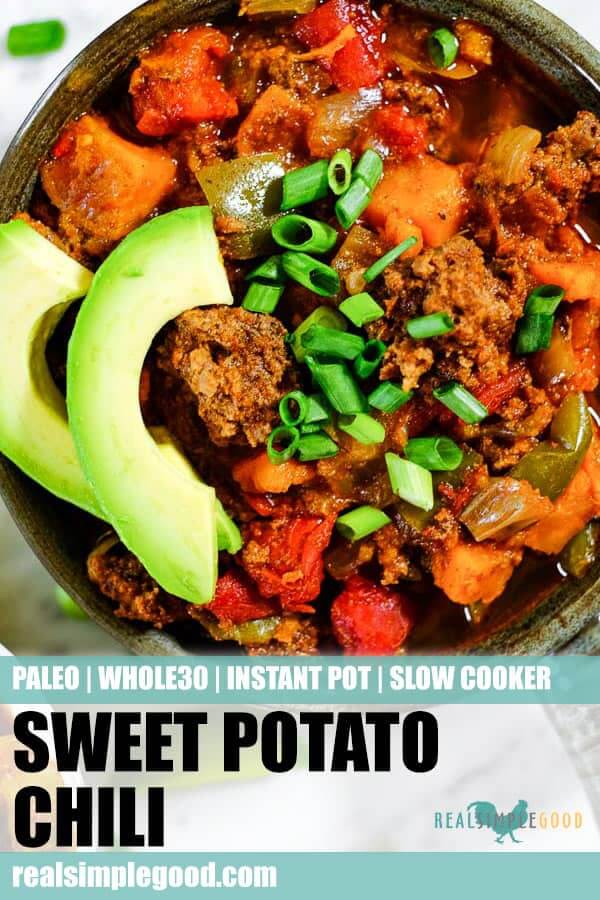 ---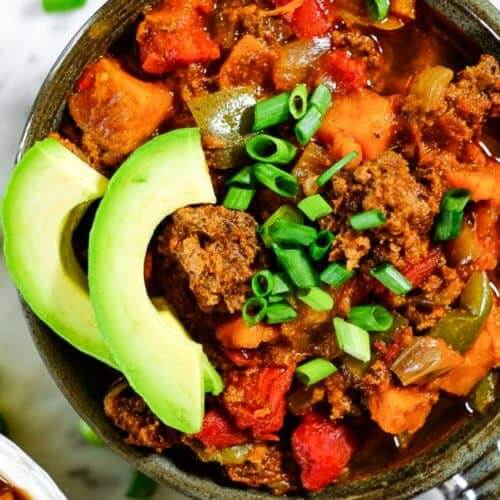 Get the Recipe:
Sweet Potato Chili (Paleo + Whole30) Instant Pot or Slow Cooker
This Paleo + Whole30 sweet potato chili is cozy, comforting and super easy to make! Instructions for both the Instant Pot + Slow Cooker.
Ingredients
For the seasoning:
1 tbsp chili powder
1 tsp garlic powder
1 tsp cumin
1 tsp oregano
1/2 tsp onion powder
1/2 tsp paprika
1/2 tsp sea salt
1/4 tsp thyme
For the chili:
1 sweet potato, cubed, (or 2 cups cubed butternut squash)
2 bell peppers, diced
1 onion, diced
1 can crushed tomatoes, 28 oz
1 tbsp tomato paste
1 lb ground beef
Instructions
To prepare the seasoning, add the ingredients to a small bowl and mix well.

Chop sweet potato, peppers and onion as noted.
For the Instant Pot:
Place the ground beef in the instant pot and break it into small its with a wooden spoon. Add in the remaining ingredients and sprinkle the seasoning over everything. Stir to mix.

Place the lid on the instant pot and close the pressure valve. Press the "soup" button and set for 30 minutes.

Allow the cooking cycle to complete and then quick release the pressure.

Open the lid when safe to do so. Taste and season with additional salt and pepper as desired. Spoon into bowls and serve.
For the slow cooker:
Follow steps 1-3 above, placing the ingredients in and mixing in your slow cooker.

Cook on high for 3 hours or on low for 6 hours. Taste and season with additional salt and pepper as desired. Spoon into bowls and serve.