Why you'll love this recipe
It really is so very easy! Simple ingredients and frozen veggies get tossed in the skillet for a quick and healthy weeknight dinner option.
This rich and creamy crustless chicken pot pie is healthy comfort food at its best. The flavor is everything you want without all the guilt.
You can feed a whole family (or crowd)! This recipe makes a big batch and the leftovers hold up well in the fridge and are easy to reheat.
Ingredient notes
Chicken – You can use any leftover chicken for this recipe (shredded, rotisserie, canned, etc.) Alternatively, you could cut up and cook chicken quickly on the stovetop.
Mirepoix – Frozen mirepoix is a mix of chopped carrots, onion and celery. Using this frozen mix makes this recipe super-easy! You can use fresh chopped veggies too.
Coconut milk – This recipe uses full-fat coconut milk to keep it dairy free, but if you eat dairy it's fine to use heavy cream instead.
Tapioca starch – Our preferred grain-free thickener for creamy sauces. You can substitute corn starch or another flour thickener if desired.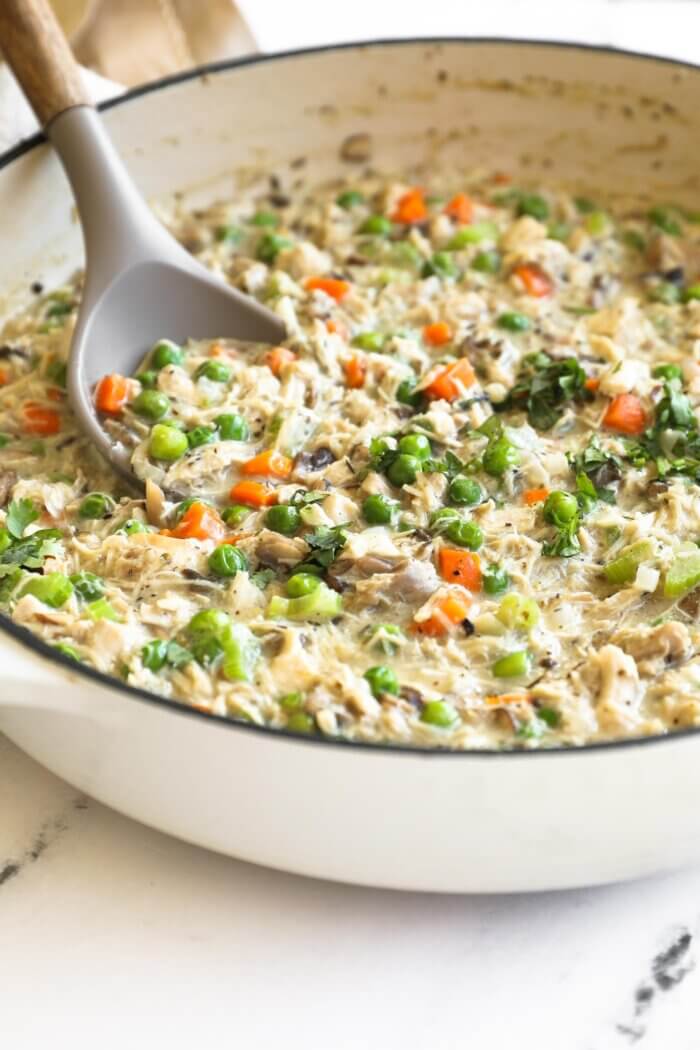 Tips from an expert home chef
Feel free to customize this recipe. If you have turkey instead of chicken, use that! Also, if you want other pot pie veggies you can substitute whatever you wish.
This is a great meal prep recipe! It's perfect for leftovers and also freezer friendly, so make a big batch and use it later.
It's surprisingly delicious served cold. Use it in place of chicken salad for things like sandwiches, wraps or on top of some greens.
Add in some fresh herbs. If you have them, a small amount of chopped fresh herbs (thyme, rosemary or parsley) can be a great addition to this recipe.
Other healthy comfort food recipes you'll love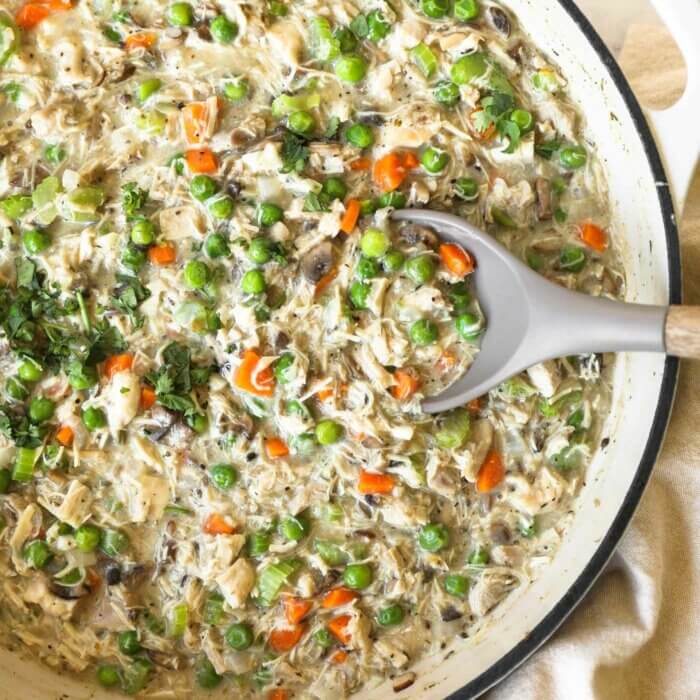 Get the Recipe:
20-Minute Crustless Chicken Pot Pie (So Easy!)
This creamy crustless chicken pot pie is really so easy to make! Throw some leftover shredded or cubed chicken in with frozen veggies and thick, a creamy sauce and you'll have a healthy comfort food dinner ready in 20 minutes.
Ingredients
2 tbsp ghee, (or coconut oil for dairy free)
4 cloves garlic, minced
2 cups mushrooms, diced, (about 8 oz)
10 oz frozen mirepoix blend, (can sub 2 cups fresh diced onion, carrot and celery)
1 cup frozen peas
4 cups cooked chicken, (shredded or cubed)
2 tbsp tapioca flour, (can sub corn starch)
1.5 cups chicken broth
1 cup coconut milk, (can sub heavy cream)
1 teaspoon sea salt
1 teaspoon ground pepper
1 tsp Italian seasoning
1 tsp ground sage
Instructions
Prep garlic and mushrooms as noted. Gather remaining ingredients to have them ready.

Heat a large skillet over medium heat and add in ghee. Once melted, add in the minced garlic and mushrooms and cook for 2-3 minutes, stirring occasionally.

Add in the frozen mirepoix blend, peas and cooked chicken. Stir and cook for 5-6 minutes, until the frozen veggies thaw and soften.

Measure out the chicken broth and add in tapioca starch. Stir with a whisk to mix well.

After the veggies have cooked for 5-6 minutes, Pour in the chicken stock mixture into the pan and scrape the bottom of the pan to deglaze.

Add in the coconut milk and stir well to mix.

Season with salt, pepper, Italian seasoning and sage. Stir well and turn heat down to low. Simmer on low heat until everything reaches a thick, stew-like consistency, about 4-5 more minutes.

Remove from heat and serve immediately.