Whether you're looking for an easy breakfast, want to meal prep or just like healthy snacks, go ahead and make this Paleo chia seed pudding. It's dairy-free, vegan and has no added sugar. Plus, you'll be getting some superfood goodness to start your day!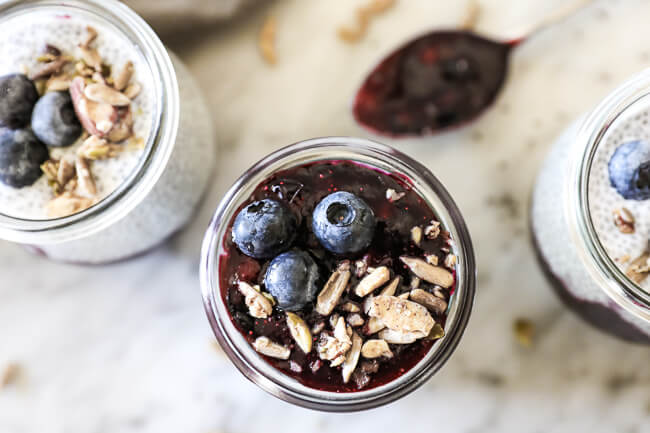 Disclaimer: We partnered with Bob's Red Mill to bring you this post. We only work with companies and brands we truly believe in and use ourselves. Therefore, all opinions and recipes are entirely our own. Thank you for supporting Real Simple Good and our partners.
Make ahead + meal prep friendly
Chia pudding is probably one of my favorite ways to meal prep. You can throw it together in just a few minutes, and then it's ready to go when you need a quick and easy breakfast or snack on hand. To take it to the next level, I even like to separate out this Paleo chia pudding into single serve sized containers, so that I really just have to grab one out of the fridge, and I'm ready to go.
Do I have to use blueberries in this Paleo chia seed pudding?
No, you could really use any berries you'd like. We have tons of blueberries on hand from Justin's mom. She's got a really amazing garden with a bunch of blueberry bushes, so we've been using them up as much as we can! Strawberries, raspberries and blackberries would all be great, and you could follow along with the exact same instructions to reduce the berries.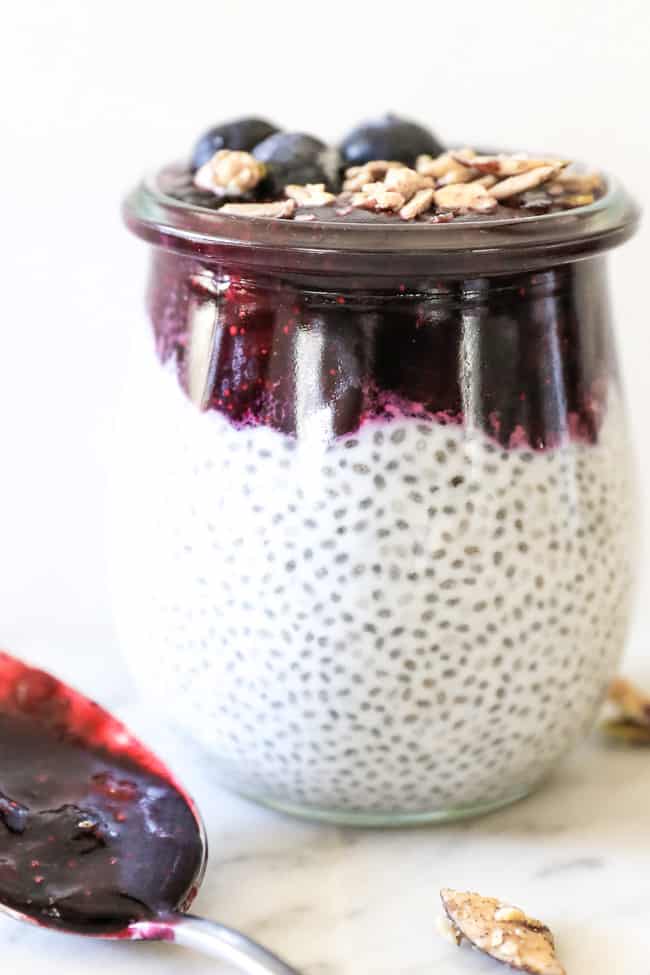 What's so great about chia seeds?
Chia seeds are often referred to as a superfood. They're great because they've got pretty much the perfect macro makeup – omega 3 fatty acids, fiber and protein. There is just one net carb in two tablespoons – so it's a great high fiber source if you're looking to add more fiber to your diet.
These tiny seeds also expand to hold about 10 times their weight in liquid, which is pretty crazy. When combined with water or another liquid, chia seeds turn into a gel-like consistency, and they take on the flavors of whatever you enjoy them with. So, basically that means this Paleo chia seed recipe is creamy, blueberry heaven!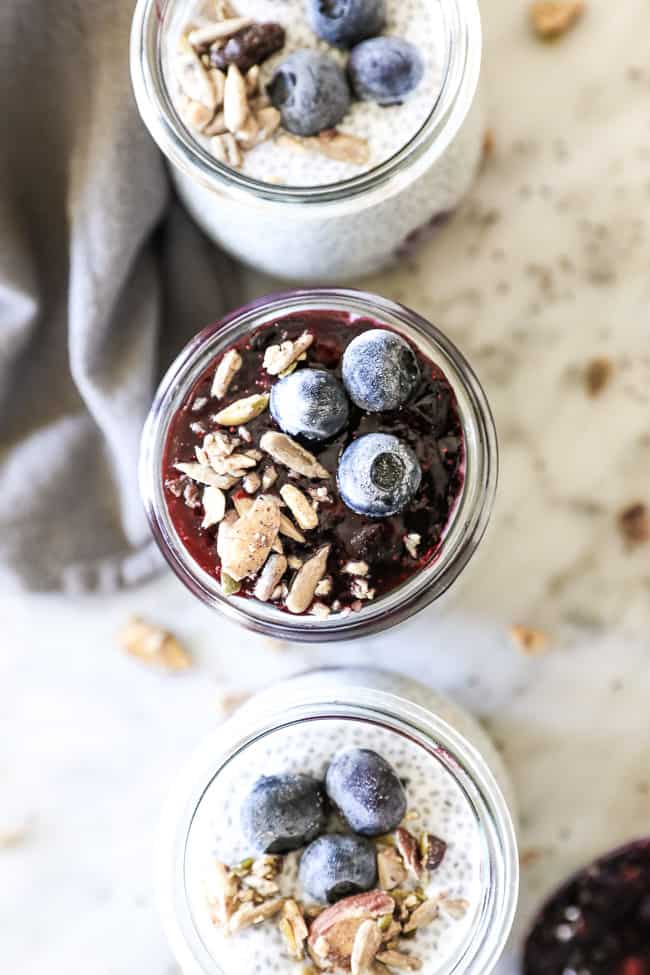 The best chia seeds
We love Bob's Red Mill organic chia seeds for this recipe. Bob's products are great because we know whatever we buy from them will be of the highest quality. Lots of their products are Paleo friendly and have become a staple in our home. Be sure to use their chia seeds when you make this Paleo chia seed pudding recipe!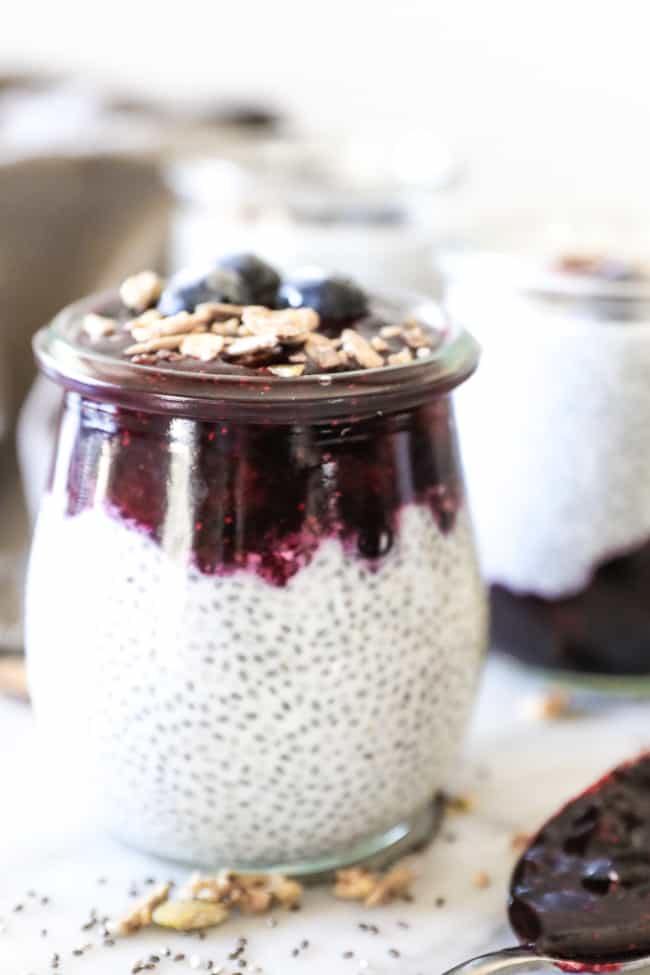 Some other meal prep recipes we love
Your turn to try our Paleo chia pudding
This Paleo chia pudding is an easy make ahead breakfast or snack, and it's super tasty! It's almost like dessert! Go get your meal prep on, and make this chia pudding! Leave a comment below to let us know how it goes. Also, take a pic to share on Instagram, and tag us @realsimplegood so we can see! Make sure to give us a follow if you don't already. We'd love to stay connected!
---
---
Like this Recipe?
SHARE IT NOW OR PIN IT FOR LATER!
---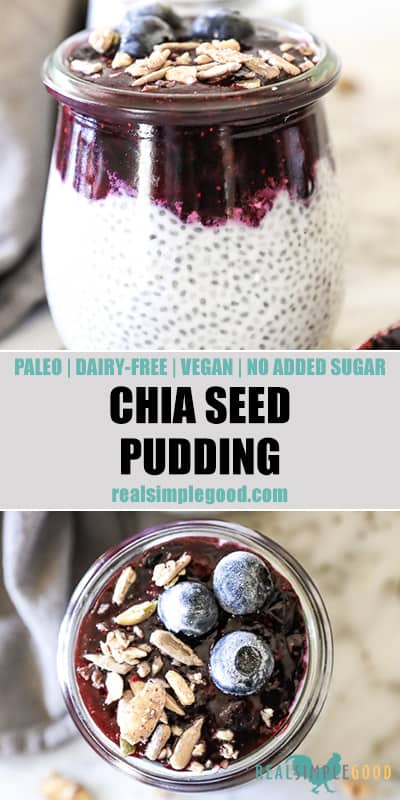 ---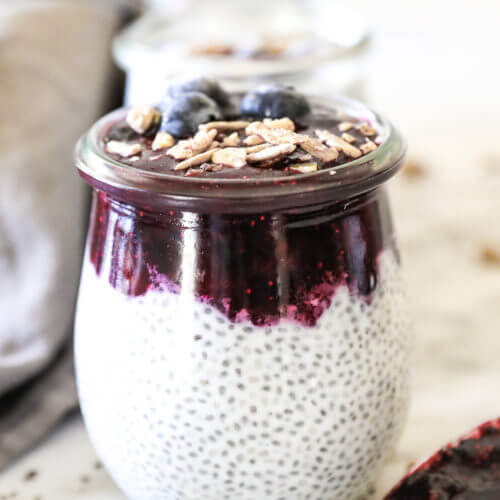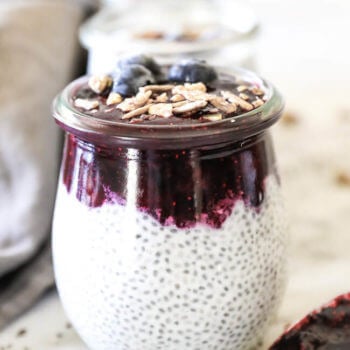 Get the Recipe:
Paleo Chia Seed Pudding (Dairy-Free, Vegan + No Added Sugar)
Need an easy breakfast or healthy snack, go ahead and make this Paleo chia seed pudding. It's dairy-free, vegan and has no added sugar!
Ingredients
2 tbsp Bob's Red Mill chia seeds
1/2 cup coconut milk, (or amlond milk or other nut milk of choice – just check ingredients for no added sugar)
1 tbsp collagen, (optional)
Pinch of sea salt
1/4 tsp vanilla, (optional)
1/2 cup berries, (plus more for topping – we used blueberries)
Additional toppings (optional):
Other fresh fruit
Toasted coconut
Instructions
Place chia seeds, non-dairy milk, sea salt, collagen (if using) and vanilla (if using) in a bowl. Combine with a whisk, stirring continuously until chia seeds begin to expand and the texture thickens. Set aside.

In a small saucepan or skillet over medium heat add berries. Cook, stirring often until the berries break down and get saucy. They don't have to be fully broken down if you prefer them to have a little more texture.

Separate the berry mixture into the bottom of a smaller jar, layer chia pudding on top (or do the reverse with chia pudding on the bottom and berries on top) and add any additional optional toppings you'd like. Cover and store in the fridge. You can enjoy cold or heat up for about 30 seconds before eating. Enjoy!