I could eat some version of tacos everyday. It's not a joke or an exaggeration either. I really love taco everything, and this quick and easy Paleo taco salad is a bowl full of goodness I could eat anytime of day! So, whether it's Taco Tuesday or just another day of the week you fancy, make this Paleo taco salad!
Quick + Easy FTW
I don't know about you, but for us quick and easy always wins! Always! This Paleo taco salad will only take you about 25 minutes to prepare, and you'll be completely satisfied with the combo of flavors and textures.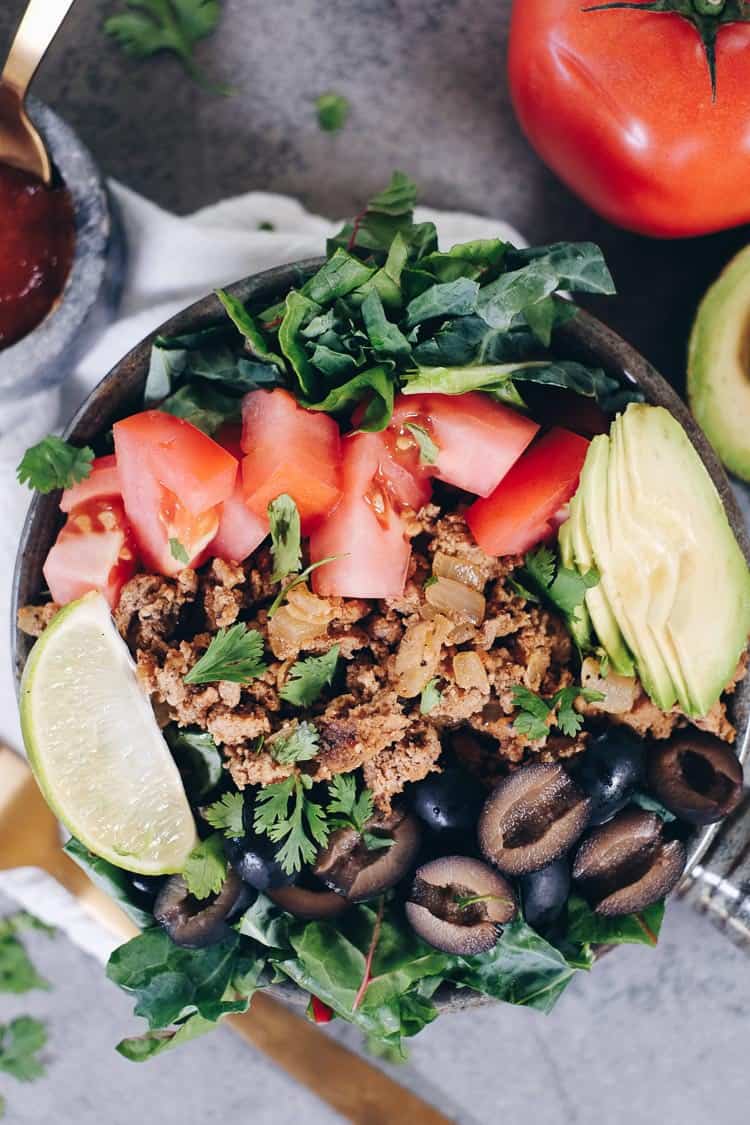 Simple Ingredients
We love simple ingredients and recipes you can adapt using whatever you have on hand. For this Paleo taco salad, we use ground turkey for a lean protein, but you could really use whatever option you have readily available, like ground chicken or beef. We haven't tried it yet, but I bet ground pork would be pretty fantastic, too. Same goes for the veggies – if you have a favorite on hand, go ahead and add it on. Also, use whatever greens you enjoy most. When we made this to take photos, we used a combo of greens from our garden including Swiss chard and kale.
Don't Forget About The Toppings
And toppings….toppings are the best part, so feel free to use whatever you love and have readily available for this Paleo taco salad! In this recipe we list tomatoes, olives, avocado, cilantro, etc. Those are our favorites, so make sure you use whatever fits your taste. BTW…did you know people either love or hate cilantro?! I read or heard somewhere that it either tastes great or people describe it as a soapy taste. So strange! We love it, but which camp are you in? Obviously, if it's soapy for you, skip the cilantro.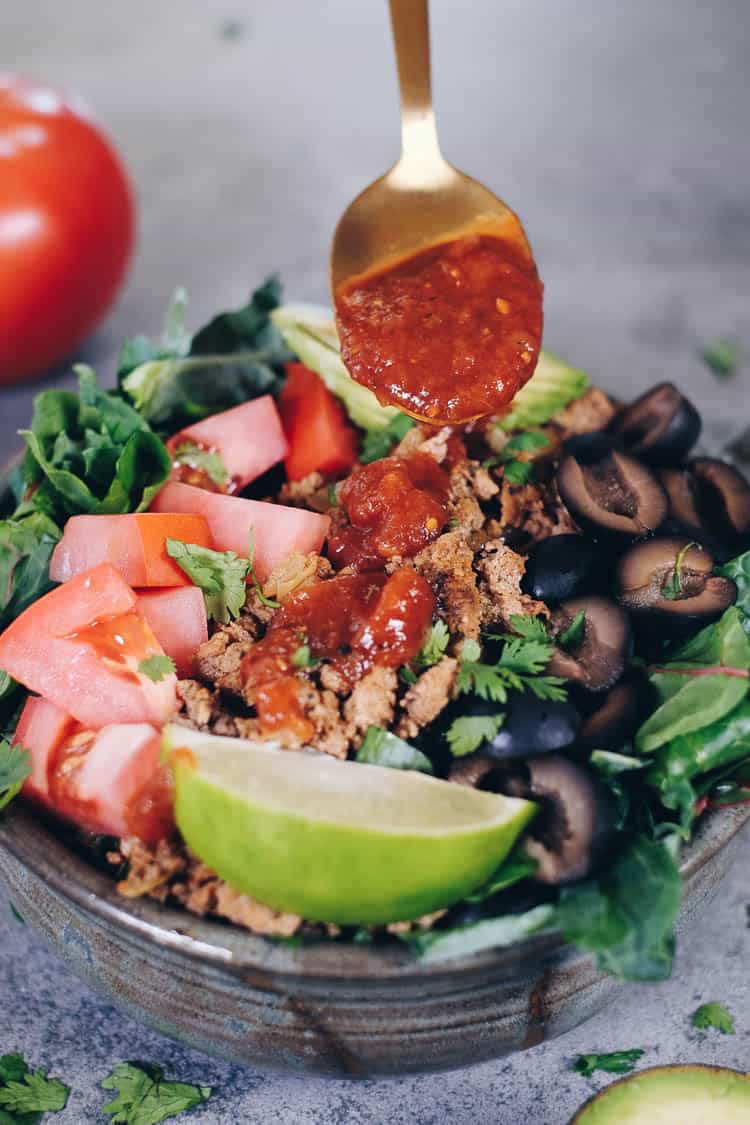 Some Other Taco Inspired Recipes You Might Like
Your Turn To Try Our Paleo Taco Salad
Plan this Paleo taco salad for Taco Tuesday or any other day of the week! It's the perfect weeknight meal, ready in only 25 minutes. Let us know how it goes by leaving a comment below. Also, take a photo and tag us on Instagram @realsimplegood, so we can check it out!
---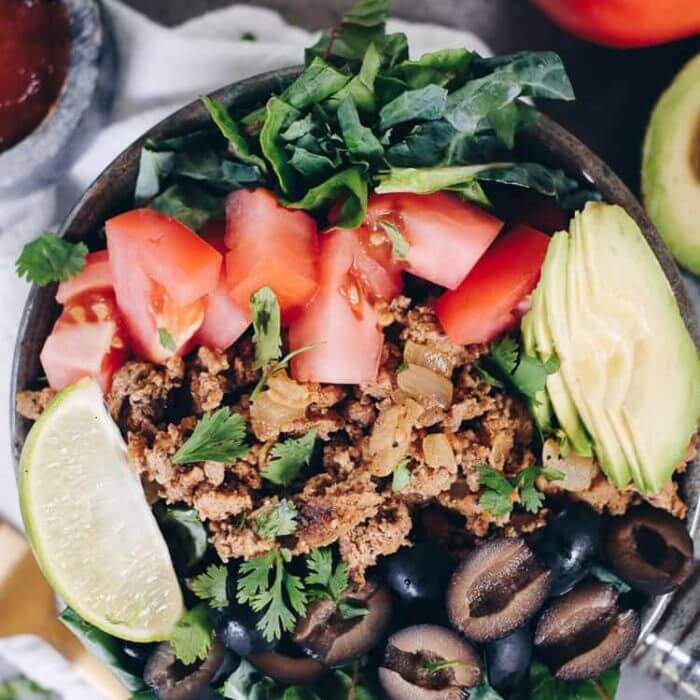 Get the Recipe:
Paleo Taco Salad (Whole30 + Keto)
I really love taco everything, and this quick and easy Whole30 and Paleo taco salad is a bowl full of goodness I could eat anytime of day!
Ingredients
1 onion, diced
1 lb ground turkey, (or sub ground chicken, beef or pork)
1 tsp chili powder
1 tsp cumin
1/2 tsp garlic powder
8 cups greens of choice, (kale, spinach, chard, etc.)
2 tomatoes, diced
2 avocados, diced
1 cup olives, sliced
1/4 cup cilantro, chopped
1 tbsp olive oil
1 lime, juice of
Salt and pepper, to taste
Instructions
Dice onion and heat a large skillet over medium heat. Once hot, add in a little oil if needed and add turkey and onion to the skillet. Break the turkey into small bits and cook, stirring occasionally until it is browned, about 7-8 minutes.

When the turkey is almost finished, season with chili powder, cumin, garlic powder and some salt and pepper. Once the turkey is cooked remove from heat and set aside.


Prepare greens, tomatoes, avocados, olives and cilantro in a large bowl. Drizzle lightly with olive oil.


Add the taco meat to the salad and squeeze lime juice over everything. Toss to mix and season with any additional salt and pepper as desired. Serve and enjoy.

Notes
Nutrition facts are an estimate provided for those following a Ketogenic or low-carb diet and use spinach for the greens of choice for this recipe. See our full nutrition information disclosure here. 
Calories: 410kcal, Carbohydrates: 18g, Protein: 31g, Fat: 26g, Saturated Fat: 3g, Fiber: 10g