Why You'll Love This Easy Air Fryer Recipe
You get crispy and delicious air fryer shredded hash browns cooked from frozen and ready in 20 minutes!
They're perfectly seasoned with a satisfying blend of garlic powder, paprika, onion powder, and dried sage.
Serve these hash browns for breakfast with any protein and your favorite healthy sauce, and enjoy!
Making Frozen Shredded Hash Browns in the Air Fryer
You can really toss frozen hash browns in your air fryer and quickly get them cooked to perfection. Here's how:
First, make the easy homemade hash brown seasoning.
Dump the shredded hash browns in a bowl and coat them with oil and the seasoning.
Spread the hash browns in an even layer in your air fryer.
Cook at 400° for 15-20 minutes, stirring (or shaking) quickly every 5 minutes.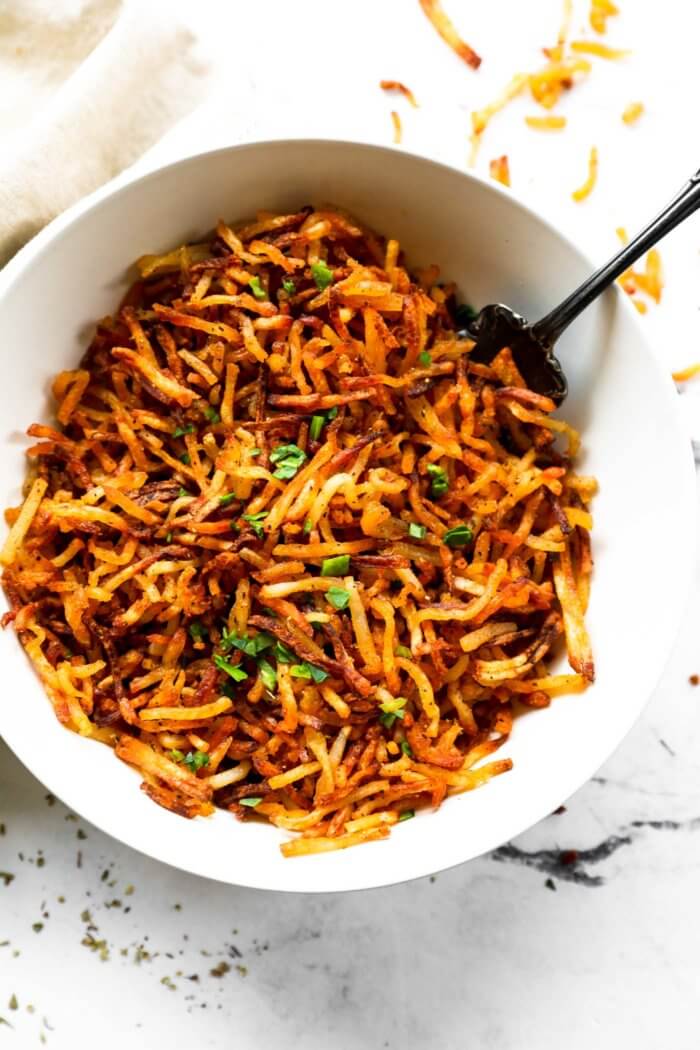 Common Questions
How long do you cook frozen shredded hash browns in an air fryer? For crispy hash browns, you'll need to cook them for 15-20 minutes. Watch them carefully around the 15-minute mark, and stop cooking when they are at your desired state.
What temperature do you cook frozen hash browns in the air fryer? For quick, even cooking you should cook them at 400° Fahrenheit. This will give you nice and crispy hash browns.
What if my shredded hash browns are already seasoned? The homemade seasoning is optional, you can omit it if needed.
How do you get crispy hash browns from frozen? The air fryer really does most of the work! Be sure to follow the recipe and stir the hash browns every 5 minutes. This will allow for even cooking and help develop those crispy bits!
Related – How to make breakfast potatoes in the air fryer
We hope you love this recipe as much as we do!
Don't forget to leave a quick star rating and review below, we read every comment and truly appreciate your feedback. Also, be sure to browse the rest of our healthy breakfast recipes to find some other favorites too!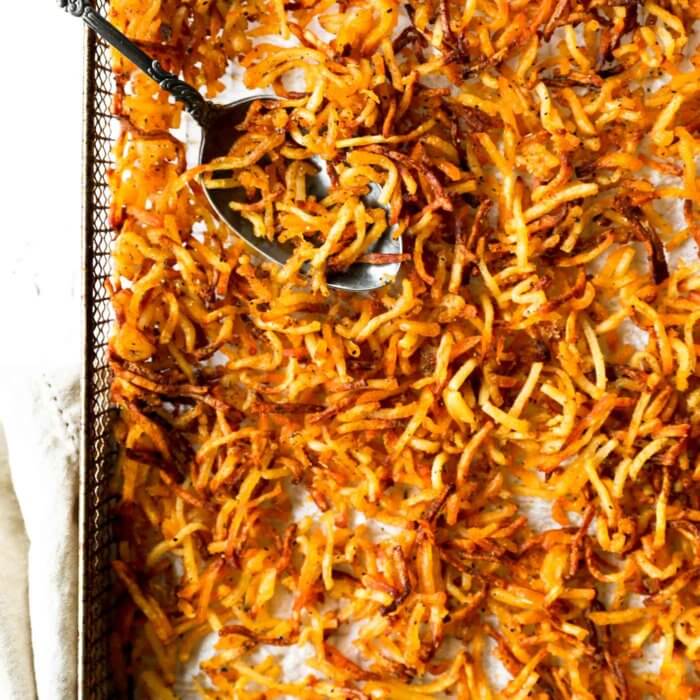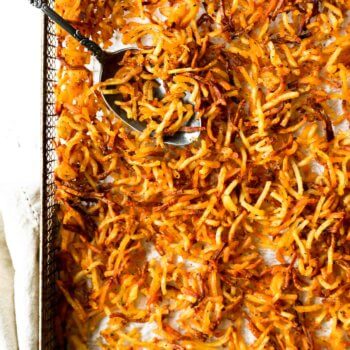 Get the Recipe:
Crispy Air Fryer Shredded Hash Browns (From Frozen)
Crispy, perfectly seasoned air fryer shredded hash browns from frozen in about 20 minutes! Enjoy these easy, crispy breakfast hash browns for your morning meal.
Ingredients
16 oz Frozen shredded hash browns
1 tbsp avocado oil, (or other oil of choice)
For the hash brown seasoning:
1 tsp sea salt
1/2 tsp ground pepper
1/2 tsp garlic powder
1/2 tsp onion powder
1/2 tsp smoked paprika
1/2 tsp dried sage
Instructions
Make the hash brown seasoning by combining all of the seasoning ingredients in a small bowl and mixing well.

Dump the frozen hash browns in a bowl and drizzle in the oil. Toss to coat. Add in all of the seasoning mix to the hash browns and toss/mix to distribute the seasonings evenly.

Preheat your air fryer to 400° Fahrenheit. Even if your air fryer doesn't preheat, set it to 400° and let it heat up for 5 minutes.

If your air fryer basket has large holes, line it with some parchment paper. Spread the hashbrowns out in a thin, even layer in the air fryer basket. Depending on the size of your air fryer, you may need to cook in 2 batches.

Cook for 15-20 minutes, stirring quickly every 5 minutes to ensure even cooking. The hashbrowns should be completely cooked through and getting crispy around the edges.

Remove hash browns when they are cooked to your liking and serve immediately.