Looking for some simple staple recipe ideas for your air fryer? Here are some easy and tasty air fryer recipes for everything from a whole chicken, cauliflower, chicken wings, salmon patties and more!
Air Fryer Recipes for Beginners
All of these recipes are very easy to make and should work well even if you are a "beginner" or new to the air fryer. Using an air fryer may seem daunting but really all you do us heat it up, set the time and go for it! You might have to stir the ingredients halfway through during cooking but that's about it.
What is the Best Air Fryer?
We've tried a couple of different models:
Both of these work well for different reasons.
If you are looking for a multi-cooker that does both pressure cooking and air frying, the Ninja Foodie is a good option. We found that the pressure cooking was great but the air frying was limiting due to the size and shape of the appliance.
We love the Instant Pot Vortex air fryer. It's easy to use and clean and has a large basket so we rarely need to cook things in batches. You can learn more about it here: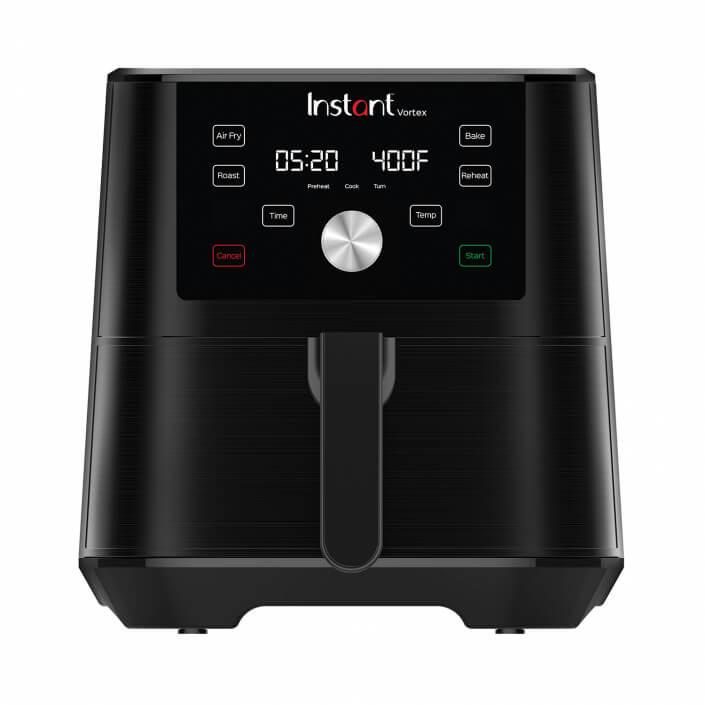 The Instant™ Vortex™ 6 Quart Air Fryer lets you create healthier versions of all your favorite foods
Making Healthy Air Fryer Recipes
Most air fryer recipes are touted as "healthy" because you don't need to deep fry ingredients in a bunch of oil to get something like crispy and delicious chicken wings.
The recipes in this roundup are considered healthy because they focus on unprocessed, real food ingredients. You can find recipes for any dietary restrictions, including gluten-free, Keto, Paleo and Whole30.
So break out your air fryer and let's get started!
Air Fryer Chicken Wings
Wings were one of the first things we tried out in our new air fryer, and they did not disappoint! This easy recipe is very forgiving because you put the wings in frozen straight out of the freezer and they turn out perfect every time.
1
Buffalo Air Fryer Frozen Chicken Wings (No Thaw)
Using an air fryer, you can take chicken wings from frozen to on the table in just 30 minutes. Cook your frozen chicken wings for 25-30 minutes at 400°Fahrenheit to produce amazingly crispy but also tender and juicy wings. Top with our creamy homemade buffalo sauce. This wing recipe is finger-licking good!
Get the recipe
Other Air Fryer Chicken Recipes
You can pretty much cook any kind of chicken in the air fryer, but the recipes below are our three favorites. You can do a whole chicken, just the drumsticks or simple chicken breasts. All of these recipes are great for meal prep and give you tender and juicy chicken.
2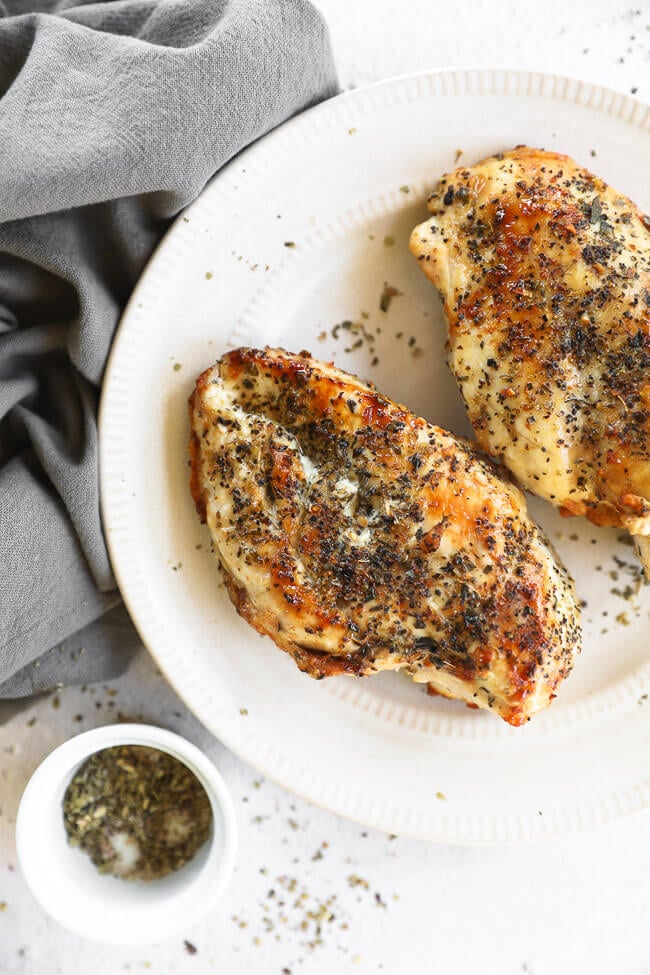 Perfectly Cooked Air Fryer Chicken Breasts
Juicy on the inside and a little crispy on the outside, we'll walk you through exactly how to cook chicken breasts in the air fryer.
Get the recipe
3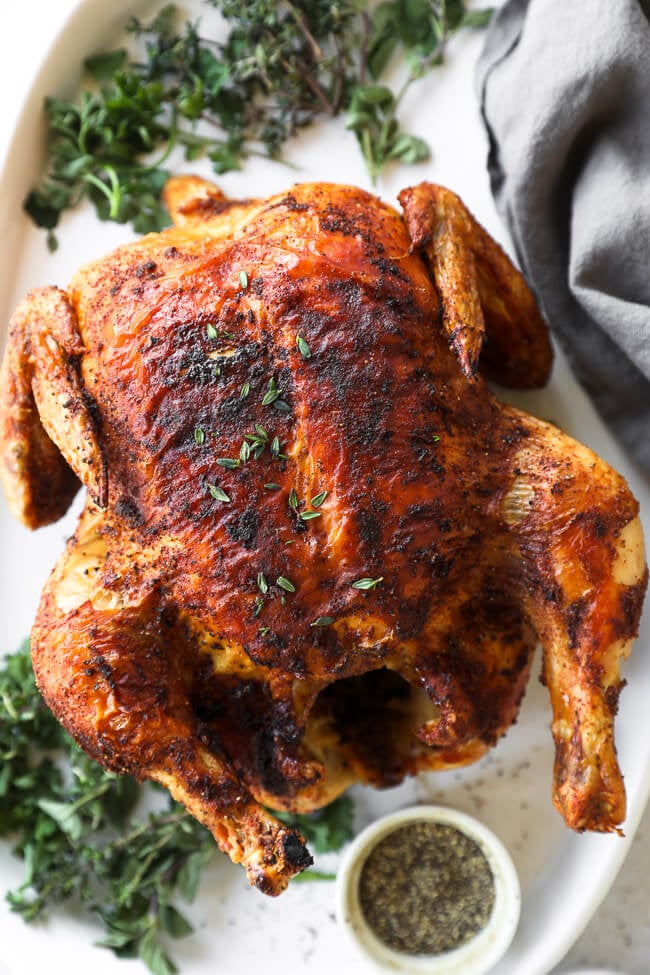 Air Fryer Whole Roast Chicken (Crispy Outside, Juicy Inside!)
Perfectly cooked and seasoned, this roasted air fryer whole chicken is crispy on the outside and juicy on the inside. You'll love how crispy the skin gets in the air fryer without drying out the chicken at all!
Get the recipe
4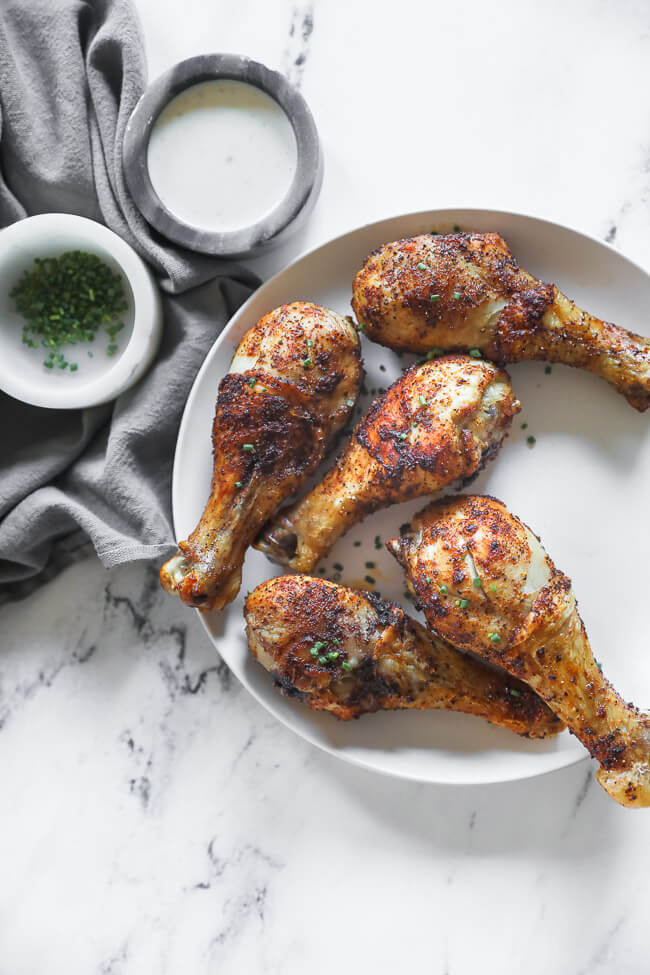 Easy, Crispy Air Fryer Chicken Drumsticks
These crispy air fryer drumsticks are made with fresh drumsticks and a simple blend of seasonings. Crispy skin and tender, juicy chicken!
Get the recipe
Air Fryer Side Dishes
The air fryer is perfect for making a quick, crispy side dish! These three staple recipes pair with any protein and are made in about 10 minutes. You'll love how perfectly cooked the veggies turn out.
5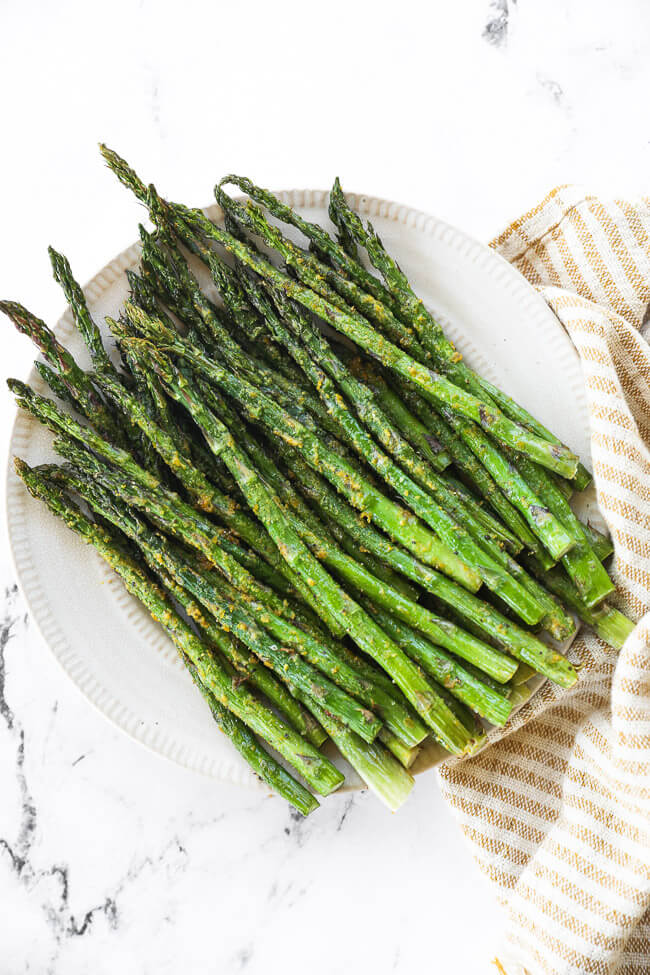 Perfectly Cooked Air Fryer Asparagus
Tender-crisp air fryer asparagus in 10 minutes flat! This easy side dish is perfectly seasoned and a lifesaver for busy weeknights.
Get the recipe
6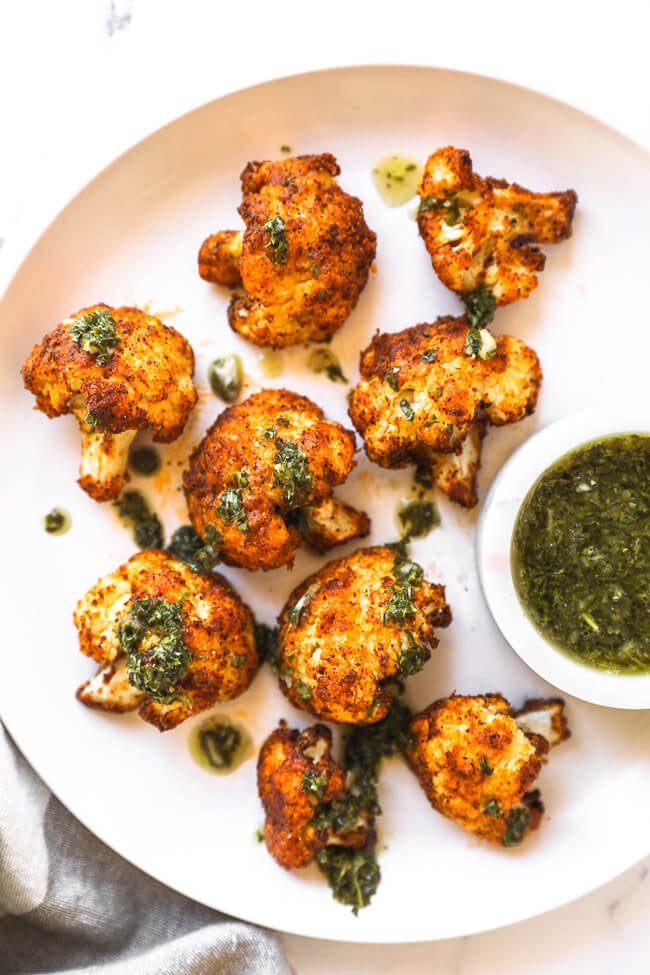 Crispy Air Fryer Cauliflower (15-Minutes Flat!)
A little crispy on outside with a buttery and salty seasoning blend, this air fryer cauliflower recipe is quick, easy and delicious! Serve it as an appetizer, snack or side dish with your favorite meal.
Get the recipe
7
Perfectly Roasted Air Fryer Carrots
These air fryer carrots are a healthy vegetable side dish, perfectly roasted in under 20 minutes. Just carrots and simple seasonings in creamy, homemade ranch sauce.
Get the recipe
8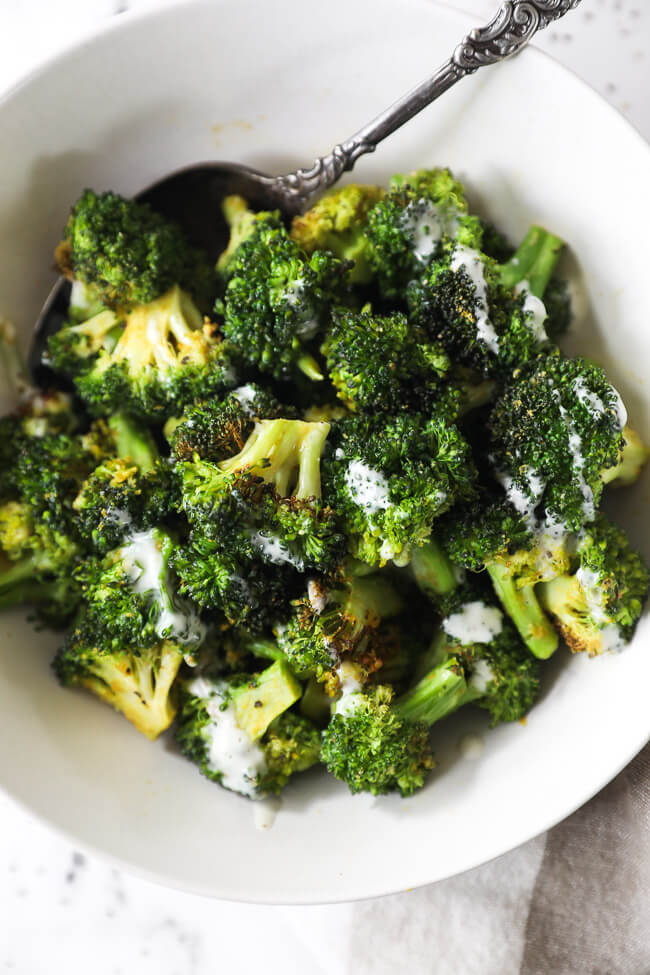 Tender Crisp Air Fryer Broccoli In 10 Minutes
This air fryer broccoli is ready to enjoy in just 10 minutes, and it pairs well with any protein. Your new favorite way to eat broccoli!
Get the recipe
Air Fryer Appetizers
You might be hosting a party, or you might just want to keep these all to yourself! Either way, here are a couple of easy recipe options to munch on.
9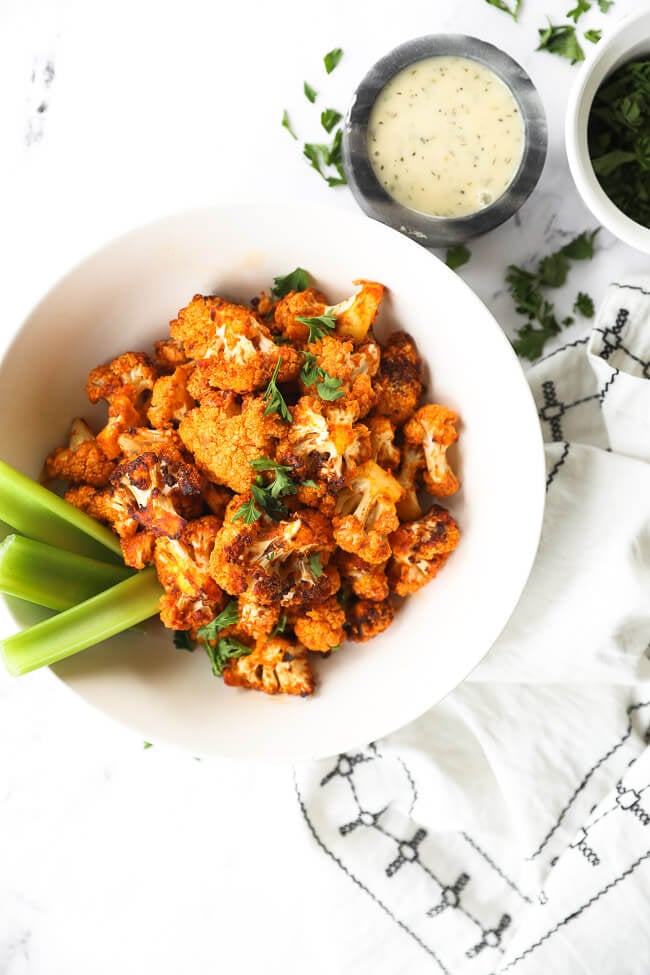 Easy Air Fryer Buffalo Cauliflower
A little crispy with some creamy, tangy spice, this easy air fryer buffalo cauliflower is a healthy keto appetizer that's finger lickin' good!
Get the recipe
10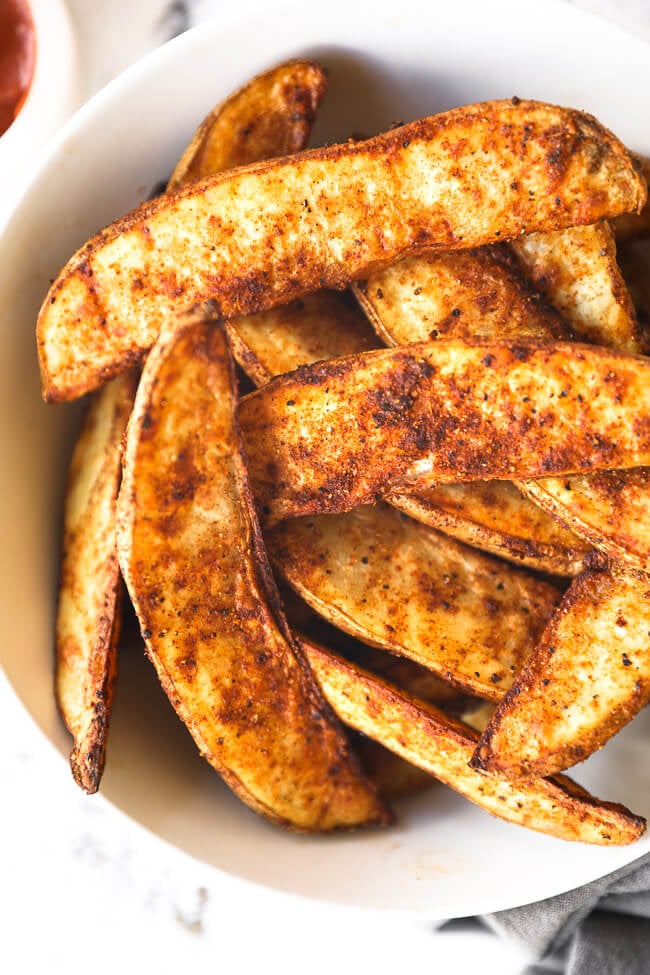 Healthy Air Fryer Potato Wedges + Seasoning
Amazingly simple, these crispy and healthy air fryer potato wedges with a delicious seasoning mix are bound to be a new favorite!
Get the recipe
Looking for more? Check out this roundup of 15 healthy air fryer appetizers!
Air Fryer Salmon & Scallops
Two of our favorite types of seafood, salmon and scallops are some of the easiest things to cook in the air fryer. Get your healthy dose of seafood easily with these recipes.
11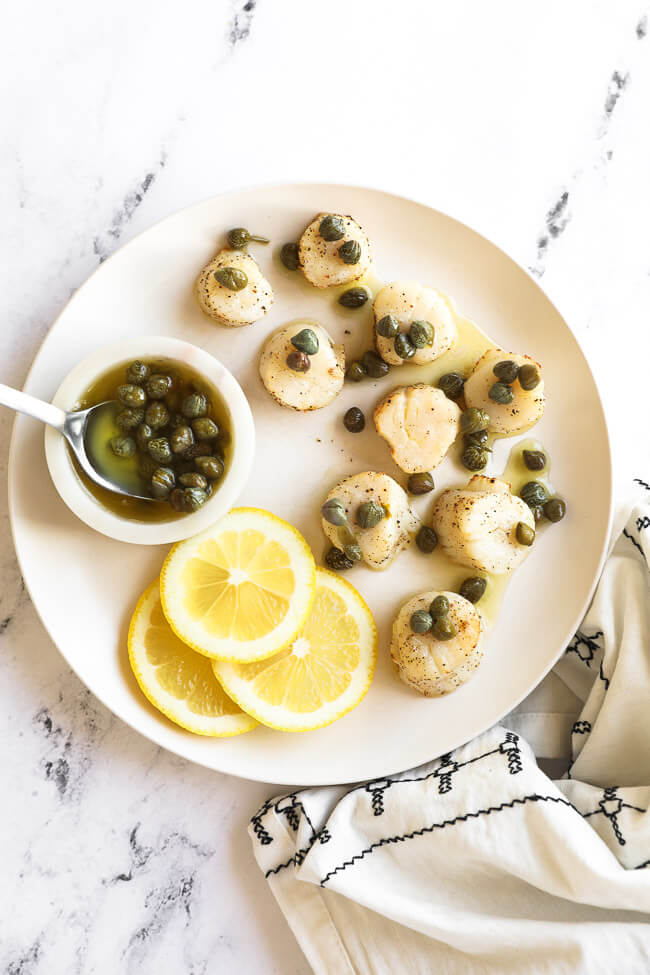 Lemon Butter Air Fryer Scallops
Ready in 10 minutes, these succulent air fryer scallops are drizzled in a savory, buttery sauce for the easiest gourmet meal!
Get the recipe
12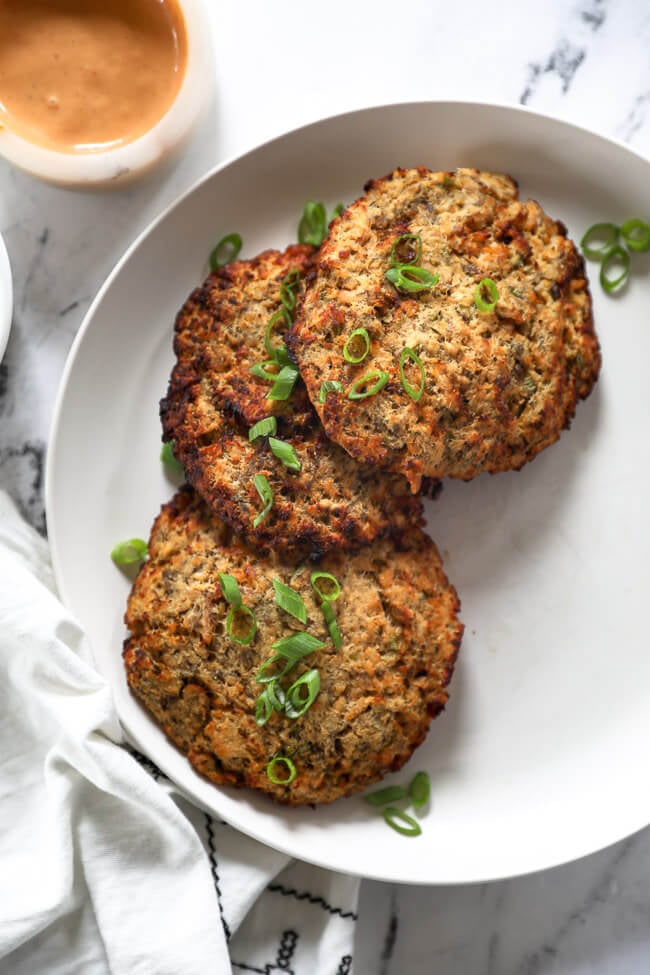 How to Make Air Fryer Salmon Patties
Perfectly cooked with delicious flavors, we share exactly how to make salmon patties in the air fryer with canned salmon in this easy recipe.
Get the recipe
---
Like this Post?
SHARE IT NOW OR PIN IT FOR LATER!
---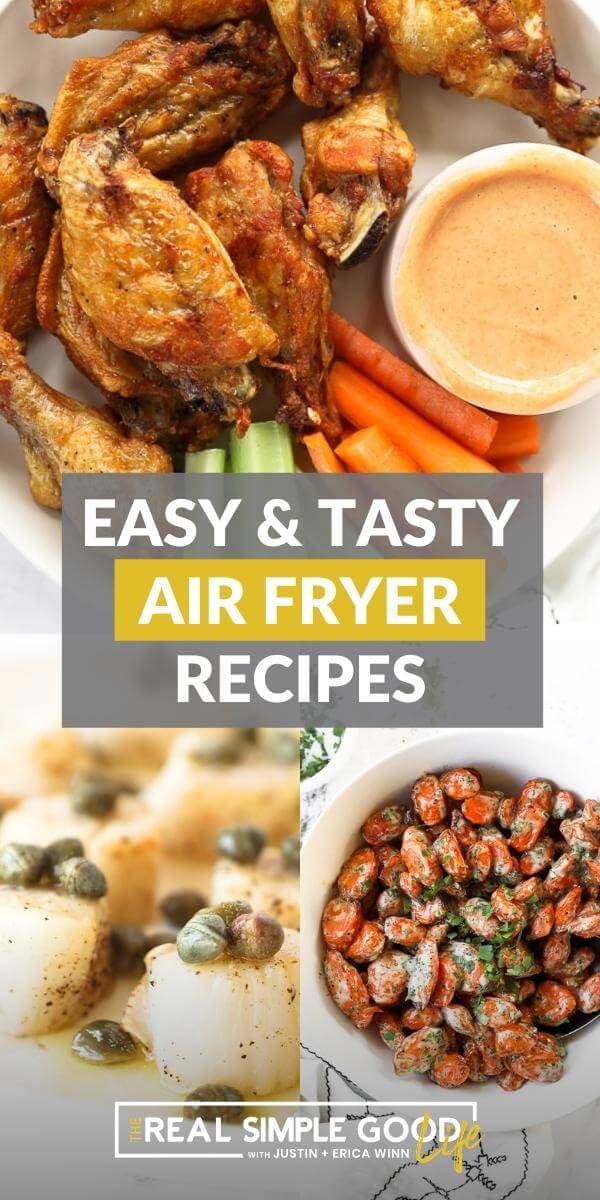 ---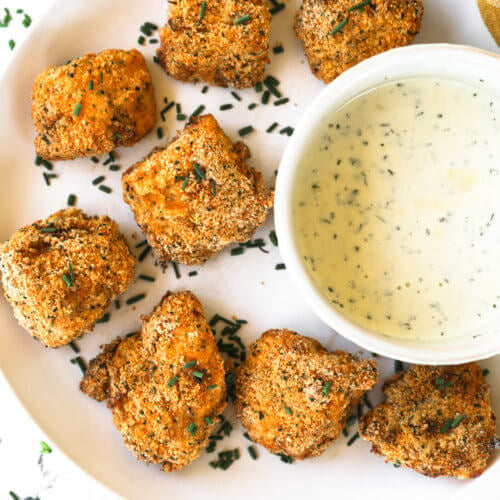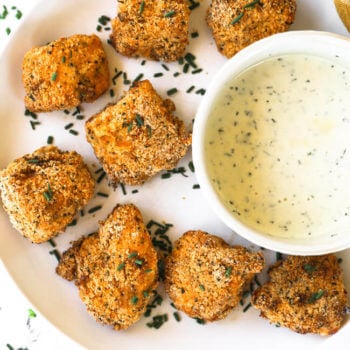 Get the Recipe:
10+ Easy & Tasty Air Fryer Recipes: Chicken Nuggets
Healthy air fryer chicken nuggets in under 30 minutes! They are made with chicken breast and lightly breaded with some simple seasonings. Plus, we have rounded up some easy and tasty air fryer recipes for everything from a whole chicken, cauliflower, chicken wings, salmon patties and more!
Ingredients
1.5 lbs boneless skinless chicken breasts
1/4 cup Bob's Red Mill tapioca flour
2 tsp garlic powder
2 tsp paprika
2 tsp parsley
1 tsp salt
1 tsp pepper
2 eggs
Olive oil spray
Instructions
First, pat the chicken dry with a paper towel. Cut the chicken breasts into bite sized pieces. 1.5 lbs of chicken will make around 20-30 nuggets.

In a shallow dish, combine the almond flour, tapioca flour, spices, salt and pepper.

Whisk eggs in a separate bowl with the milk.

Place one of the chicken pieces (nuggets) in the egg mixture and cover completely. It should be well coated.

Next, dredge the egg covered chicken in the flour mixture and make sure it is completely coated. Place the coated chicken nugget on a plate.

Repeat until all of the chicken nuggets are coated.

Preheat the air fryer (if yours preheats) to 400° Fahrenheit.

Place the coated chicken nuggets in the air fryer basket. Don't allow them to touch so they can cook evenly. If needed, cook in 2 batches.

Spray the chicken pieces with some olive oil or avocado oil spray if desired to help them get golden brown (optional).

Cook for 7-8 minutes, or until the chicken pieces are completely cooked through.

Remove and serve.
Notes
These chicken nuggets are best when served immediately. If you have leftovers, you can store them in the fridge and reheat them in either the microwave or pop them back in the air fryer at 400° for 2-3 minutes.