With just about five minutes of prep work and under 20 minutes of cooking, these Paleo, Whole30 + Low Carb spicy pork bowls are the perfect quick and easy weeknight dinner! They've got crispy and tender veggies, greens and asian-inspired seasonings, all topped with a spicy mayo sauce.
How do you keep the prep and cooking to a minimum?
In this recipe we do have a few time-savers to keep your prep and cook times to a minimum.
Use pre-riced cauliflower – either fresh or frozen will work just fine. We typically prefer fresh because it seems to cook up quicker and keep its texture a little better.
Make the optional sauce while the the rest of the food is cooking – there's no need to prep it before you get started because you'll have free hands and be able to do it while the rest cooks.
Use pre-made mayo for the sauce – since this is meant to be a quick and easy weeknight dinner, we opted for using store bought mayo for the sauce. Just make sure to check the ingredients and get one that's made with avocado oil rather than seed or vegetable oils.
If you have extra time – and want to try making your own aioli – try our chipotle aioli. It really only takes few minutes to make and is super easy, but does add a couple extra steps and ingredients though.
So it's low carb, but not Keto?
Well, in our opinion this recipe can fit into a Keto-ish lifestyle, but we did use carrots and technically carrots are a starchy vegetable and not considered Keto. So, we've appropriately labeled this recipe as low carb rather than Keto. We know some of you will comment and point out the carrots, so we thought we'd just call it out and move on! If you're hoping to eat lower carb, this recipe is for you! If you adhere to strict Keto rules, you could substitute with a different non-starchy vegetable in place of the carrots. Sound good?
So what would be some other non-starchy, Keto-friendly vegetables you could use?
Some examples that would work well in this recipe are mushrooms, asparagus, broccoli and green beans. You could swap them in easily and enjoy the same mix of texture of tender, with a little crunch in the veggies. If you try different combinations, leave a comment below so we can see what you all enjoy the most!
Some other bowl recipes to try
Give these spicy pork bowls a try!
Whether you're trying to eat lower carb or Whole30 or just need a quick and easy weeknight dinner to get on the table, these spicy pork bowls are pretty much calling your name! Give them a try, and then leave a comment below and let us know what you think! Also, take a pic to share on Instagram, and tag us @realsimplegood. We love to see what you're cooking up, and sometimes we even share your posts in our stories. And make sure to give us a follow if you don't already – let's stay connected!
---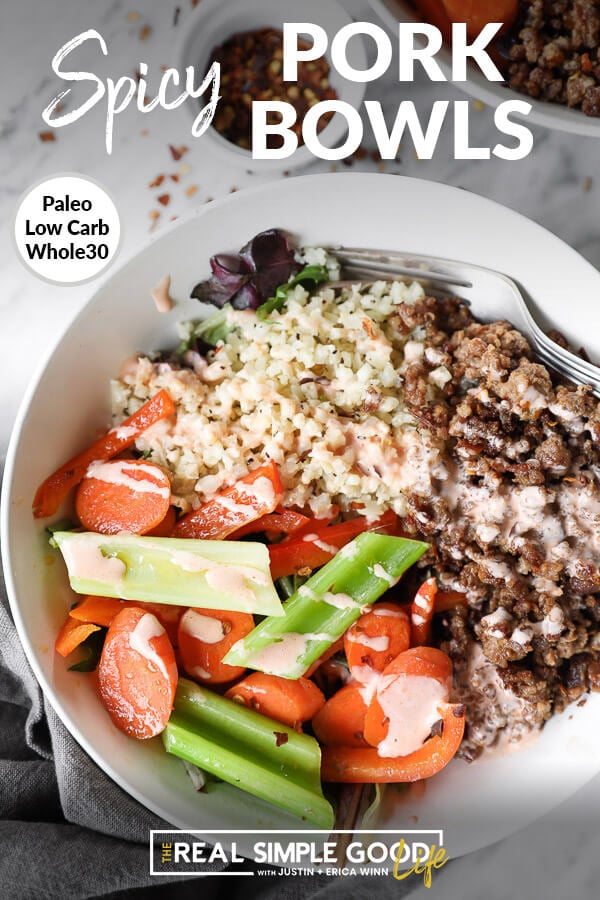 ---
Like this Recipe?
SHARE IT NOW OR PIN IT FOR LATER!
---
---
Get the Recipe:
Spicy Pork Bowls (Paleo, Whole30 + Low Carb)
With just about five minutes of prep work and under 20 minutes of cooking, these Paleo, Whole30 + Low Carb spicy pork bowls are the perfect quick and easy weeknight dinner!
Ingredients
2 inches fresh ginger, grated on a microplane
6 cups greens, (we used mixed greens – spinach and kale are great too)
6 ribs celery, sliced on the diagonal
2 carrots, sliced thinly on the diagonal
1 bell pepper, thinly sliced, (we used a red bell pepper, but whatever color works)
1 tbsp toasted sesame oil
2 lbs ground pork
2 tsp crushed red pepper flakes
1 tsp garlic powder, (or sub 1 tbsp garlic oil)
1/2 tsp sea salt
1/4 cup coconut aminos
1/4 cup water
1 tbsp fish sauce
4 cups cauliflower rice, (or white rice if not doing Whole30 or Keto)
Optional sauce:
1/4 cup mayo
1 tbsp hot sauce, (adjust to taste)
Instructions
Prep ginger, greens, celery, carrots and bell pepper as noted and set aside. If not using pre-riced cauliflower, prep as well and set aside.

Heat a large skillet over medium-high heat and add sesame oil. Once hot, add in ground pork. Break the pork up into small bits.

Add the ginger, crushed red pepper, garlic powder and salt and mix with the pork. Continue cooking, stirring occasionally, until the pork is browned and developing some crispy bits, about 8 minutes.

If you are making the optional sauce, mix the mayo and hot sauce in a small bowl and set aside in fridge until ready to serve.

Add the coconut aminos, water and fish sauce and cook for another 3-4 minutes. Taste and season with salt or more crushed pepper if desired. Remove from pan and set aside in a bowl.

If needed, add more oil to the pan and turn stove to medium heat. Add in celery, carrots and bell pepper and cook, stirring occasionally until the bell pepper starts to soften, about 3-4 minutes.

While the veggies heat up, get cauliflower going over medium heat in another skillet. Season with salt and pepper, and cook until softened, just about 5 minutes or less.

Once the rice and veggies are done, remove from heat and serve. Start with a bed of greens, cauliflower rice, veggies and pork. Top with optional sauce if desired. Enjoy!
Notes
Nutrition facts are an estimate provided for those following a Ketogenic or low-carb diet and do not include the topping/serving items for this recipe. See our full nutrition information disclosure here. 
Calories: 581kcal, Carbohydrates: 16g, Protein: 35g, Fat: 42g, Fiber: 5g