5 reasons to love these juicy oven baked chicken thighs
Perfectly seasoned with only 5 simple spices, you'll get juicy thighs with crispy skin every time.
They are prepped and ready in the time it takes to preheat your oven!
Bone-in chicken thighs are versatile and go with about any side dish. They are an ideal weeknight dinner.
The flavor of bone-in, skin-on chicken thighs is incredible. The fat and dark meat imparts more flavor while keeping the chicken moist.
Great for meal prep too. This recipe makes about 6 chicken thighs and you could easily double it if you want to make more.
Related ->> Try these Easy Buffalo Chicken Thighs
How to make baked bone-in chicken thighs (step-by-step)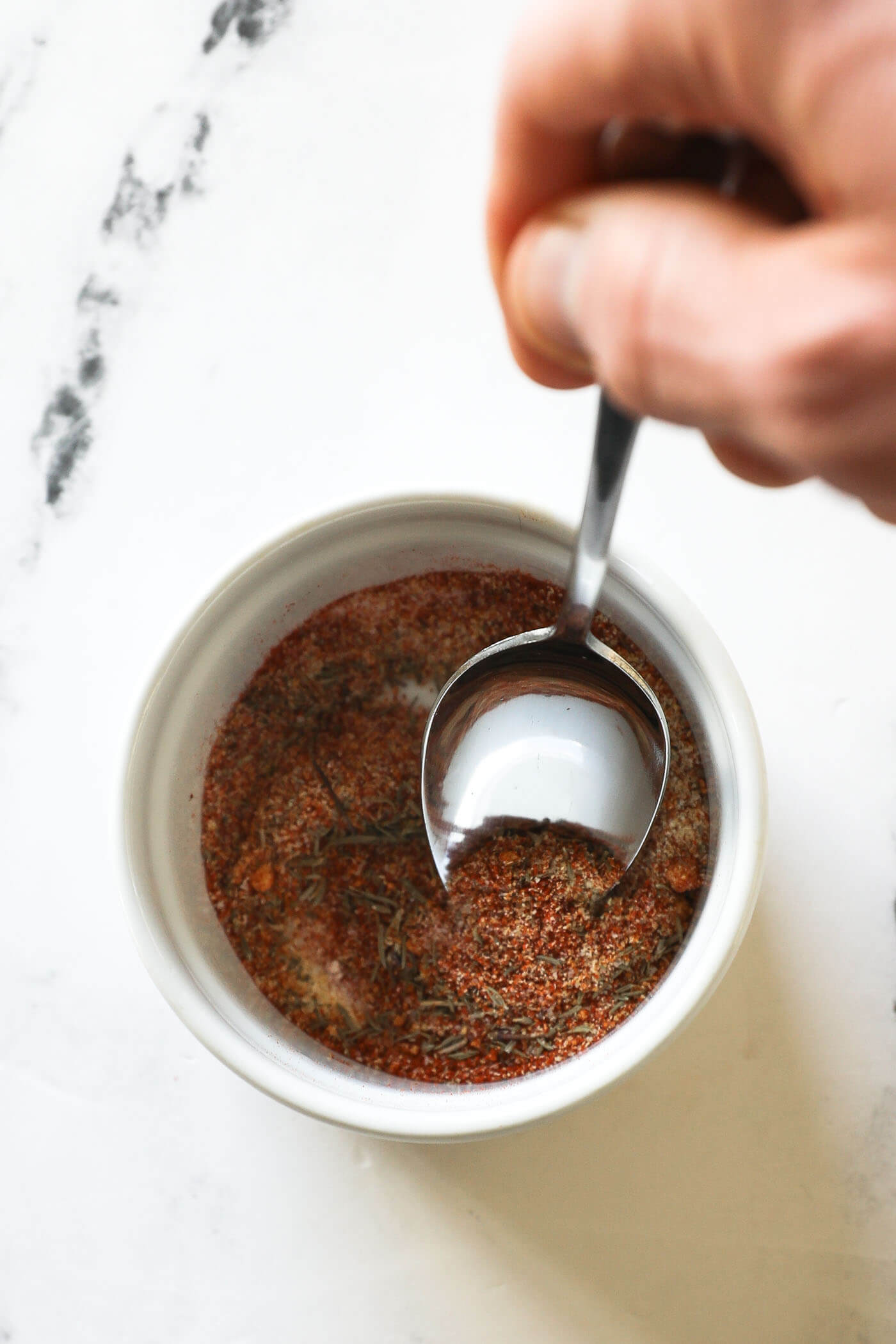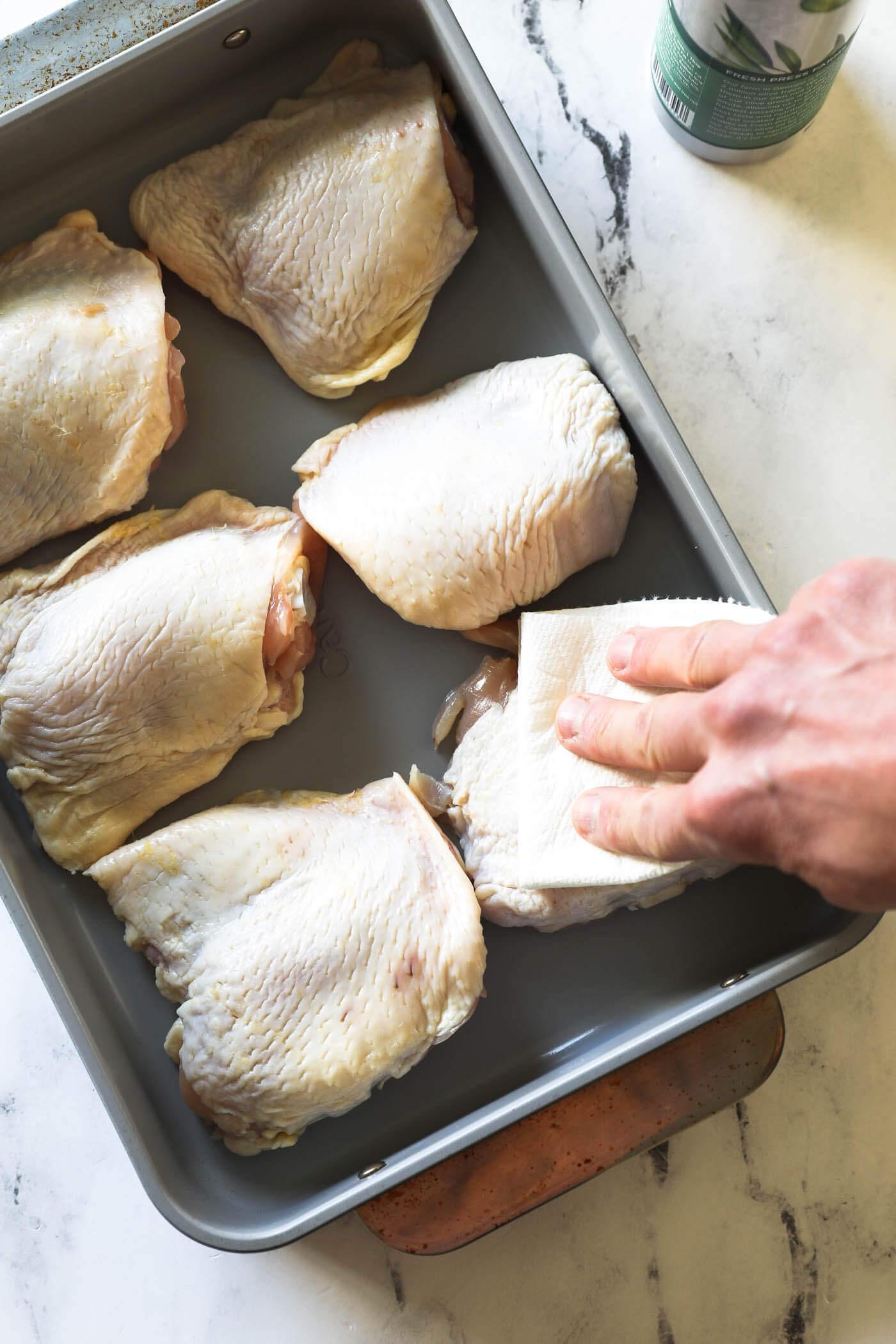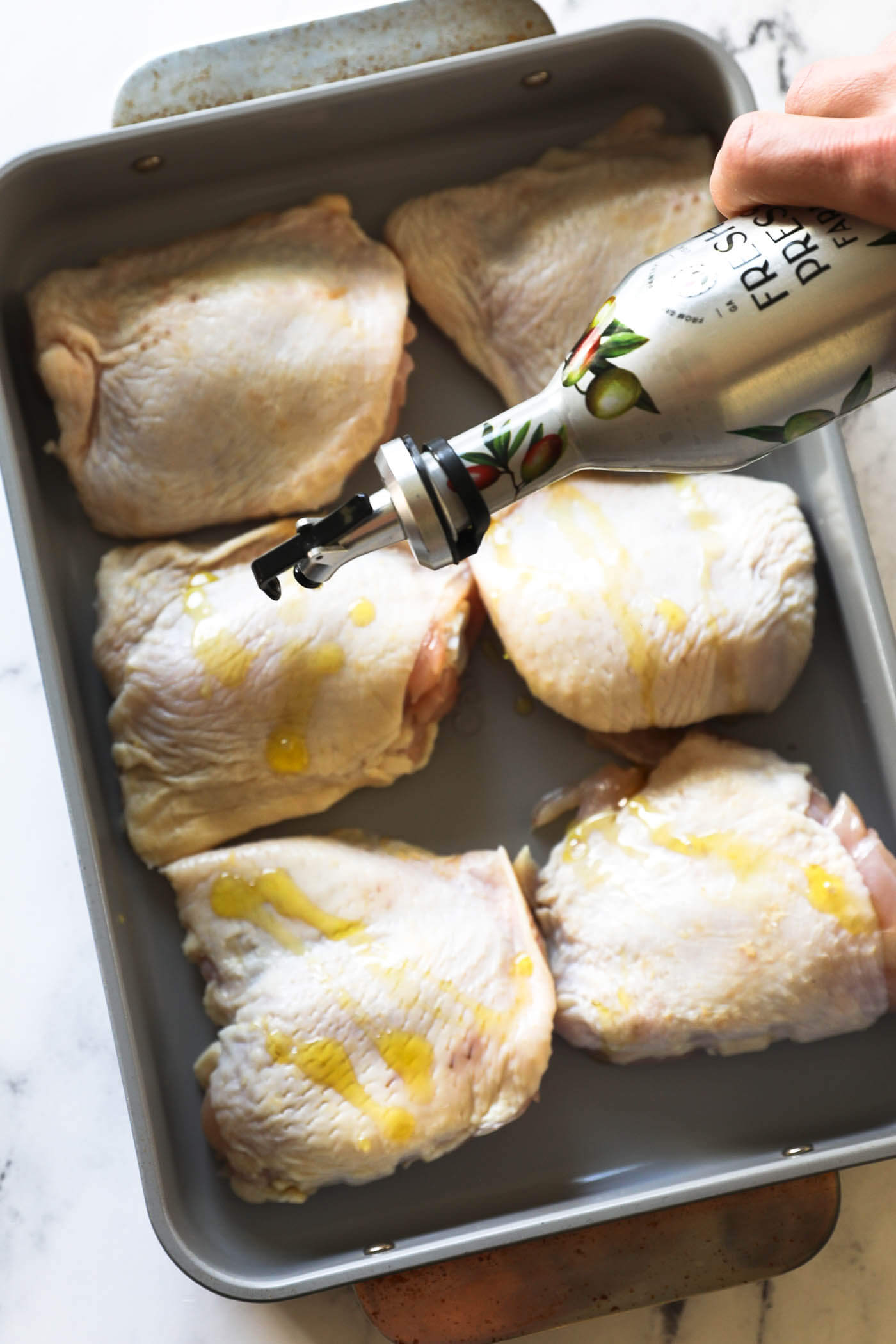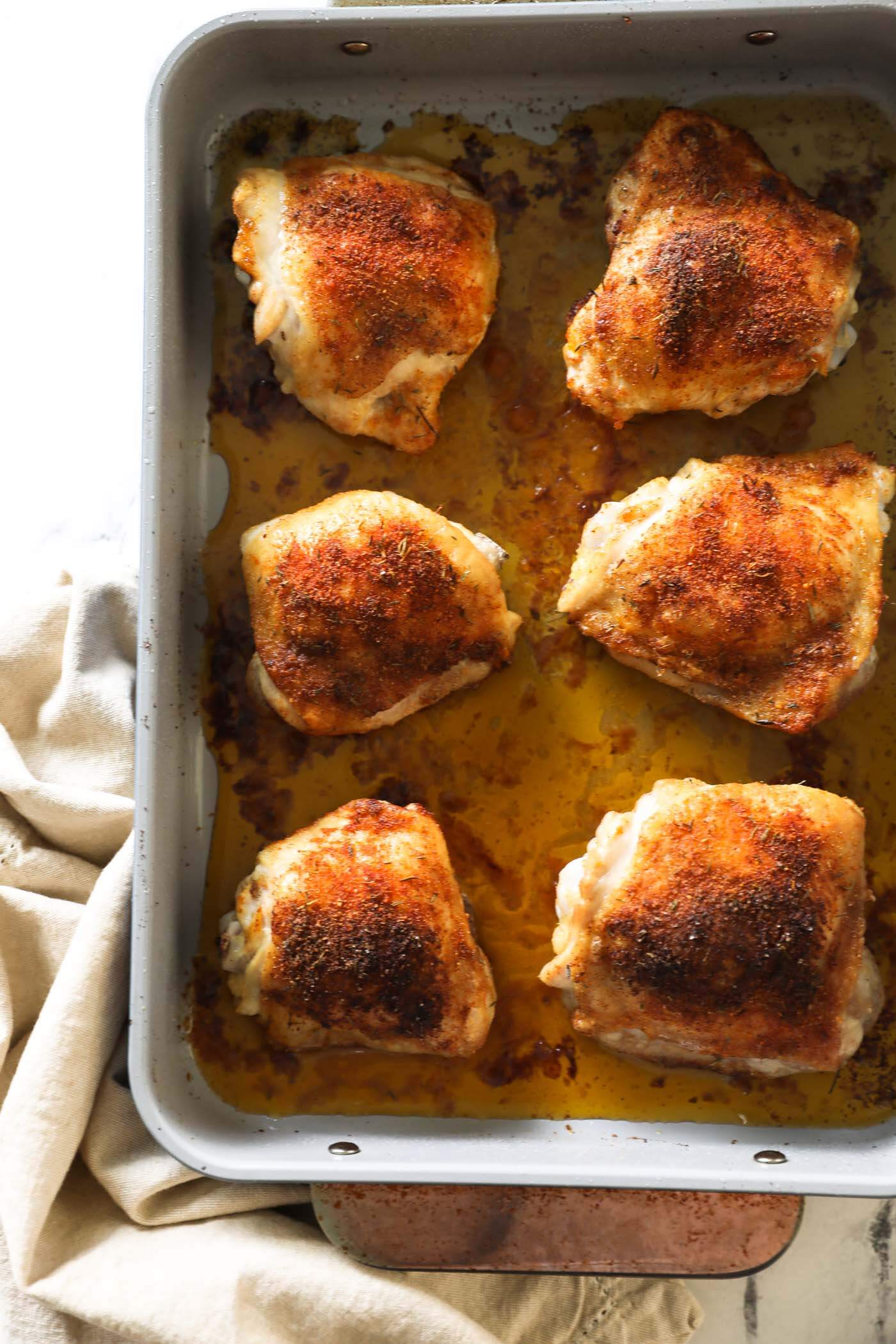 Recipe tips
I highly recommend using an instant-read meat thermometer to check the temperature of the chicken.
Speaking of temperature, every recipe out there will tell you to cook thighs to an internal temp of 165°. However, they can cook to 175°-185° and still taste nice and juicy due to the additional fat content. I personally prefer to cook them to around 180°.
If you want some extra crispy skin, you can turn the oven up to broil at the end for a few minutes. Just watch the chicken skin carefully to avoid burning.
All chicken thighs are differently sized, so use the 30-40 minute cooking time as a baseline. Smaller thighs may take only 30 minutes, but larger thighs will take longer.
You can save the juices from the chicken to make gravy. You can also save the bones to make bone broth.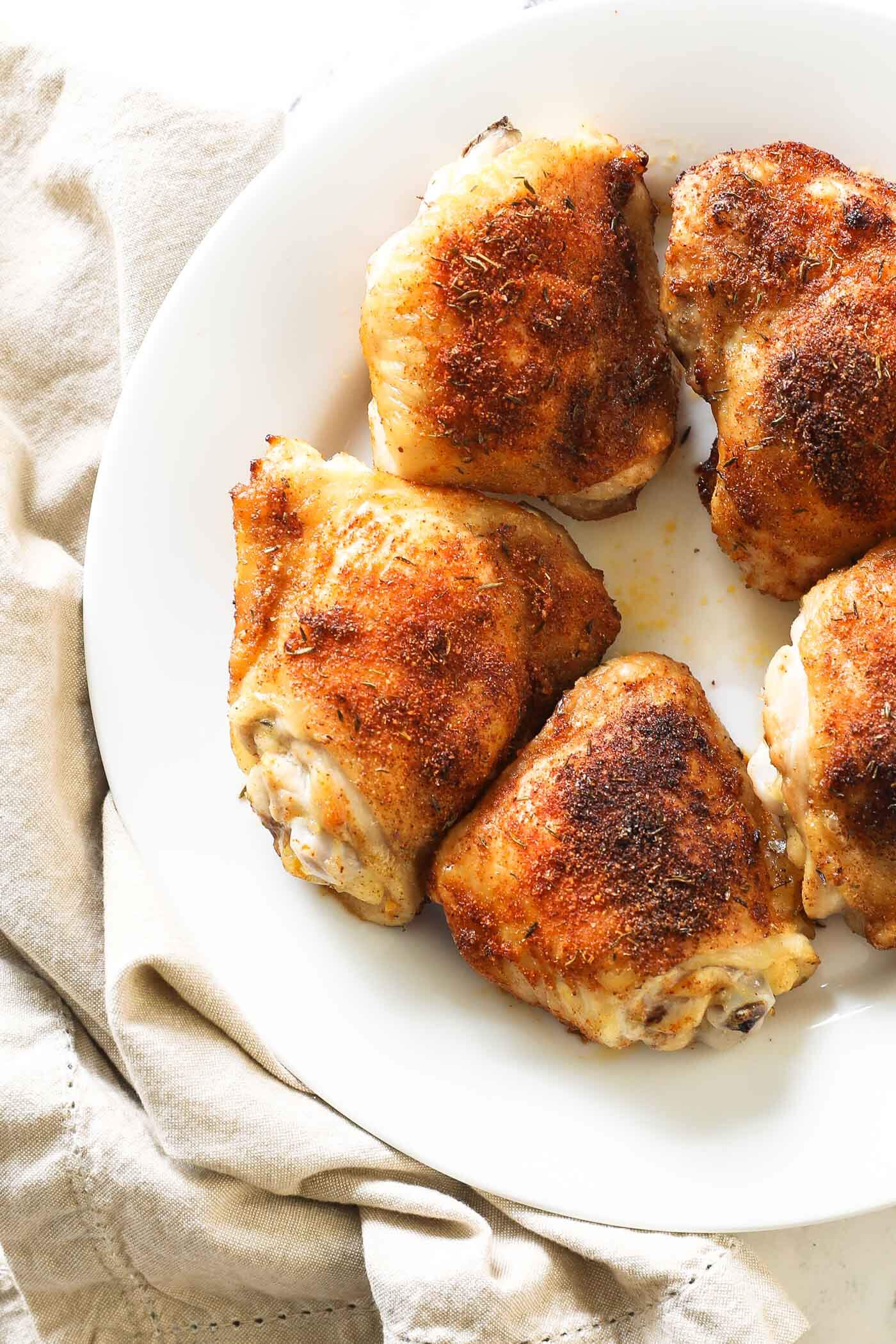 Recipe variations
Seasoning – The recipe includes a simple seasoning mix that tastes great. Feel free to substitute another chicken seasoning you like.
Boneless thighs – You can use boneless thighs for this recipe, just cut the cooking time down. They will likely take about 20-25 minutes to cook, depending on the size.
BBQ chicken thighs – If you want to make these BBQ, I recommend brushing on some BBQ sauce in the last few minutes of cooking. If you put it on earlier, it tends to burn.
Spice it up – Add a little cayenne pepper or red pepper flakes to the seasoning mix if you want a little spice.
The best temp for cooking chicken thighs
I prefer to cook bone-in chicken thighs at a relatively high temp of 400° Fahrenheit. This cooks the chicken pretty quickly and gives it a nice and crispy skin (without burning).
Refer to the chart below if you wish to cook your chicken at a different temperature. Note that temperatures higher than 400° may result in some burnt pieces of skin.
| Temperature | Cooking Time |
| --- | --- |
| 350° | 40-50 Minutes |
| 375° | 35-45 Minutes |
| 400° | 30-40 Minutes |
| 425° | 25-35 Minutes |
What to serve with oven roasted chicken thighs
These thighs will go with just about anything. Simply serve them with rice or a salad and you are all set.
They also go great with these easy sides:
We hope you love this recipe as much as we do!
Don't forget to leave a quick star rating and review below, we read every comment and truly appreciate your feedback. Also, be sure to browse the rest of our delicious, healthy recipes to find some other favorites too!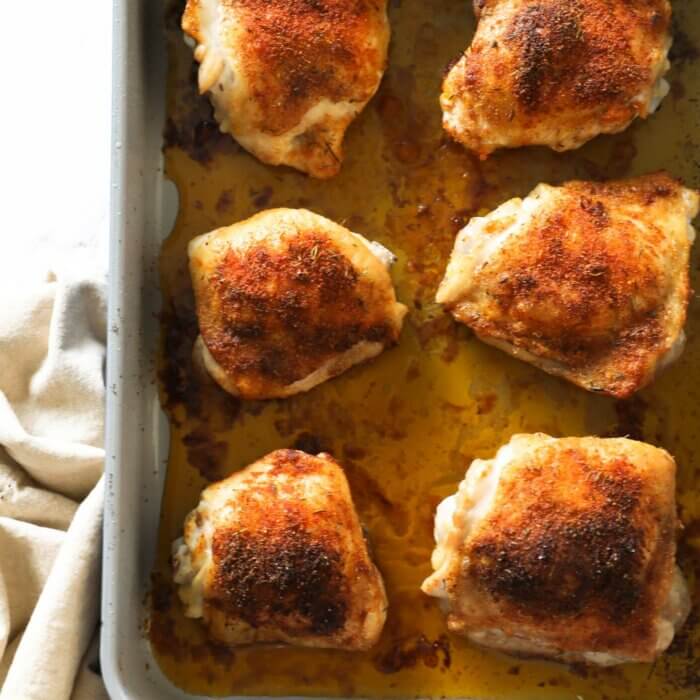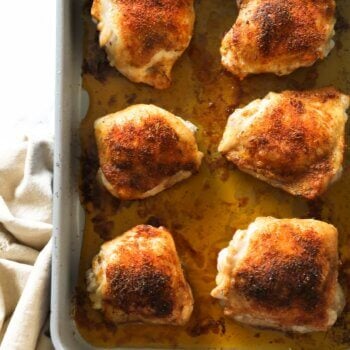 Get the Recipe:
5-Ingredient (Super-Easy!) Oven Baked Bone-In Chicken Thighs
The flavor of these perfectly roasted chicken thighs is incredible. This easy 5-ingredient oven-baked bone-in chicken thigh recipe is the perfect staple recipe and easy weeknight dinner.
Ingredients
3 lbs bone in chicken thighs, (about 6 thighs)
2 tbsp olive oil
For the seasoning:
1 tsp garlic powder
1 tsp smoked paprika
1 tsp mustard powder
1/2 tsp sea salt
1/2 tsp thyme
Instructions
Preheat oven to 400° Fahrenheit. Line a sheet pan with parchment paper or line/grease a baking dish with oil.

Make the seasoning by combing all of the ingredients in a small bowl or ramekin and mixing well.

Pat the chicken thighs dry with a paper towel and place them on the baking sheet.

Drizzle the chicken with a little oil and brush to coat both sides. Then, sprinkle the seasoning mix all over the chicken on both sides (leaving the chicken skin side up for baking).

Place chicken in the oven to bake for 30-40 minutes, depending on the size of your thighs. The internal temperature of the chicken should be at least 165°. Note: Because of the additional fat content in chicken thighs, they can cook until the internal temperature of the thighs reaches 175°-185° and still taste nice and juicy.

If desired, turn the oven to broil for the last few minutes of cooking to crisp up this skin. Watch the chicken carefully to prevent burning.

Remove and serve.
Notes
Nutrition amounts noted are per serving and an estimate provided for those following a Ketogenic or low-carb diet. See our full nutrition information disclosure here.
Calories: 468kcal, Carbohydrates: 1g, Protein: 32g, Fat: 37g