5 reasons to love this easy recipe for salmon bites
They are super-fast to make and ready from start to finish in about 15 minutes!
The incredible seasoning coats each piece, so you get delicious flavor in each bite.
Salmon bites are versatile, you can serve them as a healthy appetizer or use them for a main dish.
These are the ideal way to not only make salmon quickly, but make it in a different and fun way.
The recipe card includes instructions for the oven or air fryer – your choice!
Related ->> Try this 30-Minute Creamy Cajun Salmon Pasta
How to make salmon bites (step-by-step)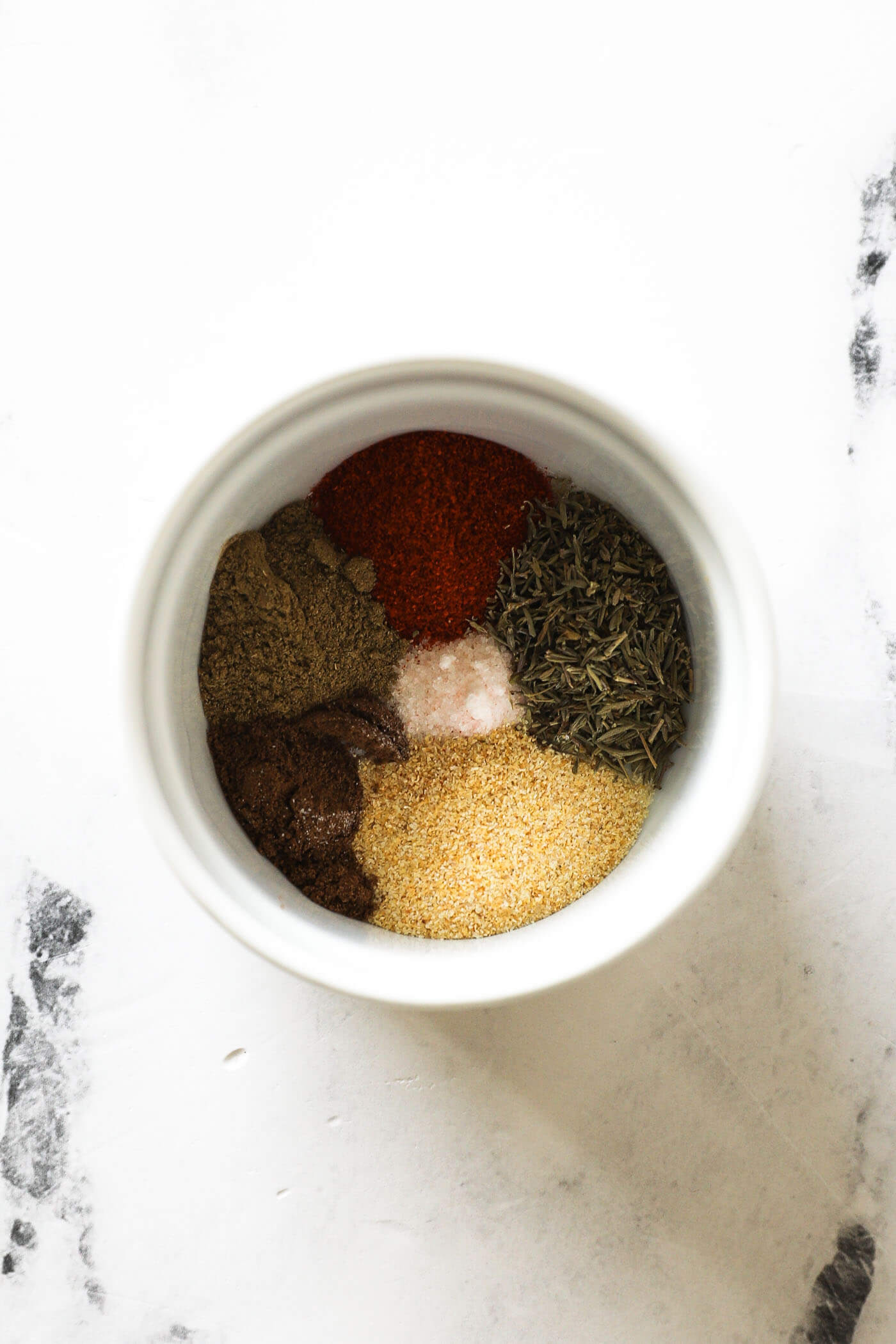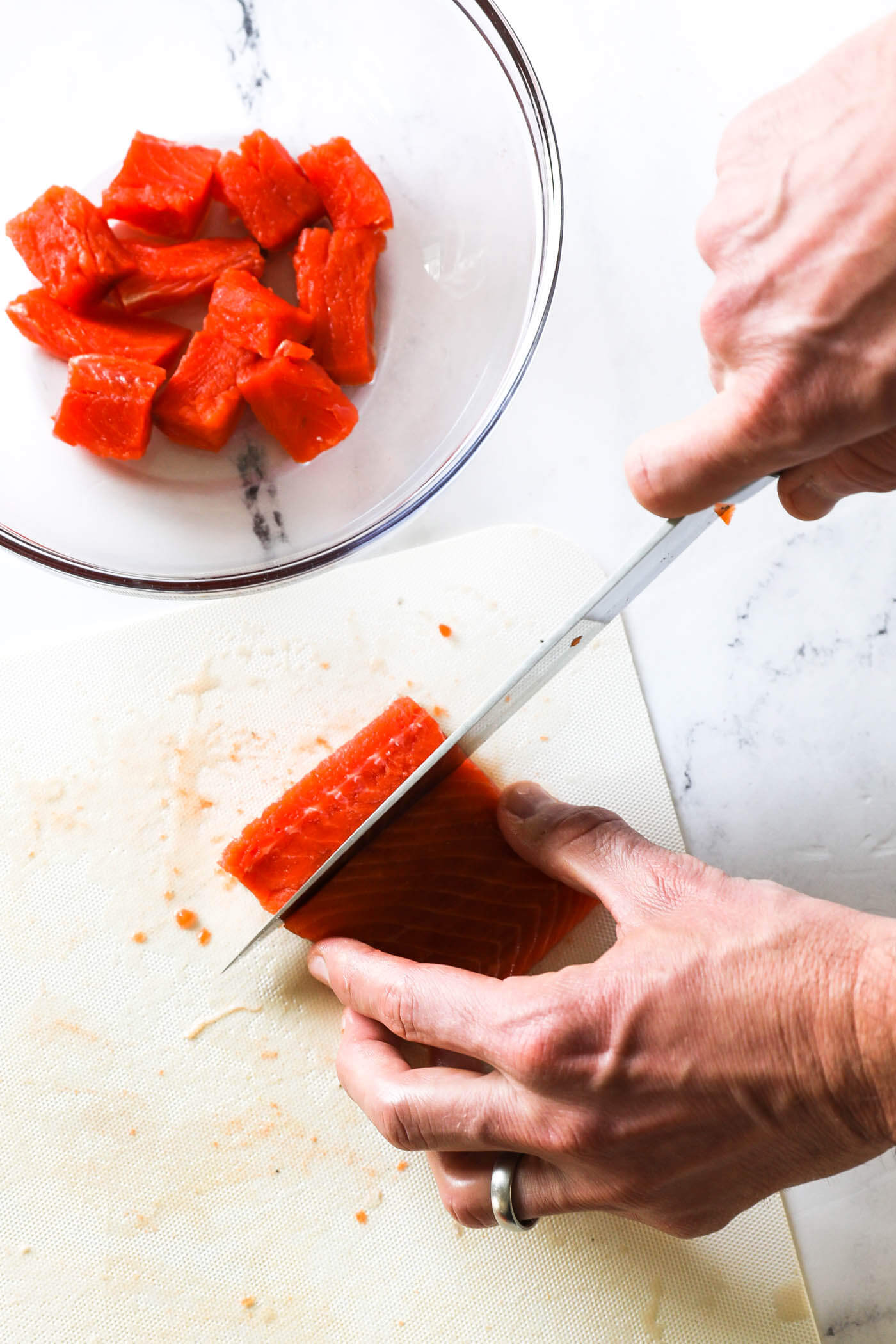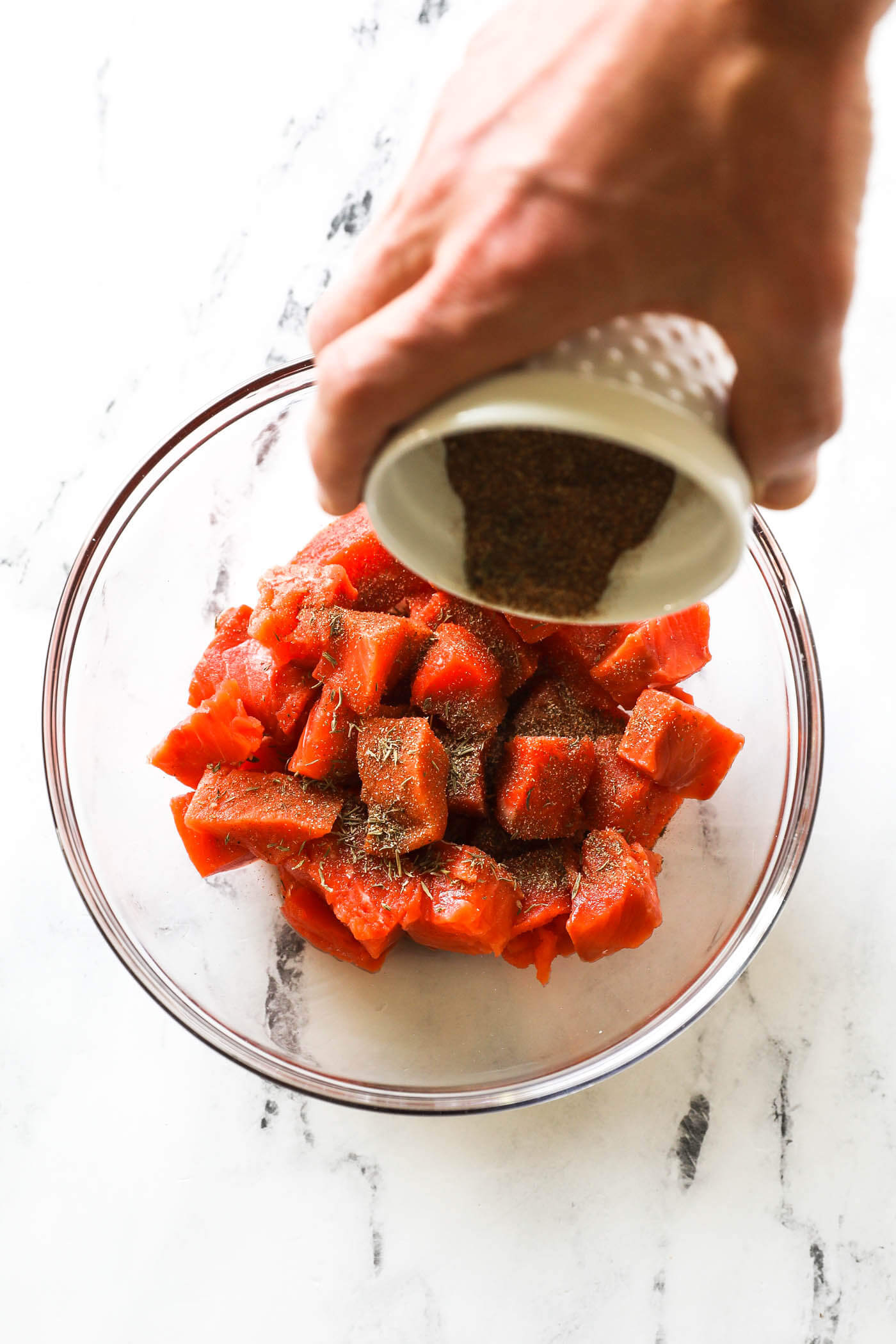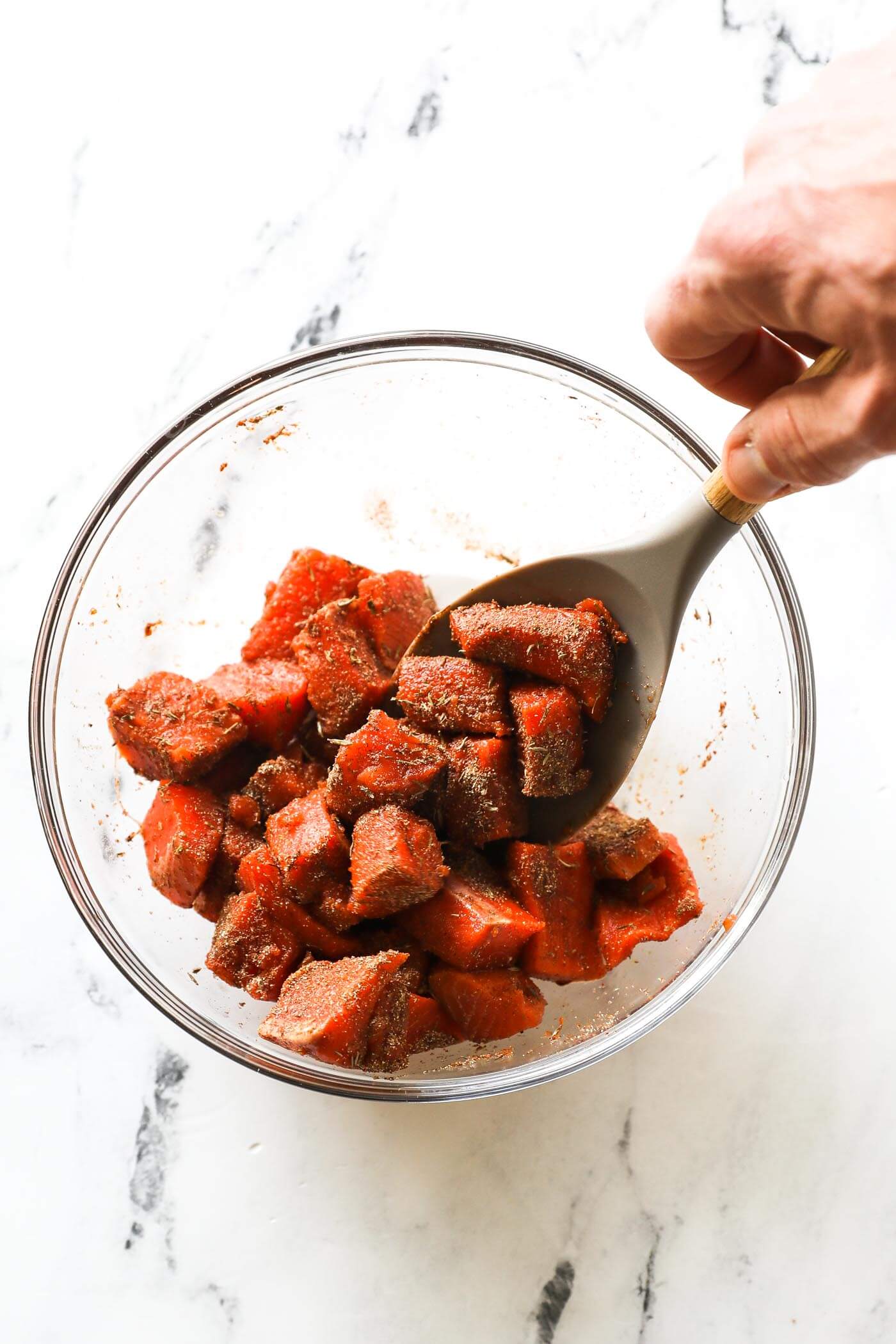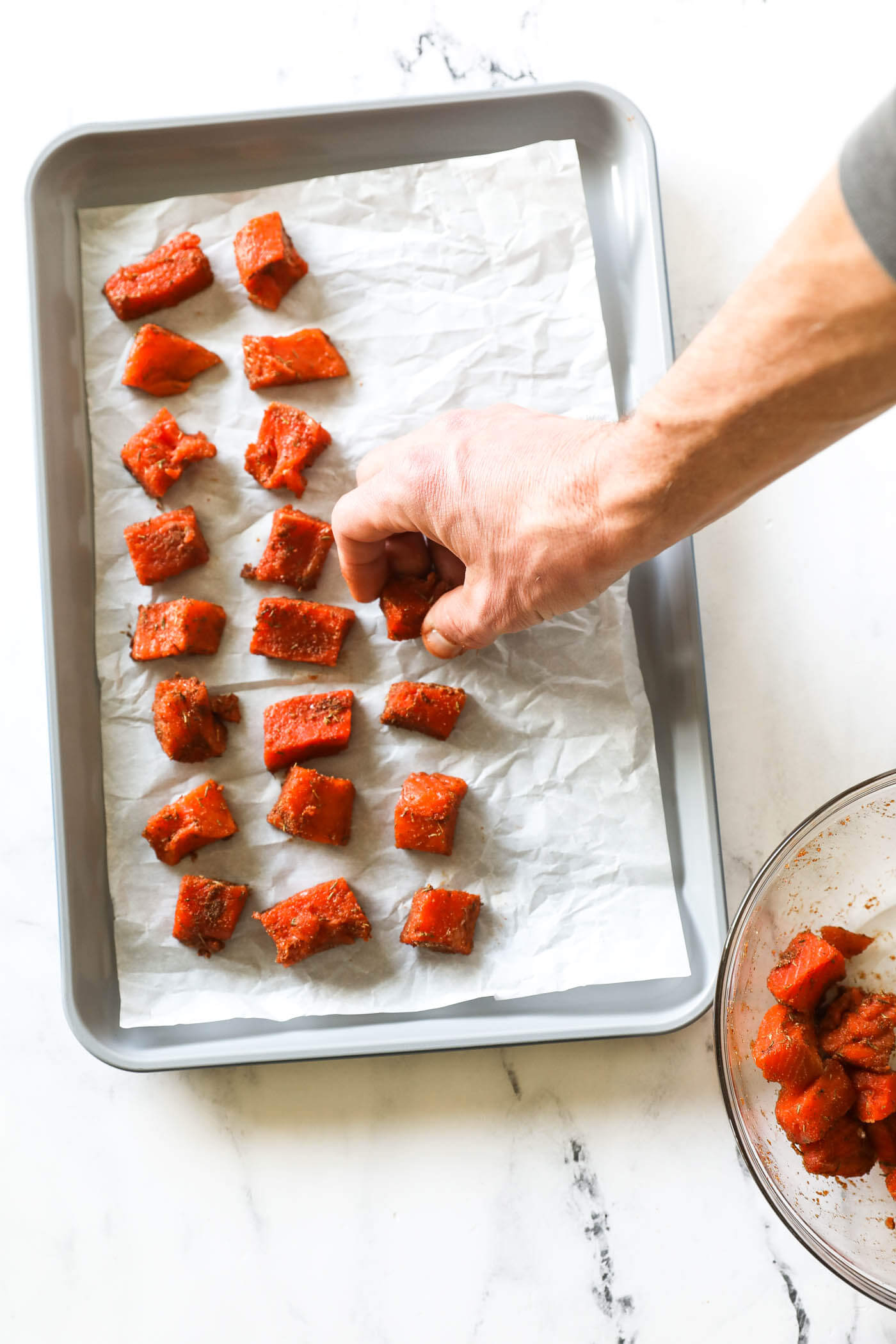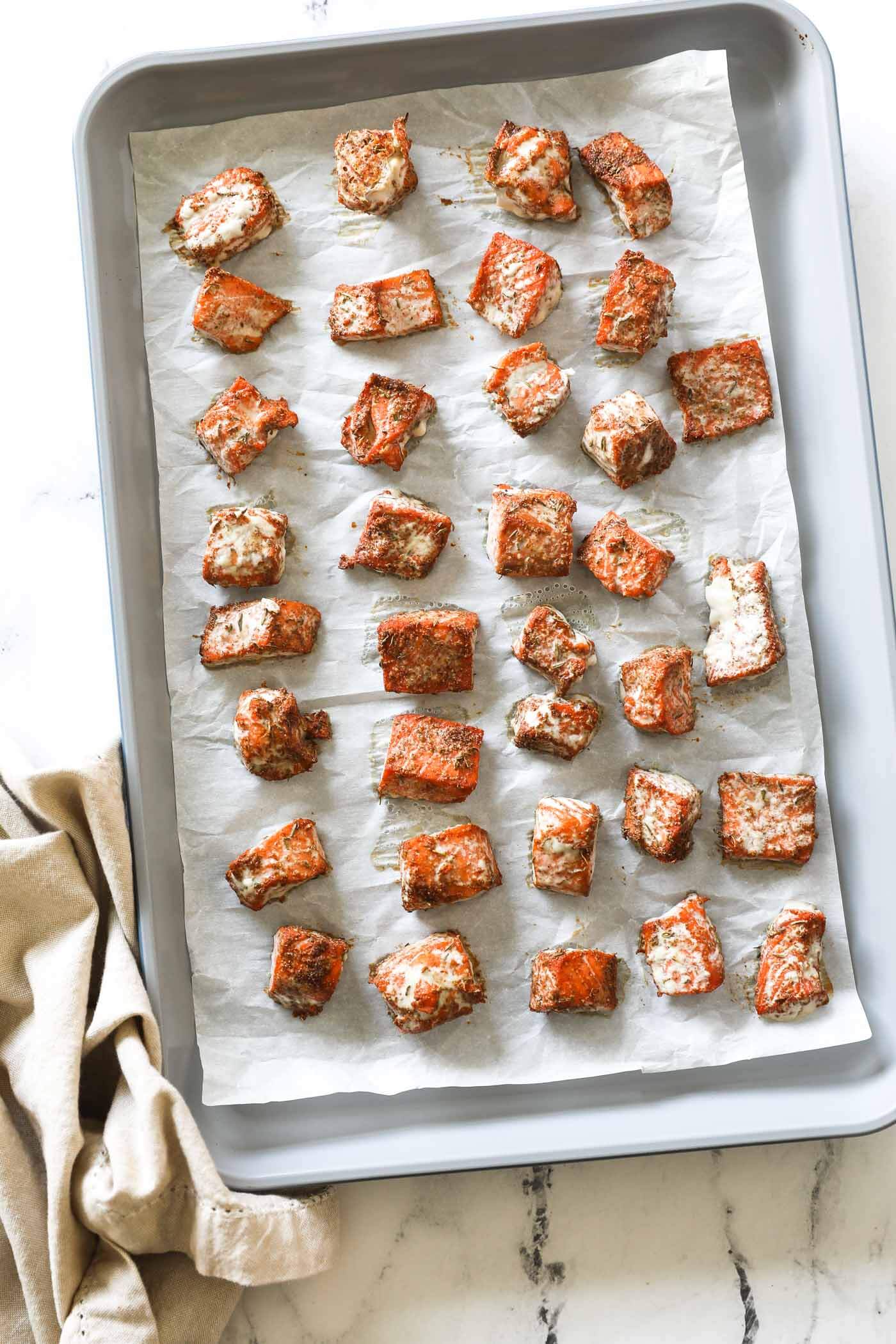 Recipe tips
Be sure to get skinless salmon fillets, it makes the cutting much easier. If you do have skin-on fillets to use, cut off the skin and then cut the salmon into cubes.
When you first dump on the seasoning, it may seem like a lot. Just keep tossing the salmon in the seasoning, it will all get used up once it coats the pieces.
Watch the salmon bites carefully at the end of the cooking time, as they are easy to overcook. It is done as soon as the flesh flakes easily, or 120-125° Fahrenheit.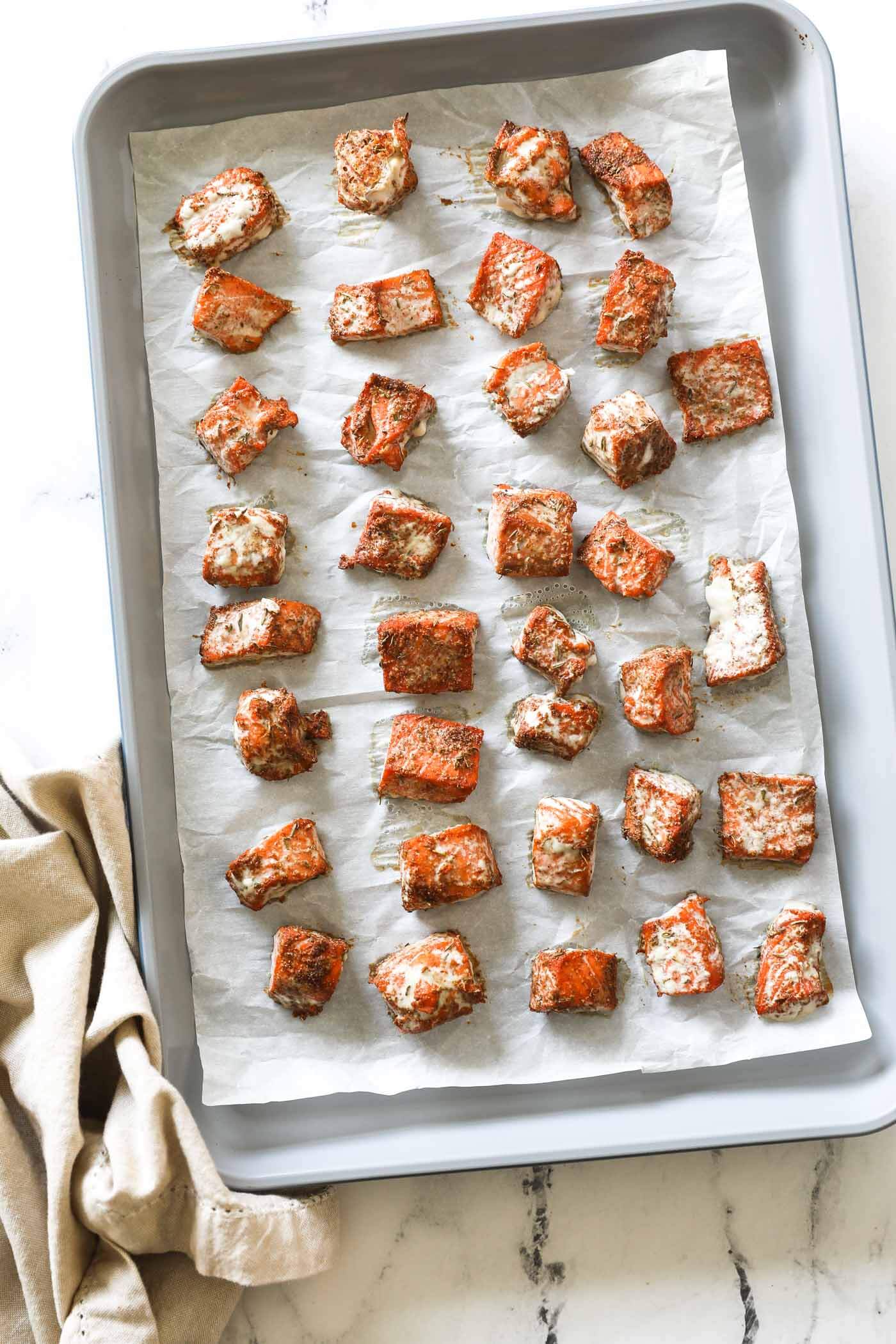 We hope you love this recipe as much as we do!
Don't forget to leave a quick star rating and review below, we read every comment and truly appreciate your feedback. Also, be sure to browse the rest of our delicious, healthy recipes to find some other favorites too!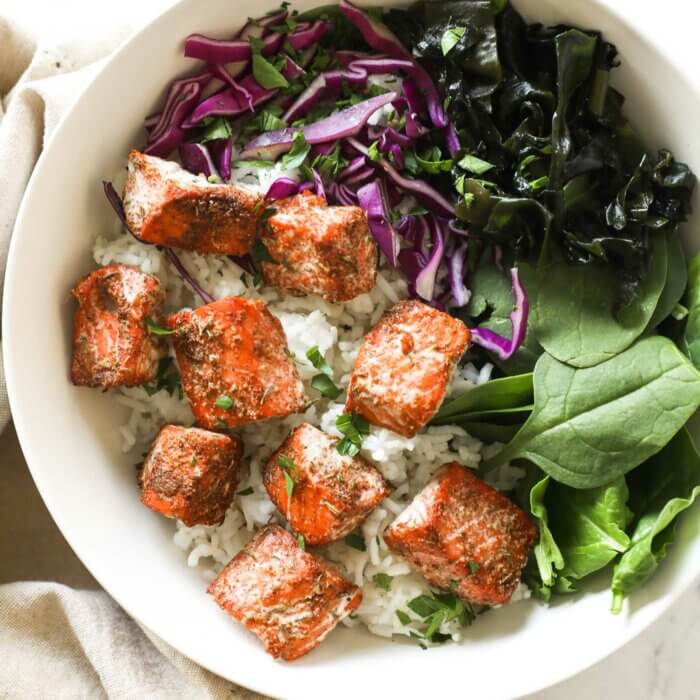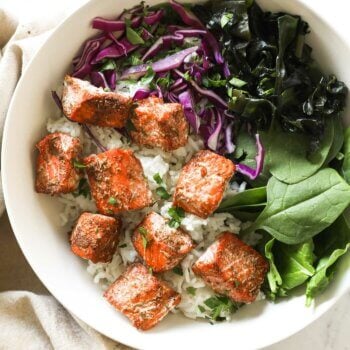 Get the Recipe:
Deliciously Easy Salmon Bites (Air Fryer or Oven)
These easy salmon bites are perfectly seasoned and a great appetizer or protein with any salad or dish. Ready in only about 15 minutes, this will be your new favorite way to eat salmon.
Ingredients
3 6 oz Skinless salmon fillets, cut into bite-sized cubes, (about 1 inch cubes)
For the salmon seasoning:
1 tsp smoked paprika
1 tsp garlic powder
1/2 tsp ground celery seed
1/2 tsp thyme
1/4 tsp allspice
1/4 tsp sea salt
Equipment
Air Fryer (optional, oven baked directions included)
Instructions
Preheat your cooking device:
For the air fryer, set it to Preheat at 400°. Even if doesn't have a preheat setting, I recommend preheating it at least 5 minutes.For the oven, preheat it to 400°.
Prep the salmon:
Make the salmon seasoning by combining all of the seasoning ingredients in a small bowl and mixing.

Cut the salmon into 1-inch cubes and place in a bowl.

Sprinkle on the seasoning and toss several times to coat the salmon cubes in seasoning.
To cook in the air fryer:
Place the salmon bites in the air fryer basket, leaving a little space between each piece. Cook for 6-8 minutes.
To cook in the oven:
Line a sheet pan with parchment paper. Place the salmon bites on the pan, leaving a little space between each piece. Cook for 8-10 minutes.
Serve:
Once the salmon bites are cooked, remove and serve immediately.
Notes
Nutrition amounts noted are per serving and an estimate provided for those following a Ketogenic or low-carb diet. See our full nutrition information disclosure here.
Calories: 249kcal, Carbohydrates: 1g, Protein: 34g, Fat: 11g, Saturated Fat: 2g