Why you'll love this recipe
The perfect homemade pork chop seasoning makes these chops next-level good.
It's an easy way to cook juicy pork chops without firing up the grill or messing up your stovetop.
This is a staple recipe, you can serve these easy pork chops with just about any side dish!
Bone in pork chops have the most flavor, so your taste buds will thank you 🙂
Ingredient notes
Pork chops – Thicker cuts are best for juicy chops, so I suggest using bone in pork chops that are at least 1 inch thick for this recipe.
Add a quick side – You can easily add in another sheet pan with the pork chops to roast some veggies for a side dish. Just pick veggies like broccoli, cauliflower or brussels sprouts that will cook in about 30 minutes.
The seasoning – You might want to make more of the seasoning after trying it, so go ahead and use it on chicken or steak too :).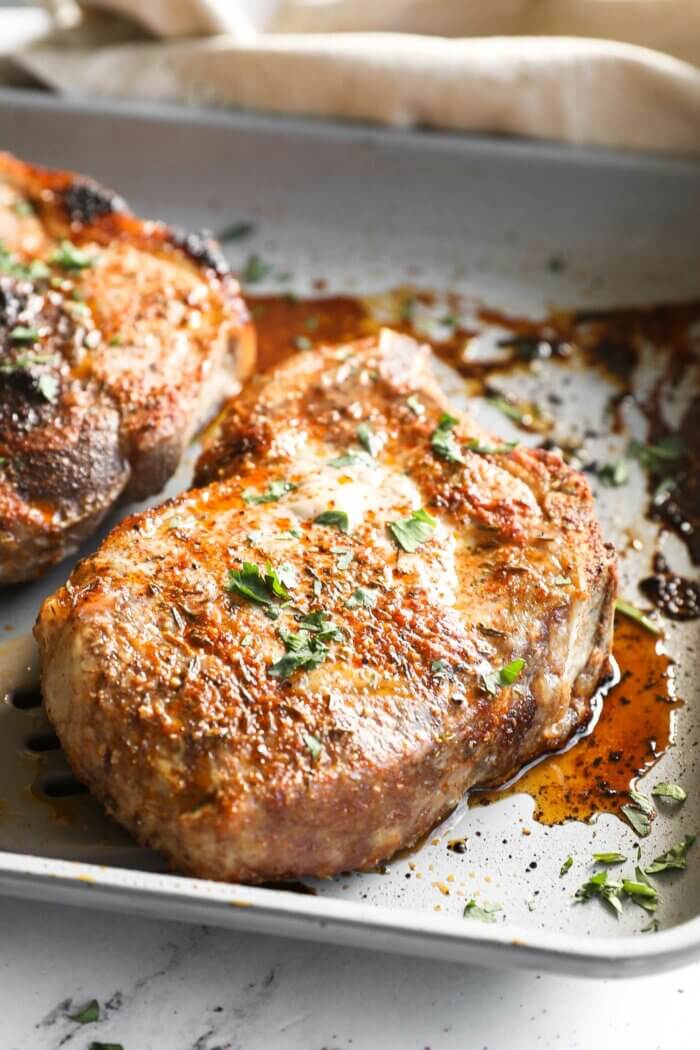 Tips from an expert home chef
Don't skip the resting step. Allow the chops to rest for a full 5 minutes to retain the juices in every bite!
If you want a little brown crust on the outside of the pork chops here are two options:

Sear them in a hot pan for 1-2 minutes on both sides before putting them in the oven.
Turn the oven to broil at the end of cooking to brown the chops at the end.
If you do either of these, reduce the baking cook time by 4-5 minutes so the chops don't try out.
More easy oven baked meals
If you try this recipe, please share some love!
Don't forget to leave a quick star rating and review below, we read every comment and truly appreciate your feedback. Also, be sure to browse the rest of our easy one pan dinner recipes to find some other favorites too!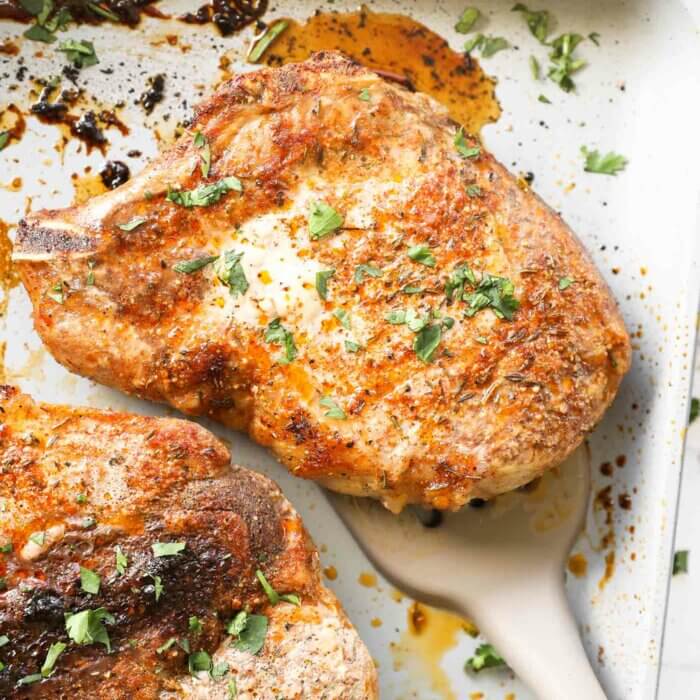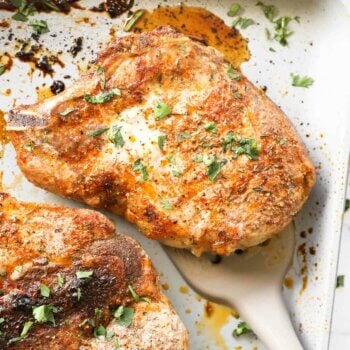 Get the Recipe:
Easy (and Juicy!) Oven Baked Bone In Pork Chops
Perfectly cooked (and juicy!) oven baked bone in pork chops in around 30 minutes. Only 5 minutes of prep to make the best homemade pork chop seasoning and toss them in the oven. Never-dry, these are cooked to the perfect temperature in the oven.
Ingredients
For the pork chop seasoning:
1 tsp chili powder
1 tsp coconut sugar, Omit for low carb or whole30. Can sub another sweetener of choice.
1 tsp smoked paprika
1 tsp dried thyme
1 tsp ground mustard
1 tsp sea salt
1/2 tsp onion powder
1/2 tsp pepper
For the baked pork chops:
4 bone in pork chops, (about 1.5 inches thick, see recipe notes)
4 tbsp olive oil, (or other cooking oil of choice)
Instructions
Preheat oven to 400° Fahrenheit and grease a baking pan with oil or line it with parchment paper.

Make the seasoning mix by combining the seasonings in a small bowl and mixing.

Place the pork chops on the baking pan and drizzle oil over each pork chop. Rub (or brush) the oil over both sides of the pork chops.

Season the pork chops on both sides with the seasoning mix.

Place the pork chops in the oven to bake for 25 minutes, or until the pork chops reach a temperature of 145° Fahrenheit.

Carefully remove from the oven and allow the pork chops to rest for 3-5 minutes before serving.
Notes
The cooking time of 25 minutes in this recipe is for bone-in pork chops that are approximately 1.5 inches thick. The cooking time will vary based on the size of your pork chops and your oven. Use this time recommendation as a starting point and adjust as needed. Watch your pork chops carefully during cooking to avoid over or under-cooking them. I highly recommend using an instant-read thermometer.
As a general rule of thumb, bone-in pork chops need to cook for about 8-10 minutes per ½ inch of thickness in a 400° Fahrenheit preheated oven.
Nutrition amounts provided are per serving and an estimate provided for those following a Ketogenic or low-carb diet. See our full nutrition information disclosure here. 
Calories: 423kcal, Carbohydrates: 2g, Protein: 35g, Fat: 30g, Saturated Fat: 7g, Fiber: 1g