Enjoy this easy, oven baked gluten free fish and chips recipe made healthier! The fish is breaded in almond and cassava flours with simple seasonings. Plus, there are thin cut potato wedges and a homemade tartar sauce!
You'll also love our pan seared cod with garlicky brussels and our paleo fish taco bowls – both are also gluten free.
Ingredients for Gluten Free Fish and Chips
This recipe uses basic gluten free staple ingredients that you'll likely have in your kitchen. Here's what you'll need for the fish and chips.
Russet potatoes
Cod fillets (or another flaky white fish like haddock or halibut)
Eggs or coconut milk
Almond flour
Cassava flour
Garlic powder
Onion powder
Paprika
Sea salt & pepper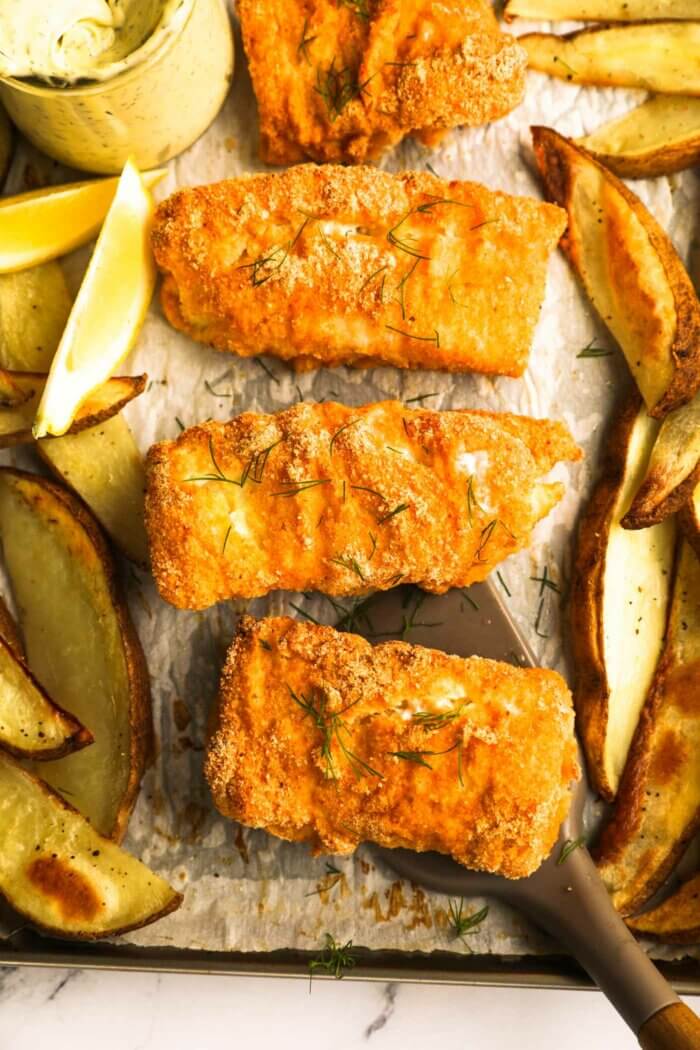 How to Bake Gluten Free Fish and Chips
We love sheet pan meals, and this one is easy! Here are the simple steps.
Preheat oven and cut potatoes in to wedges.
Toss wedges in oil, salt and pepper on the pan and spread out.
Bake for 15 minutes.
Whisk eggs or coconut milk in a shallow dish. And add flour and seasonings to another shallow dish.
Pat fish dry and coat in egg or milk and dredge through the flour mixture.
Add fish to the oven after 15 minutes and continue baking everything for another 15 minutes or so.
Make optional sauce if you want to use it for dipping.
Serve it up once done!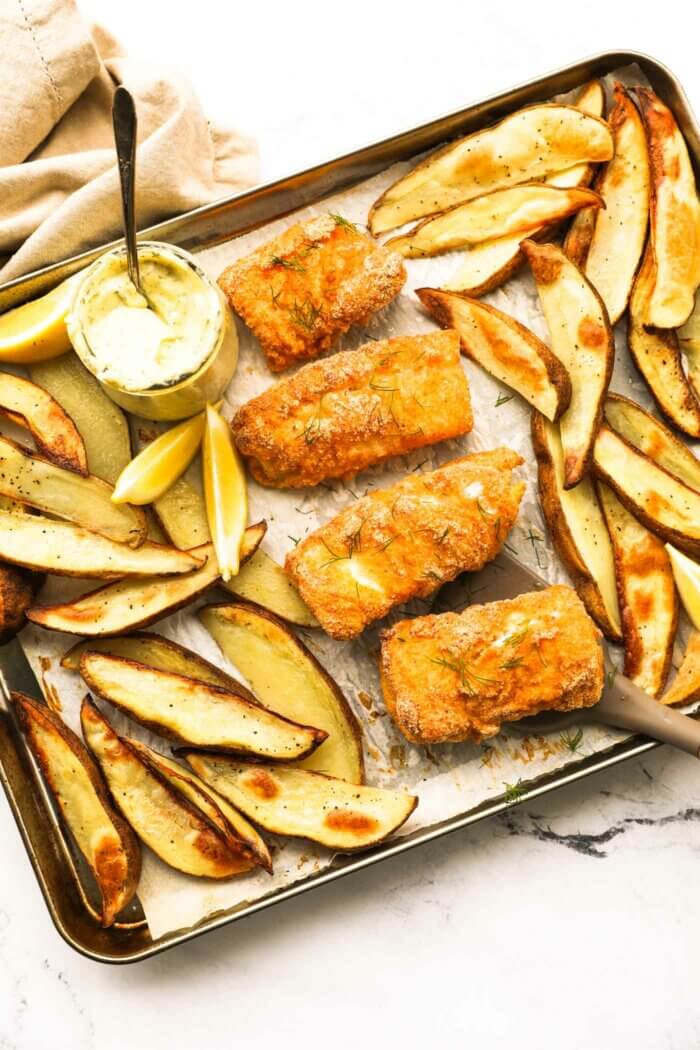 Extra recipe tips
You can use one large sheet pan – If you have a large enough sheet pan to fit everything, just remove the potatoes after 15 minutes of cooking and add the fish onto the same sheet pan. Return everything to the oven to finish cooking.
For a crispier crust, use eggs – The egg coating comes out a little crispier than using coconut milk, so use eggs if you want a crispier "crust" on the fish.
Cut the potato wedges thin – Don't cut the potato wedges too thick, they will take longer to cook. Each potato should make about 12-16 wedges so if you have less than that slice them again.
Sauces to go with Fish and Chips
We included a recipe for homemade tartar sauce in the recipe card that goes great with fish and chips for a classic flavor. You just need mayo, dill pickle, mustard, dill and lemon juice.
If you're looking for a little different flavor or want to try something new, we recommend the sauces below.
Other Side Dish Ideas for Fish and Chips
If you're looking for other "chip" or fry ideas, check these out!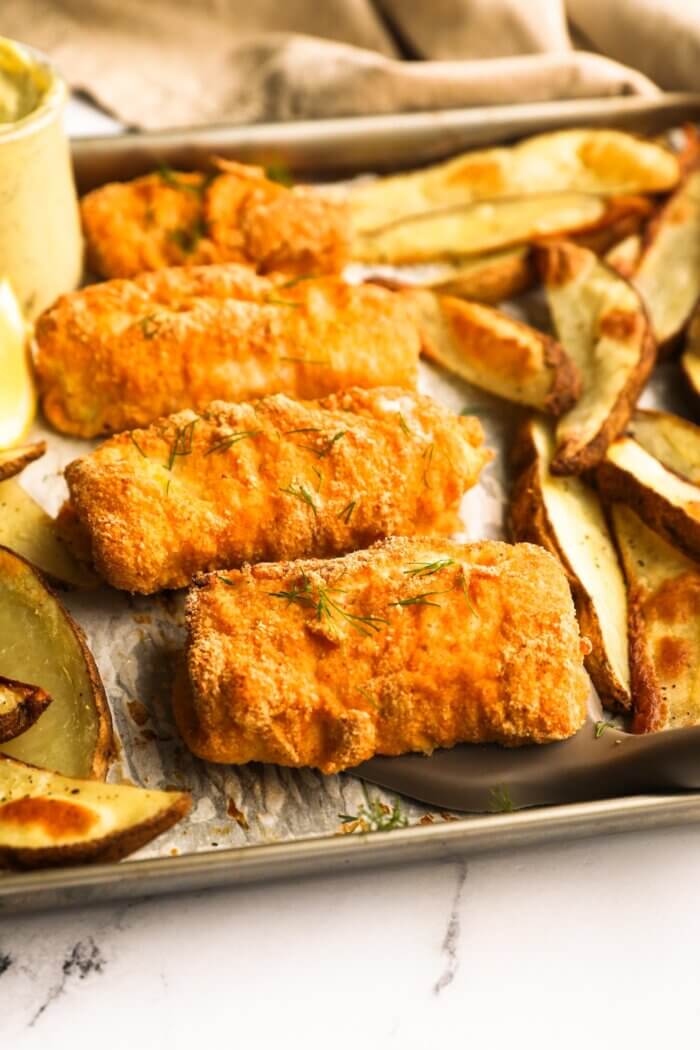 Your Turn to Make Gluten Free Fish and Chips
This healthy gluten free fish and chips recipe is an easy way to enjoy fish and chips at home! If you make this recipe, we'd love to hear about it.
Leaving a star rating and comment below is a great to help us grow and support our work! We truly appreciate it!
And take a pic or video to share on Instagram. Tag us @realsimplegood, so we can check it out. We love to see what you're making!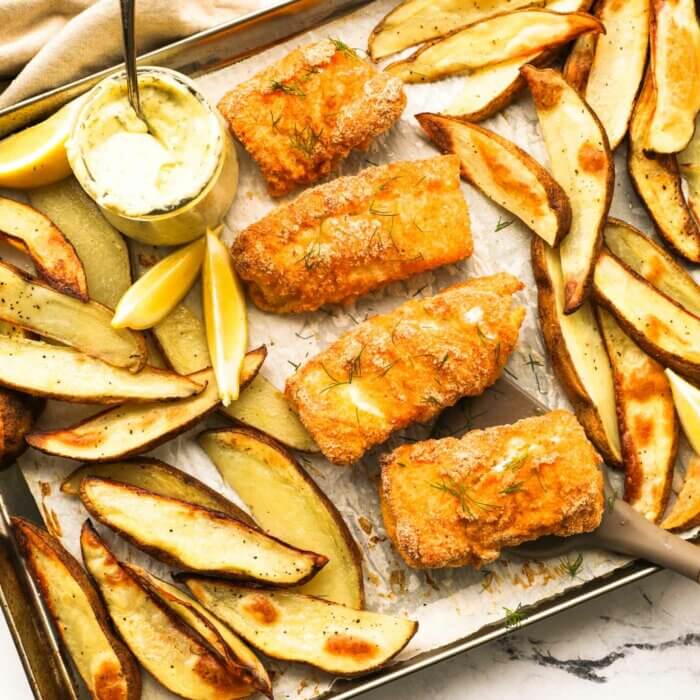 Get the Recipe:
Baked (Crispy!) Gluten Free Fish and Chips
Oven baked gluten free fish and chips breaded in almond and cassava flours with simple seasonings. Crispy on the outside and perfectly cooked on the inside. Cook with "chips" made of thin cut cut potato wedges and dip in the homemade tartar sauce!
Ingredients
For the fish:
1.5 lbs cod fillets (about 4 small fillets), (or sub other flaky white fish like haddock, tilapia or halibut)
1 egg, whisked, (can sub 1/2 cup milk or nut milk for egg-free)
1/2 cup almond flour
1/4 cup cassava flour
1 tsp garlic powder
1 tsp onion powder
1 tsp paprika
1 tsp sea salt
For the sauce (optional):
1/2 cup mayo
2 tsp diced dill pickle
1/2 tsp mustard
1/2 tsp dill
1/2 tsp lemon juice, (or sub apple cider vinegar)
Instructions
Preheat oven to 400° Fahrenheit and two medium sheet pans with parchment paper.

Cut potatoes into wedges and lay them out on one of the sheet pans. Drizzle with avocado oil and season with salt and pepper. Toss to coat and place in the oven to bake for 30 minutes.

Meanwhile, add and whisk the egg or coconut milk to a shallow dish. In separate shallow bowl and add almond flour, cassava flour, garlic powder, onion powder, paprika and salt and mix well.

Pat fish dry with a paper towel. Dip piece of fish into the egg to coat and then dip it into the flour mixture to evenly coat on both sides. Place the coated fish on the sheet pan.

After the potatoes have baked for 15 minutes, place the other sheet pan with the fish in the oven to bake for an additional 15-20 minutes, or until the fish is fully cooked and opaque throughout.

If making the optional tartar sauce, add all of the sauce ingredients to a bowl or jar and mix well.

Once the fish and potatoes are cooked, remove from the oven and serve with a side of tartar sauce for dipping.