This Keto + Paleo meatloaf recipe is a healthier take on classic meatloaf. No breadcrumbs are used, making it an easy low-carb dinner. It's the ultimate in clean eating comfort food, our specialty!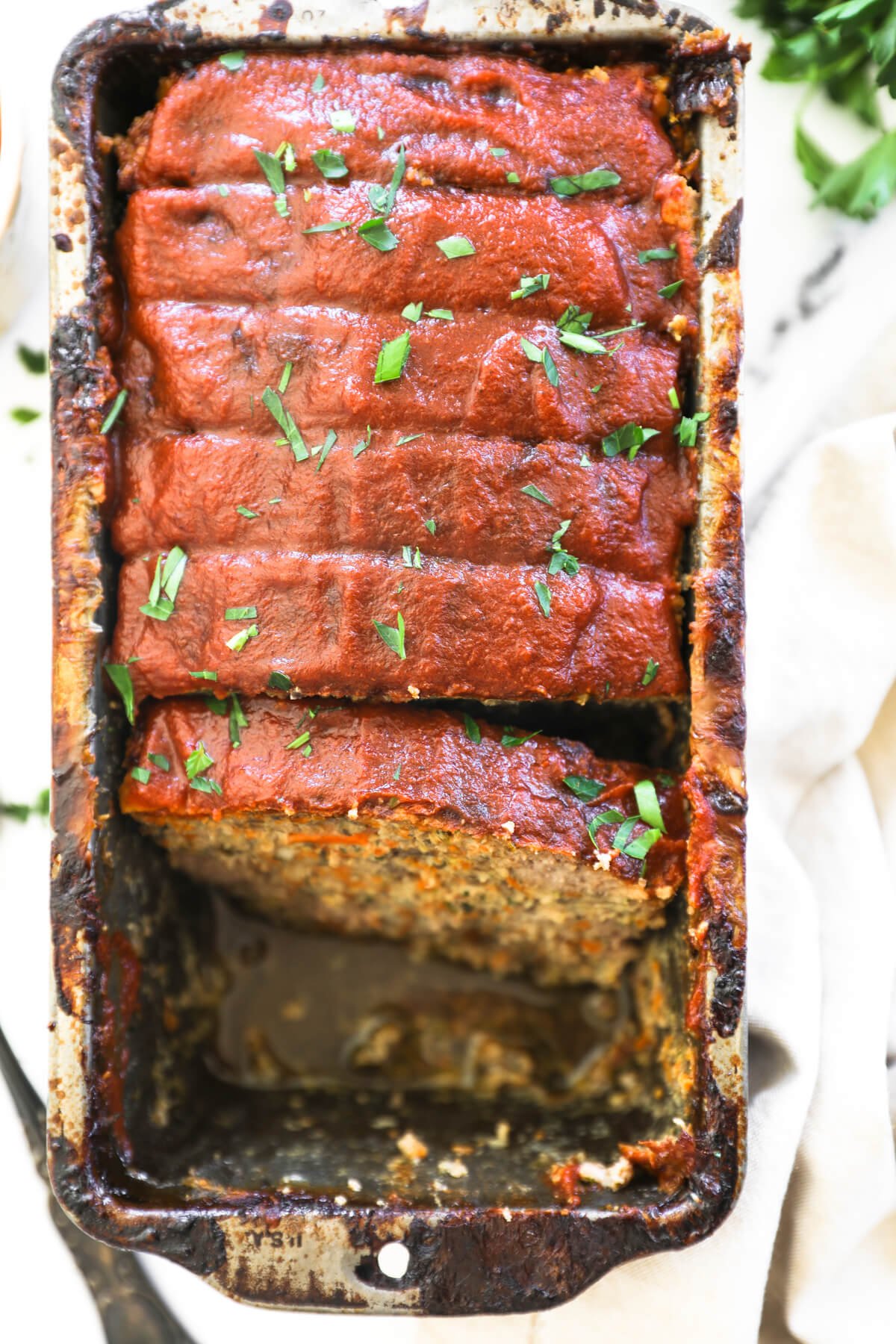 Some Sneaky Veggies in This Keto Meatloaf
This "healthier" take on low carb meatloaf has some veggies mixed in:
Mushrooms
Cauliflower
Onion
Carrot
Parsnip
These veggies are mixed in with the meatloaf to add some delicious flavor and texture. They also help to keep the meatloaf from drying out.
If you like this recipe, check out our keto friendly ground beef meatloaf.
Need more low-carb recipes? Check out all of our easy keto diet recipes!
Making Meatloaf with no Breadcrumbs
Making a healthier version of meatloaf usually requires ditching breadcrumbs.
Honestly, you don't really need them. Plus, without breadcrumbs you make your meatloaf gluten-free.
I've found that eggs work just fine as a binder for meatloaf and help hold everything together. You don't need almond flour or anything like that, just some eggs!
Need more? Browse our 500+ easy Paleo diet recipes!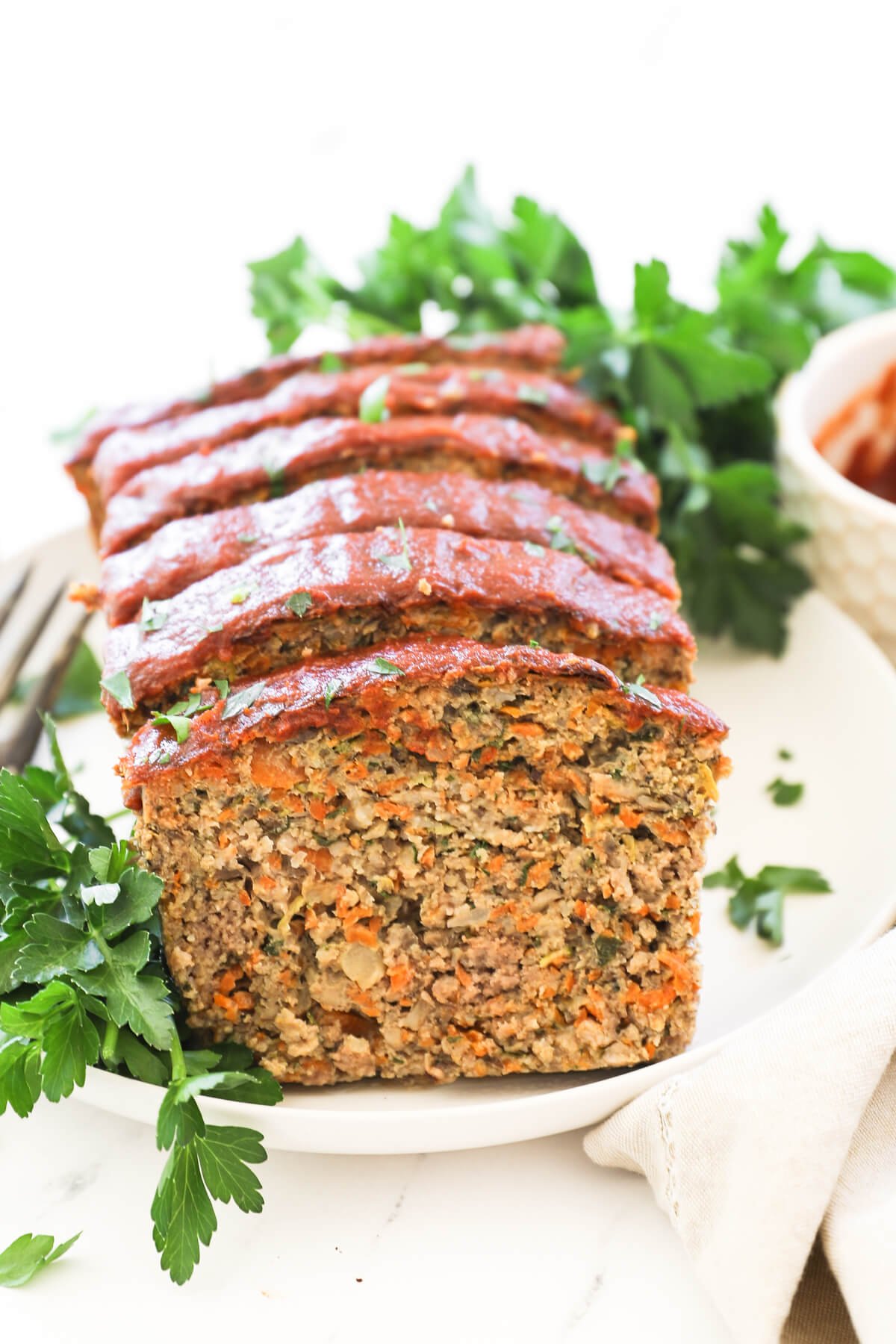 Can I use a different meat for this meatloaf?
We used ground beef and pork, but you could really use any ground meat for this recipe. It could be made with 100% beef or also with ground chicken or ground turkey.
If you are looking for a ground chicken meatloaf, check out this unbelievably moist chicken meatloaf.
Can you freeze meatloaf?
We love this meatloaf recipe because you can make a big batch and eat on it all week for leftovers.
Or, you can make it and save it for later by freezing. Here's how:
After cooking, slice up the meatloaf
Freeze them in the individual portions you will want for serving
When ready, simply defrost the meatloaf and heat it up in the microwave or in a skillet on the stove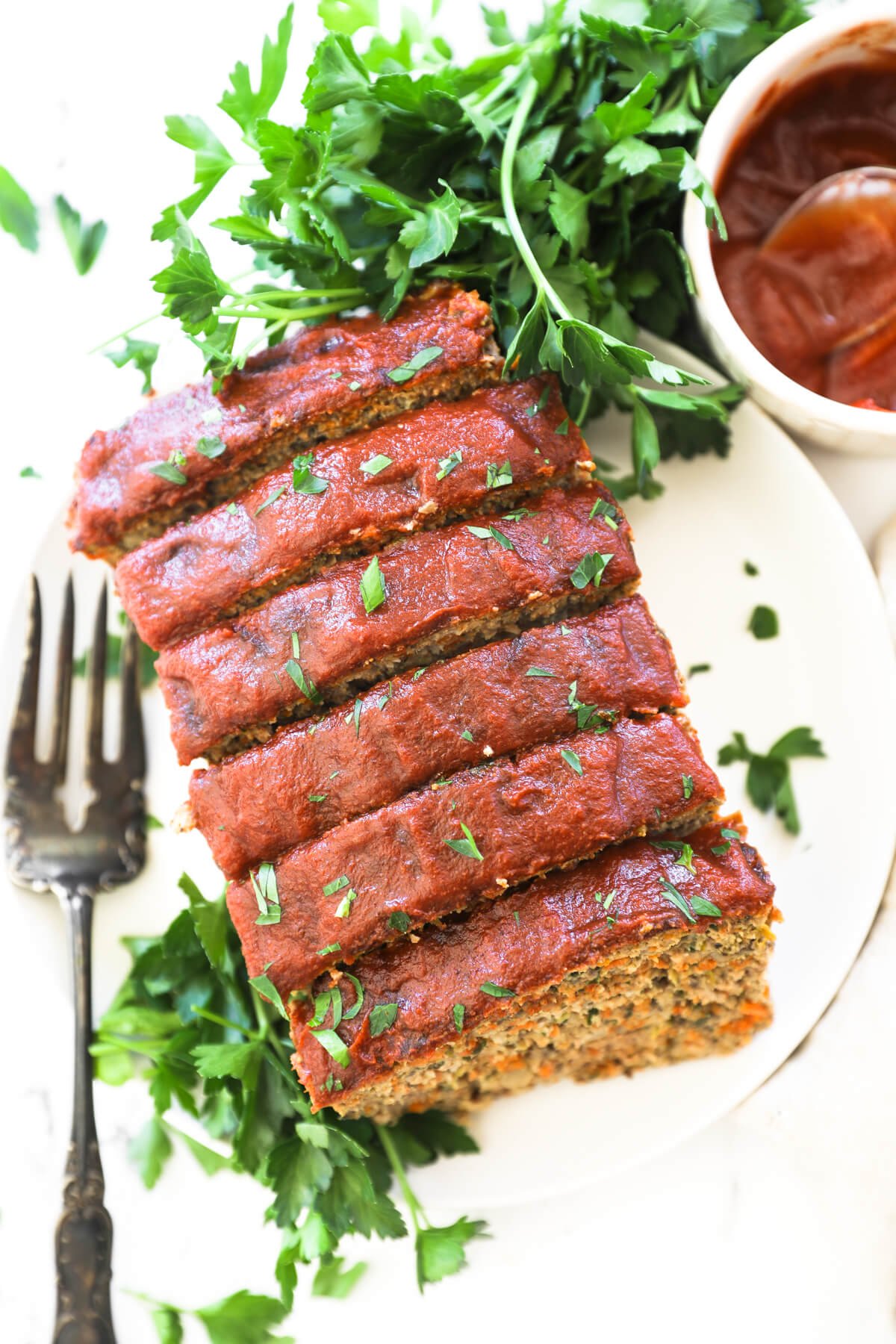 The ketchup on top is optional
Spreading ketchup on top of meatloaf is something you either love or hate (I think). I personally used to hate it and now I enjoy a small layer of ketchup on top. It's just a little sweet and tangy that pairs perfectly with the savory meatloaf.
There are several low-sugar and Whole30 compliant ketchups you can find in stores now too!
Red Duck – The Smoky Ketchup is what we used, not all are Whole30 compliant.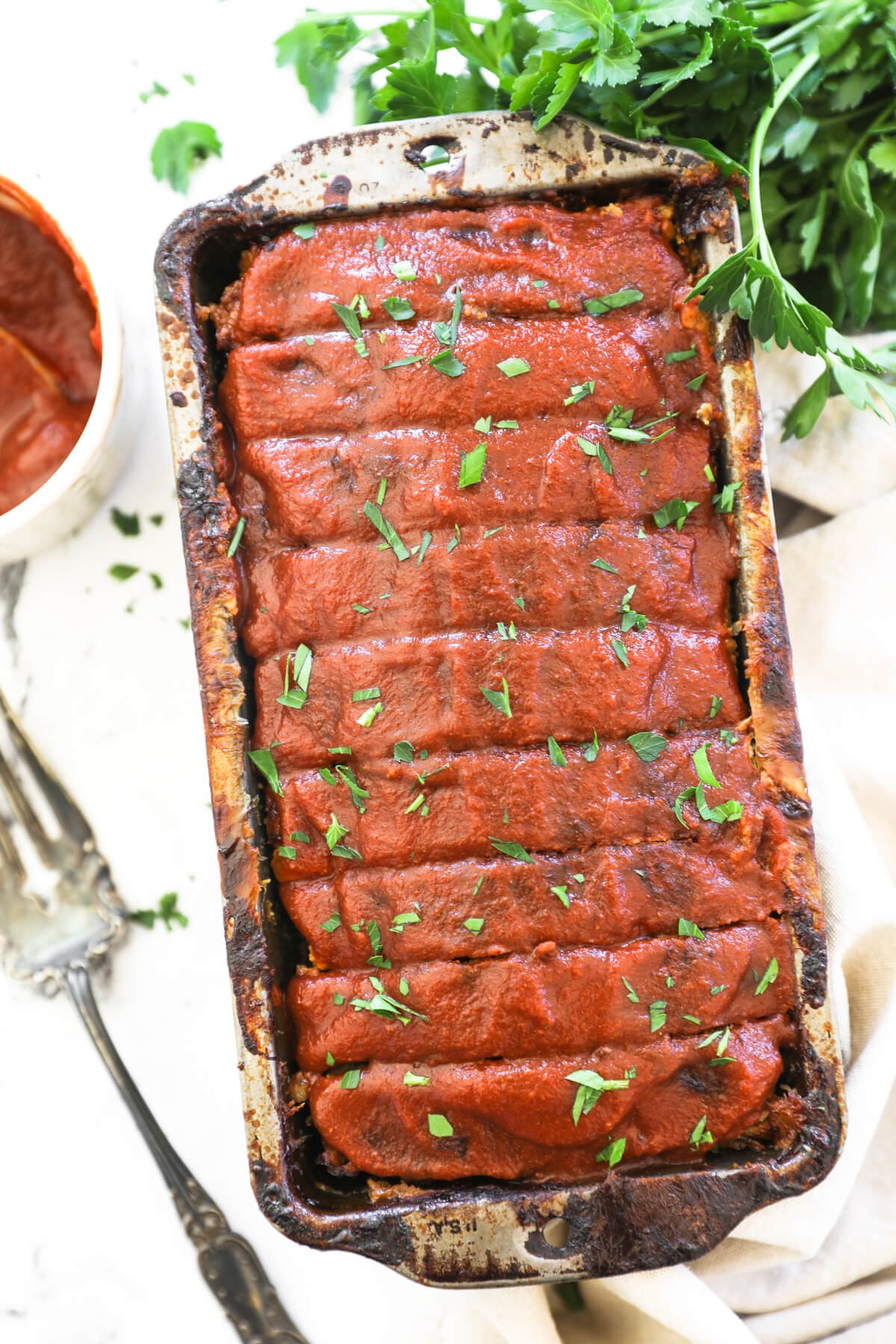 What do I serve with this low carb meatloaf
Here are some side dish suggestions. Want more, check out all of our healthy side dish recipes!
Your turn to make this healthy meatloaf
Go for it, and make this veggie packed keto meatloaf recipe! Let us know how it goes by leaving a comment below.
Also, take a photo and tag us on Instagram @realsimplegood, so we can check it out. We love to see what you're cooking!
---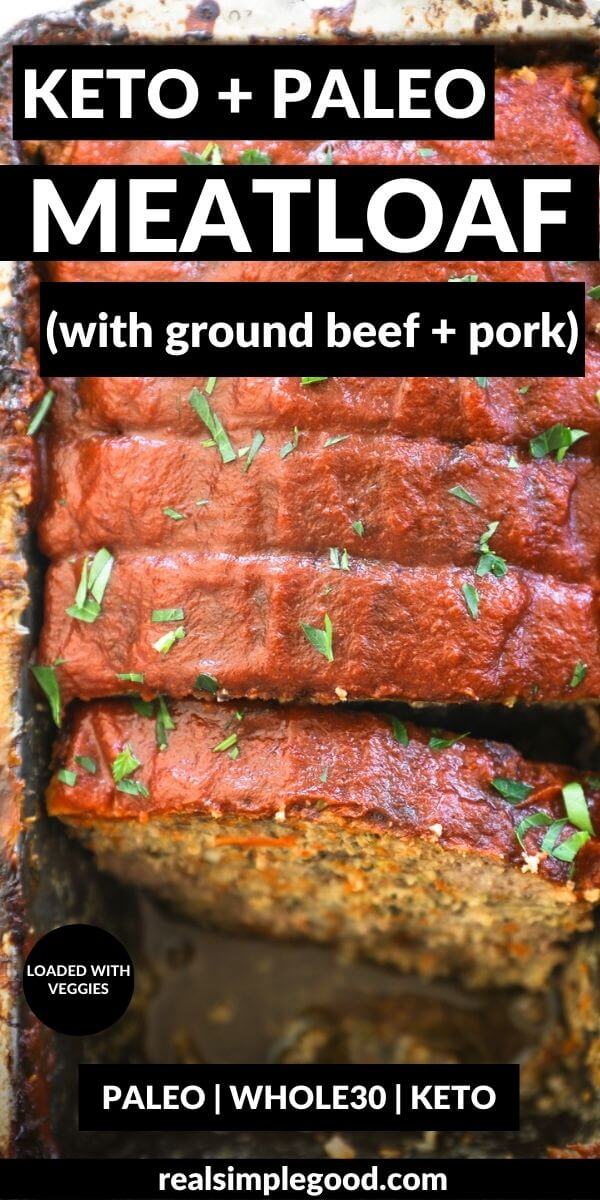 ---
Like this Recipe?
SHARE IT NOW OR PIN IT FOR LATER!
---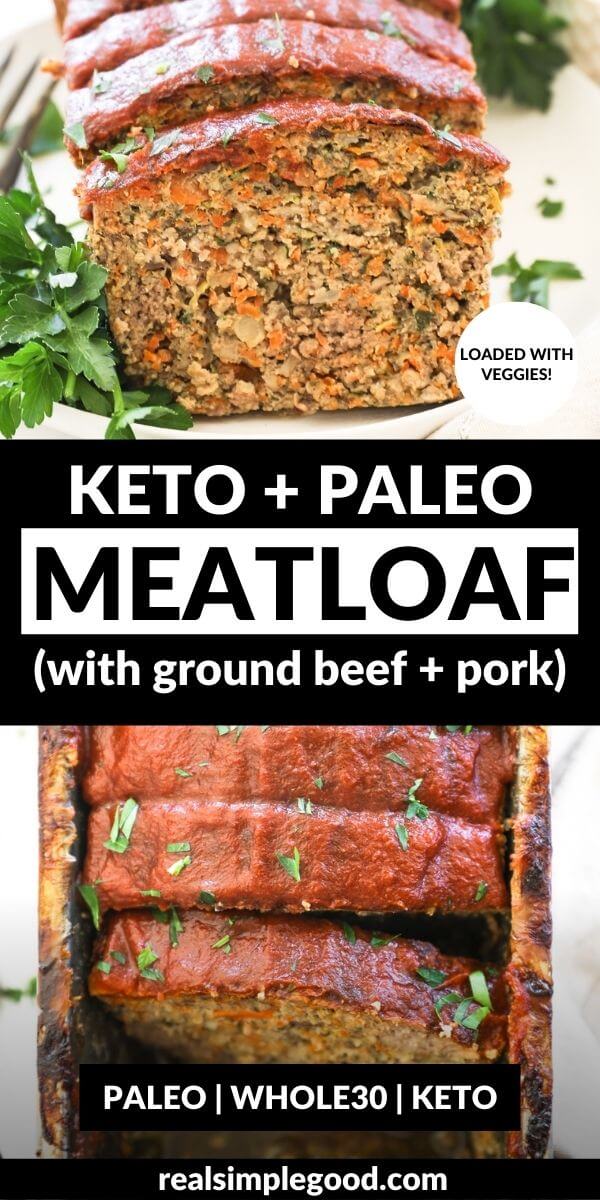 ---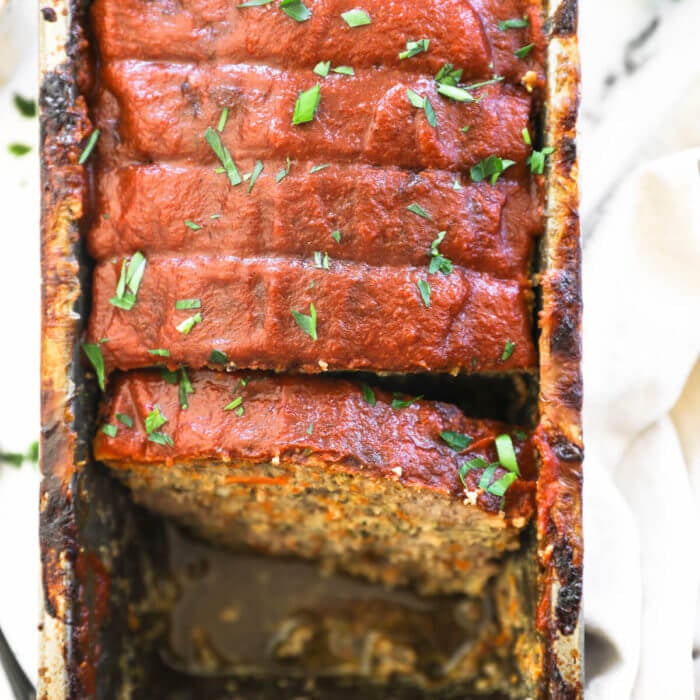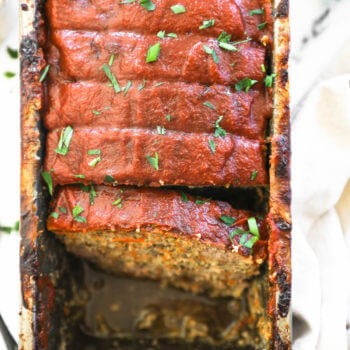 Get the Recipe:
Keto + Paleo Meatloaf (With Ground Beef & Pork)
This Keto + Paleo meatloaf recipe is a healthier take on classic meatloaf. No breadcrumbs are used, making it an easy low-carb dinner. It's the ultimate in clean eating comfort food, our specialty!
Ingredients
2 cups mushrooms, (about 8oz)
1 cup cauliflower florets, (or riced cauliflower)
1 leek, (or sub onion)
1 medium sized carrot
1 medium sized parsnip, (or sub carrot)
2 tbsp avocado oil, (or ghee)
4 cloves garlic, minced
2 eggs
2 tbsp rosemary, freshly chopped
2 tbsp oregano, freshly chopped
1/2 cup parsley, freshly chopped
2 tsp salt
2 tsp pepper
1 lb ground beef
1 lb ground pork
1/2 cup Whole30 ketchup, (optional topping)
Instructions
If using a food processor, use the grating attachment.

Put the mushrooms, cauliflower, leek, carrot and parsnip through the food processor. Otherwise, if you are doing it by hand, dice the mushrooms and leek and grate the cauliflower, carrot and parsnip with a box grater.

Preheat your oven to 400° Fahrenheit.

In a large skillet, heat the avocado oil over medium heat and add in the vegetables.

Sauté the vegetables for 8 minutes, stirring occasionally. Add in the garlic at the end with a couple of minutes left. Set aside to cool.

In a large bowl mix the eggs with rosemary, oregano, parsley and salt and pepper.

Add the meat and cooled vegetables to the bowl. Mix gently with your hands until all of the ingredients are well incorporated.

Transfer the mixture to a 9 x 5 loaf pan or 8 x 8 baking pan (it should fit either). The loaf pan will be rounded over the top and the square pan will be even and flat. Make sure to spread it evenly into the corners.

If you are using a 8 x 8 pan, bake for one hour. If using a loaf pan, bake for 60-70 minutes, or until the internal temperature reaches 165°.

Remove from oven and carefully pour off the liquid from the pan. If you are topping with ketchup, spread ketchup over the top and put it back in the oven for a few minutes to allow the ketchup to warm up.

Allow the meatloaf to cool off for a few minutes. Slice into pieces and serve.
Notes
Nutrition facts are an estimate provided for those following a Ketogenic or low-carb diet. See our full nutrition information disclosure here.  
Calories: 368kcal, Carbohydrates: 9g, Protein: 22g, Fat: 26g, Saturated Fat: 9g, Fiber: 3g