Have you ever made fries with squash rather than potatoes? They're so good, and are a fun way to use seasonal produce during the fall and winter! You just need a butternut squash, avocado oil, smoked paprika, salt and pepper. That's it! Five quick ingredients and you'll be on your way to enjoying a batch of delicious butternut squash fries.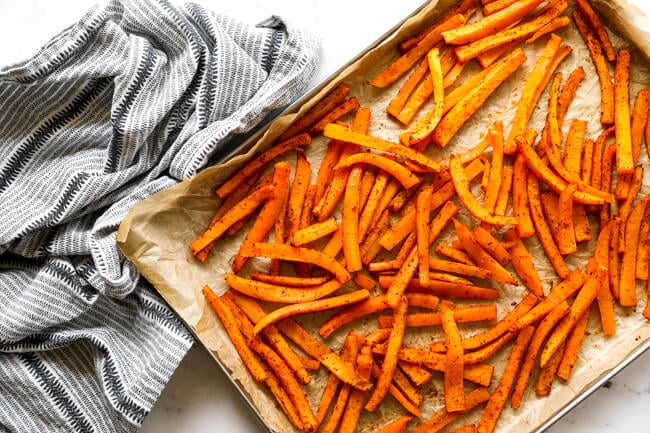 Looking for some more fries? Check out these baked jicama fries, plantain fries or grilled sweet potato fries!
How to Cut the Butternut Squash
Ok, I'm not going to lie, this is the hardest part. Butternut squash is somewhat of an odd shape, and a little bit more challenging to manage than regular or sweet potatoes. Here's how you'll do it:
Cut the bottom and top off so you have a flat, stable base.
Use a peeler or paring knife (I prefer the pairing knife) to scrape the skin off, like you would when peeling a potato.
Cut the squash in half lengthwise and remove the seeds. Then, cut each half into long, thin strips about the width of french fries.
Then, cut each of the long strips into smaller "fry-sized" pieces. Try and get them relatively equal in size so they cook evenly.
A Simple Fry Seasoning
Here's all you'll need for this simple yet delicious seasoning:
Smoked paprika
Salt and pepper
Really, that's it! The smoked paprika does all the heavy lifting when it comes to producing flavor, and it pairs wonderfully with the mild and slightly sweet butternut squash.
Just place the cut squash fries in a bowl, drizzle with some avocado oil and toss with the seasoning mix to coat.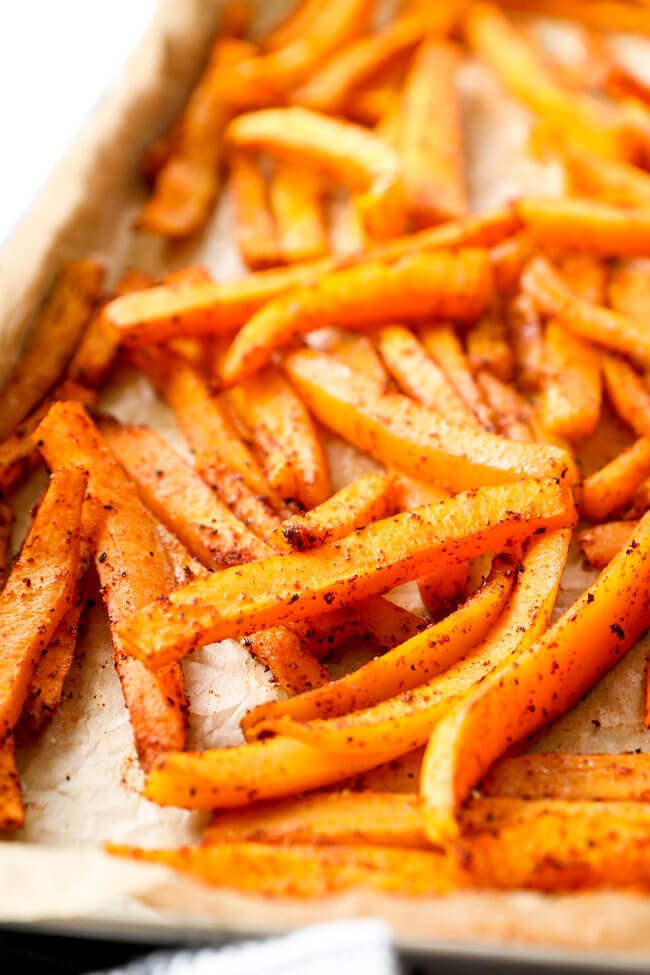 How to Cook Butternut Squash in the Oven
For the best results with this recipe, follow these tips:
Cut the fries as similar in size and shape as possible for even cooking.
Use a sheet pan large enough to spread out the fries in a single, even layer. Use two pans if needed.
Cooking time may vary oven to oven. At 400°, it should take 35-45 minutes.
Watch the fries closely at the end of the cooking time. Cook them long enough that some pieces get a little charred and the edges get crispy. The centers will stay a little soft, which is just the way I like it!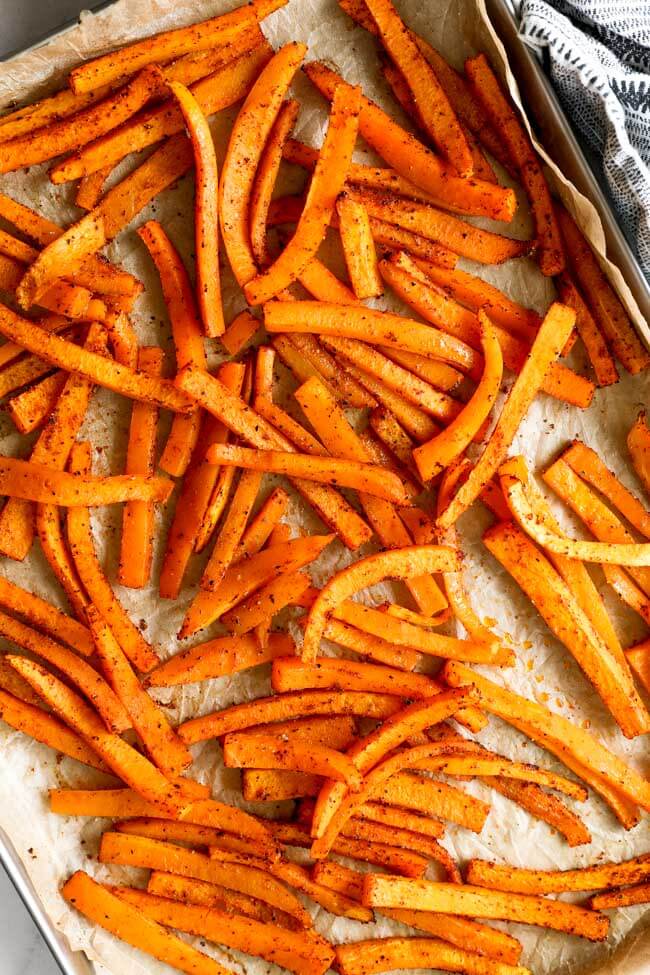 Some Fry Dipping Sauce Ideas
Like traditional potato fries, these butternut squash fries go great with regular old ketchup. Or, you can try some different options like: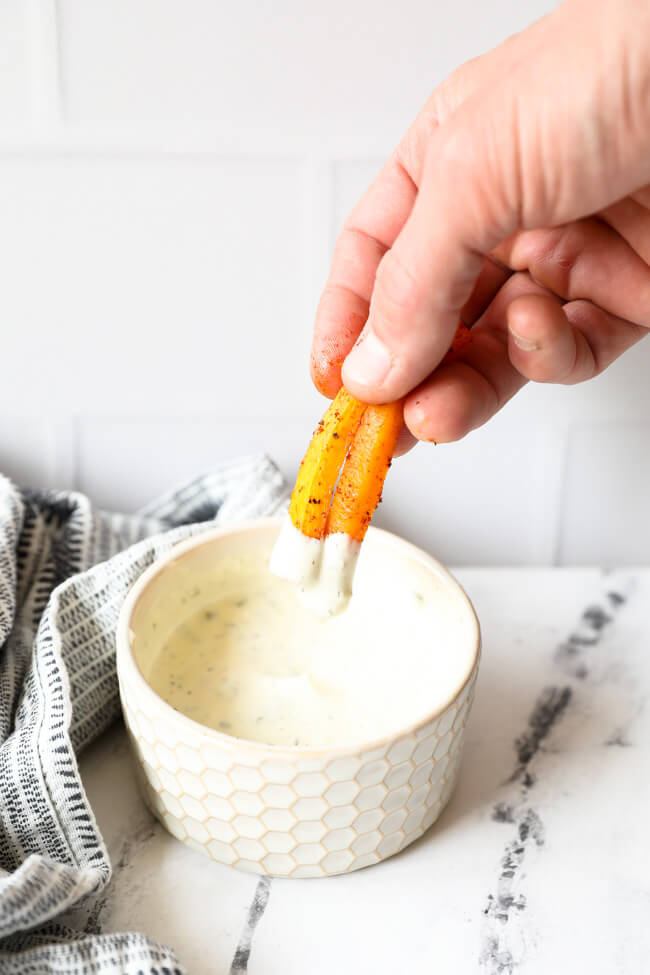 Your Turn To Make These Butternut Squash Fries
Ok, get ready to have a new preferred fry, and make our butternut squash fries. They go perfectly with all your favorite proteins and sauces. Let us know how it goes by leaving a comment below, and then take a photo. Tag us on Instagram @realsimplegood, so we can check it out!
---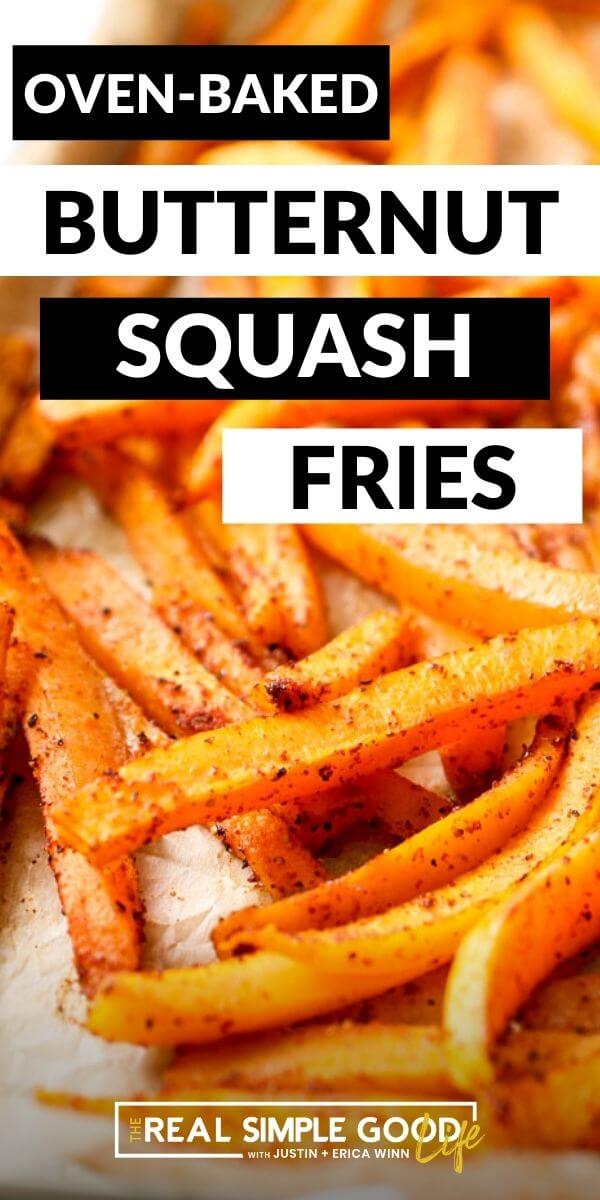 ---
Like this Recipe?
SHARE IT NOW OR PIN IT FOR LATER!
---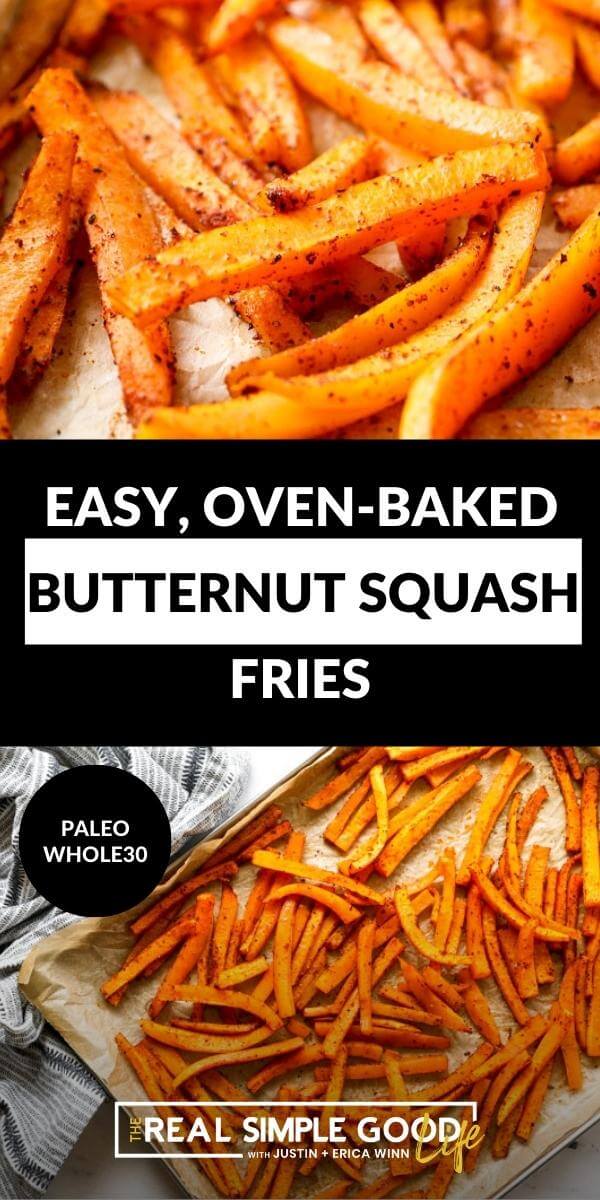 ---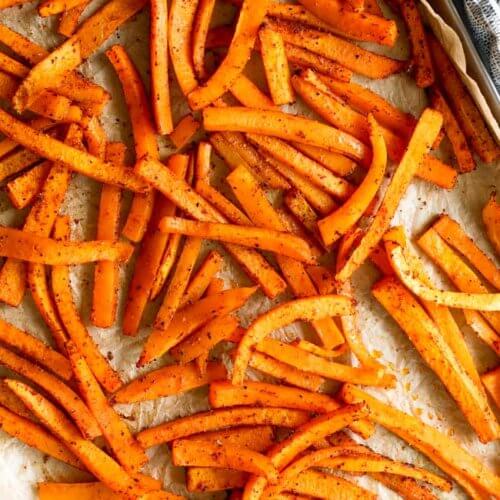 Get the Recipe:
Easy Oven-Baked Butternut Squash Fries
You just need 5 ingredients to create these healthy and delicious oven baked butternut squash fries! They are a savory potato alternative and Whole30 and Paleo-friendly.
Instructions
Start by lining a baking sheet with parchment paper, and preheat your oven to 400° Fahrenheit.

Cut the ends off your butternut squash. Use a Y shaped peeler or pairing knife (I prefer the pairing knife) to peel the skin off. Then, cut squash into half lengthwise and remove the seeds.

Cut the halves into long thin strips, slicing from top to bottom. Then, cut the strips shorter until you have shoestring like fries. Place in a large mixing bowl.

Add your avocado oil, smoked paprika, salt and pepper to your bowl. Toss to coat. Then, spread the fries out evenly on your parchment lined baking sheet.

Place in the oven and cook for 35-45 minutes until they start to brown and the edges get crispy. Remove about halfway through cooking and toss fries around before putting back into oven to finish cooking.

Once done remove from the oven. Serve hot, and dip in favorite sauces.